Do you want small speakers that deliver incredible sound and take up little space? I hope this KEF Q550 review can answer all of your questions and convince you that this is the right product for your needs.
KEF's Q550 floor-standing speaker is perfect for you. It is KEF's smallest floor-standing speaker. It is an ideal solution for those with limited space who want to use tower speakers.
These high-end premium speakers can be placed anywhere with their high-frequency response and Uni-Q driver array.
Whether you are seated in your listening room, you'll hear a more dynamic sound stage and 3D sound from the Q550's drivers.
KEF Q550 Specifications
Amplifier requirements 15-130
Frequency response 58-28k Hz
Impedance ohms 8
Sensitivity 87 dB
Width 11-5/8
Height inches 35-3/16
Weight 32 lbs
Depth 12-5/16
Nominal independence Minimum: 3.5* (maximum: 8)
Crossover frequency 2.5kHz
Compared with other Q 2017 Series floor-standing speakers, the KEF Q550 stands out for its compact size. This new model features an overhauled Unit-Q driver array and a damped tweeter loading tube designed to enhance treble characteristics.
Q550 features a new surround and rear suspension for improved bass performance inside its low-frequency drivers. It will give you immaculate bass no matter how loud it is.
An improved closed-box midrange cabinet greatly enhances clarity and provides punchier bass with the Q550.
A modified mid-bass driver is also included with the floor-standing speakers, improving the clarity of the midrange and creating a more natural bass roll-off between drivers.
A matte black vinyl finish and a white vinyl finish are available on the Q550. A separate set of grilles is available for the Q550.
Floor Standing Speakers Provide Theater Quality Sound.
The size of your speakers doesn't matter if space is not an issue. The best way to reproduce a movie theatre-like experience is via floor-standing speakers. They offer powerful surround effects for movies and games due to their large acoustic chambers.
KEF Q550 Speakers Features
The array of Uni-Q drivers.
The source of power for the Q Series loudspeakers is the Uni-Q driver array. The KEF cone-style tweeter is mounted in the acoustic center, so both drivers act as one source. The result is a 3-D sound image that is more accurate and detailed than conventional speakers and is dispersed more evenly throughout the room. One aluminum dome tweeter and one aluminum midrange driver make up the Uni-Q driver array.
Damped loading tubes and cone-neck decouples work with the 1″ aluminum dome tweeter at the center of the Uni-Q driver array. KEF's "tangerine" waveguide provides ultra-wide dispersion to the 1″ aluminum dome tweeter.
It gently terminates the rear sound without harshness in the lower treble frequencies, so there is no harshness in these frequencies. The cone-neck decoupling reduces output in the cone-breaking region to improve performance at high frequencies.
An aluminum cone structure found on the 5.25″ midrange driver of the Uni-Q driver array reduces cone breakup and improves midrange performance.
It has an optimized suspension for accurate bass performance, allowing greater movement, better excursion control, and lower distortion. KEF's ingenious Z-flex surround extends the cone's full extension and directs sound from the tweeter up through the surround without interference or secondary radiation.
A sealed chamber isolates the Uni-Q driver array to prevent distortions.
A closed-box midrange cabinet design reduces the load on the Uni-Q cone while also providing cleaner, punchier bass.
The system features a low-frequency subwoofer and dual additional bass radiators (ABR).
Dual Auxiliary Bass Radiators (ABR) are paired with the Uni-Q driver array. Additionally, the Uni-Q's bass driver and dual ABRs use the same aluminum cone. It enhances mid-bass/bass performance, resulting in low distortion.
This speaker is equipped with a vented magnet assembly, a rigid metal chassis, and its 50 mm voice coil, which provides superb power handling.
The ABRs' rubber rear suspension provides greater excursion and a lower tuning frequency for deeper, louder sound.
The large role of the surround on both speakers allows for a longer throw at high sound pressure levels with less distortion.
Design of the Q Series Advanced Cabinets.
A sealed box has been incorporated into the cabinet to house the Uni-Q driver. This design drastically reduces the stress on the Uni-Q midrange cone, resulting in greater clarity and detail alongside improved bass response and punch.
By removing the DC blocking capacitor from the mid-bass driver, the midrange clarity is again enhanced. The bass roll-off between the drivers became more natural without it.
Terminals for binding posts that are gold-plated.
Two heavy-duty, gold-plated binding posts are mounted on the rear of the speaker cabinet. They are designed to accept bare wire (up to 10AWG), pin connectors, spade lugs, and banana plugs (single jack only). Remove plastic inserts from binding posts if you plan to use banana plugs.
A pair of spiked outriggers.
Spikes and outrigger feet provide a more stable, bigger footprint.
The spikes screw into the underside of the outrigger feet through included hardware, while the outrigger feet screw into the bottom of the speaker cabinet.
Outrigger feet and spikes are installed first; then, the speaker is secured. The points can then adjust to align the speaker with the floor at the top of the outrigger feet.
With outriggers and spikes, the dimensions are 11.625″ (w) x 36.5″ (h) x 12.3125″ (d).
The dimensions are 11.625″ (w) x 35.1875″ (h) x 12.3125″ (d) when using only outrigger feet.
Design
The fact that KEF went for a contemporary yet traditional look is interesting to us. Finishing consists of either a white or a black plastic film.
This material has a lovely, slightly brushed texture. Modern and clean, this recessed tweeter speaker would look great in most living rooms.
You will find 'feet' (planks) on the bottom equipped with height-adjustable spikes.
The Allen key (included with the purchase) can adjust the height on uneven floors. Speaker terminals of high quality can support wires with spades and banana connectors.
Sound Quality
Q550 kef most expensive speaker, is an absolute delight to listen to. The details and homogeneity of the sound make the first impression. String quartets are a great example of this large, dynamic, and agile.
There's an ideal distribution of everything within the sound stage, and the instruments are placed about each other.
While jazz players can deliver powerful bass lines, they also have the skills to shift gears on a dime without sacrificing any agility.
You can hear how well these speakers reproduce dynamics and textures using the violin, flute, and electric guitar as example instruments. Although it is relatively small, it is surprisingly loud.
We observed that the Uni-Q drivers have excellent omnidirectionality, regardless of where we placed ourselves.
The Q550 proved to be versatile and convincing, regardless of the music we played, whether classical or heavy.
Accessories are available for KEF Q550
| | |
| --- | --- |
| Center channel speakers | |
| Powered subwoofer | |
| Bookshelf speakers | |
| Speakers wire with connectors | |
| Banana connectors and plugs | |
| Miscellaneous audio accessories | |
| Wall plates and inserts | |
| Cable management | |
| Liberation isolator | |
| Floor standing speakers | |
Pros
Powerful sound
Excellent speakers at a great price
It has a good response, despite the room/location they are in, and a very smooth, well-articulated sound (despite the challenges)
Easy to set up
Work well in a tight space
Elegant design
Light in weight
Having feet
High-quality audio
Omnidirectional
5-year warranty
Cons
There is little bass response, so speakers could be better paired with a subwoofer or purchased with the Q750 or Q950s if space is available.
Smaller speaker design is not ideal for larger living rooms and home theaters.
The bass reflex port is at the back of the speaker, which can cause bass distortion if positioned against a wall.
Now Let's look at KEF Q550 Speaker – Buying Guide!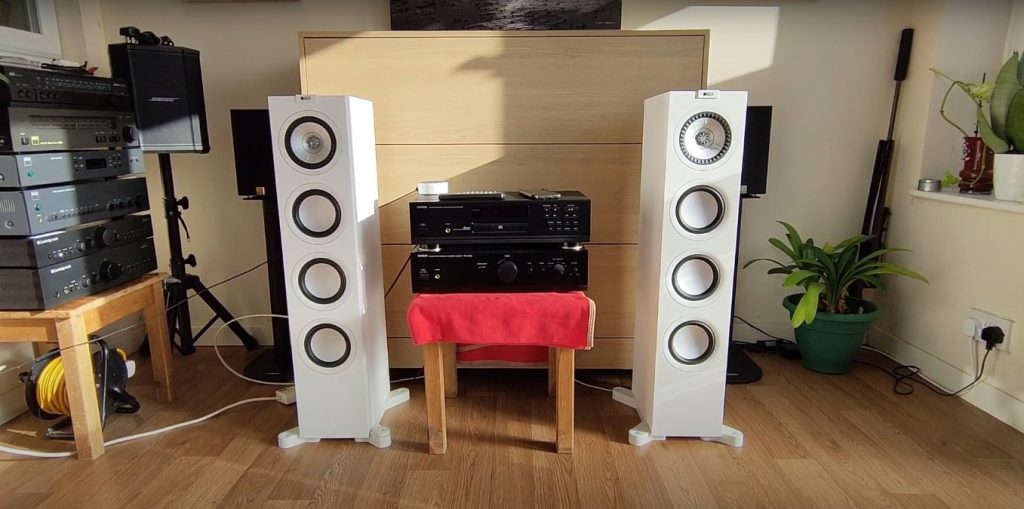 Adding HiFi speakers will transform your studio or living room into a true theater. You can enjoy your music in the best conditions by choosing floor-standing speakers as suitable HiFi speakers.
The reason is that these speakers are more focused on producing impactful sounds than any other kind. Their dedicated driver arrays can make high, midrange, and low frequencies.
Therefore, you can enjoy the same qualities that a HiFi speaker offers without spending an arm and a leg.
Audiophiles and music lovers know it is essential to ask what they expect from their speakers if they want a powerful device.
The answer depends on what suits your needs. Floor-standing speakers or another type of loudspeaker will both do, but which one is best? Consider the features that are most important to you.
To narrow down your options, please answer the following questions.
What is your budget?
Bookcase speakers will be a good choice if you're trying to find a bargain. Since it's very tough to find high-quality speakers at very low prices, this is the case. Finding a speaker within your budget will solve your problem.
Have you got enough space?
Next, let's talk about the space you have available for your new speakers. You're going to need a lot of room for floor-standing speakers. To enjoy their high-quality sound, you have to place them farther into the room than with their backs facing the wall.
What is the loudest volume you can play?
You will need larger speakers if your living room is big. The small ones will not work in that space.
Your smaller speakers will be overworked by simply increasing the volume.
Do you enjoy movies and music?
You should buy large speakers if you plan on using your home cinema. Having the right sound system will make the movies sound more realistic. When you watch a movie in your living room or home theater, floor-standing speakers will give you powerful sound quality and a memorable experience.
What kind of speakers do you have?
Choosing the right speakers is equal parts audio quality and aesthetics. Ignoring the outstanding sound quality due to poor features or a poor build is possible. The best speakers are those that look fantastic and sound equally great, so you need those.
Frequently asked questions
Are KEF Speakers Any Good?
A leader in British hi-fi for over 50 years, KEF has an illustrious legacy of innovation. Over the years, it has endured ups and downs but remains a top manufacturer of classy, superb-sounding speakers. There are many KEF speakers with Uni-Q drivers.
Is Klipsch Better Than KEF?
KLIPSCH creates a more rounded and vibrant sound. The KEF speakers are far better than the low-sensitivity ones (you can move them easily!) In addition to these, there are the B&W and Paradigm speakers… however. The problem is that these speakers need power and money!
Are all KEF speakers made in China?
Now,  all of the KEF's speakers are made in China, probably because they are made in KEF's own factory there, and I am sure for the cost as well.
Are KEF speakers good for home theater?
KEF Q550 has received excellent reviews, some even describing them as the best buy on the market. My friend recently installed them in his home theater. They provide excellent audio quality as well as great entertainment value.
In conclusion to the detailed examination of the KEF Q550 review, we informed you that with a Q550, you're guaranteed to find a piece of equipment for every situation.

This speaker system is very enjoyable and rarely makes you smile (or cry, if the artist intends it to do so) this often, thanks to its detailed, homogeneous and dynamic sound.

A beautiful exterior design, as well as easy integration, makes this device attractive. Extra feet prevent scratches or damage to flooring. It is impossible to find fault with the Q550 speakers, which we highly recommend. You will finally stand out from the crowd with these speakers.