I am a budding studio producer and needed a studio monitor for myself. I was leaning towards Yamaha, which was way out of my budget. However, a great friend of mine told me about Edifier R1280DB.
At first, I was a little reluctant, but their price really impressed me, and I finally decided to give them a shot. I placed an order and waited patiently. Little did I know, that was one of my best decisions as a studio producer.
The all-rounder edifier r1280db powered Bluetooth bookshelf speakers are a perfect option for you if you are looking for a great studio monitor along with a speaker. It is also exceptionally good in terms of connectivity since it allows Bluetooth.
Speaker: 2-Way
Amplifier Power Rating: 42 Watts RMS
Bass-Reflex
Frequency Response: 55 Hz to 20 kHz
Wireless Connection: Bluetooth
SNR: 85 dB
Considering that Edifier R1280DB is only an entry-level studio monitor, it provides an exceptional sound quality. The mid and high frequencies are well-balanced, delivering a flat response. This feature allows you to master your music, which greatly benefits a studio producer.
Not only that, but it also pinpoints mixing errors, which are sought after by DJs. An accurately represented mixing will elevate the EQing skills of any DJ. The 4-inch woofer plays an essential role in delivering the low frequencies.
As some users have mentioned that the speaker lacks bass, I would like to shed some light here. The bass is not a gone case; it is still quite good, considering it is an entry-level monitor.
The pricing is also justifying the quality. However, if you expect a phenomenal bass response, you might want to lower those expectations slightly.
The sound produced is quite loud, considering the small size of the studio monitor. Although, at the extremely loud level, there is some distortion. If you want something that plays clear and pleasing sound even at the loudest of volumes, you need to consider a larger space monitor.
Also Read: Edifier R1700BT Review
Edifier R1280DB Powered Bluetooth Bookshelf Speakers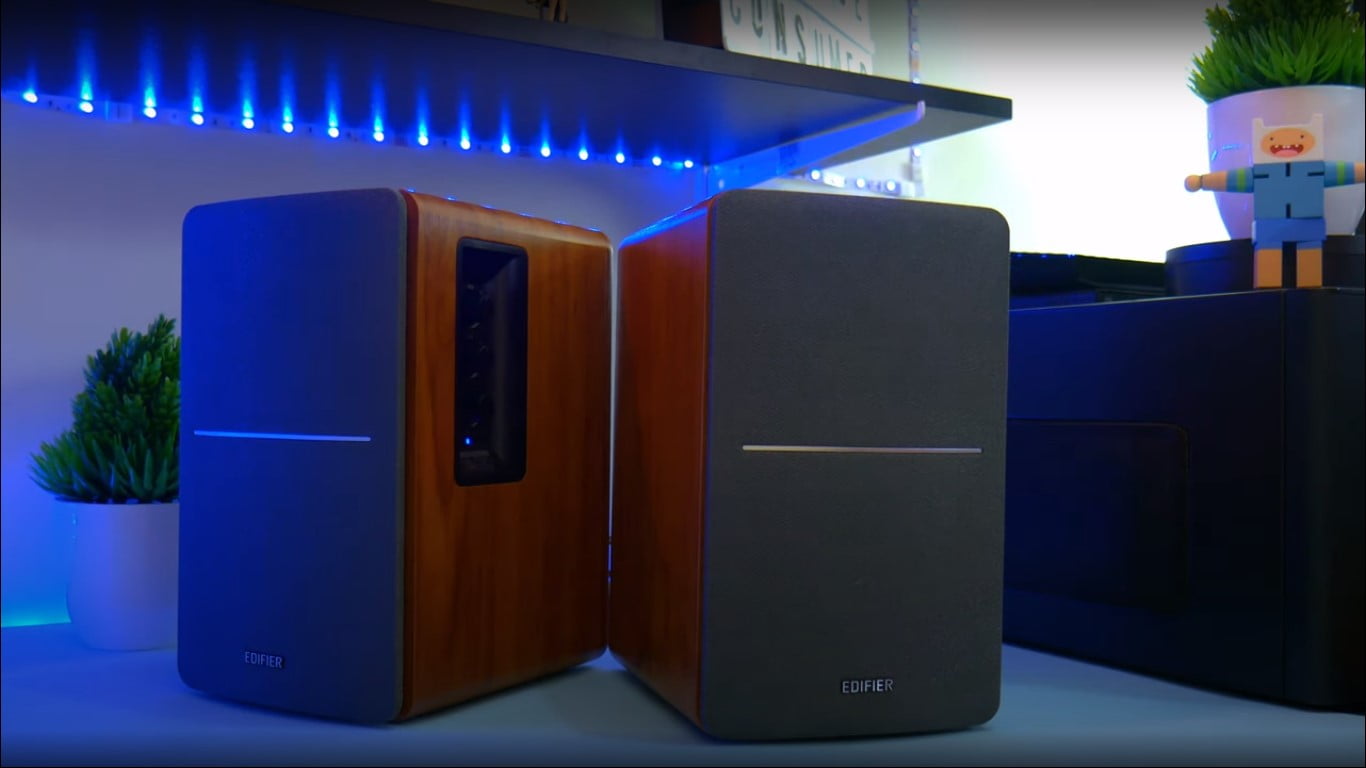 The overall aesthetics of the monitor is quite good and does not indicate the low price at all. The speaker provides a wood grain finish towards the exterior; however, it is not real.
A standard MDF board, wrapped with vinyl, showcases the wood grain finish. It gives away a solid and tight look and has decent build quality. Jacks for speaker wire are also present within. Another component is a flared bass reflex port, which improves sound delivery.
A remote control is available, provided along with the monitor. The remote, however, is not as great in terms of performance as the speaker itself. The front panel has a removable grille, which adds to the elegance of the overall finish of the speakers.
The remote control controls pause/play, volume, speed options, and rewind functions. With a built-in amplifier, the speaker is simple to set up and can directly be connected to a power outlet.
The remote has switches for RCA inputs and other connections, making it extremely easy to switch around without reaching the system. The Edifier R1280DB produces a rich, punchy, clear sound even at loud settings.
Edifier R1280DB Features:
The frequency response of 55Hz-20KHz makes sure adequate delivery of both the highs and the lows. At 85dBA, the signal-to-noise ratio is also satisfactory. This enables the loud production of sound. The Soundfield Specializer capability makes the speaker high on features.
Along with a 4-inch woofer, the monitor has a silk tweeter dome, which is approximately 1 inch in size. The compact size allows this to be used as a bookshelf speaker. A sub-output is attached to the speaker as well.
One of the most convenient features is the tuning control. It allows for flexibility and adjustment. The location of bass, treble, and volume controllers is convenient. Most of the speakers at this price do not allow these settings.
The control knobs are usually placed at the rear side of the speaker which makes it difficult to operate. The textured black plastic on the exterior gives the speaker a subtle and dynamic look. When comparing it to other bookshelf speakers of the same price range, the sound is clearer and finer.
The connectivity of the speaker was beyond my expectations. Not only was there a standard RCA input, there also were coaxial and optical connections. All these options make it very easy for me to connect them to my computer or my TV.
The cherry on top is Bluetooth connectivity, which enables one to connect to their smartphones easily. Meanwhile, Bluetooth connectivity is an option, it can be quite frustrating at times. The connection is stable but can be a little tricky at times.
Overall, the sound quality of the speakers, and the features available are worth the price. The Edifier R1280DB has multiple uses and gives excellent value for money. The frequency response is also wider, as compared to the predecessors.
Pros
Rich sound quality
Subtle design
Convenient placement of control knobs
Bluetooth connectivity
Affordability
Loud and clear sound
Cons
Sketchy Bluetooth connectivity
High volume causes a little distortion
Equalizer doesn't change much
Frequently Asked Questions
Q- Are Edifier R1280DB good?
Yes. They are affordable yet excellent in terms of sound quality, connectivity, and features. Although some aspects can be improved, the speakers are quite worthy considering their price.
Q- Is there an amplifier within the Edifier R1280DB?
The Edifier R1280DB is an excellent all-rounder speaker. It does, however, have its pros and cons. Overall, I would surely recommend it to everyone who wants a sound monitor but is a little short on budget. The connectivity options and the controlling knobs are all convenient and allow flexibility.