Being a music enthusiast, I have always been a fan of Yamaha's DXR speakers. However, when I learned about the upgraded DBR10, I was sure that I had to test them out. I immediately decided to order a 10'' powered speaker.
The DBR series by Yamaha is a budget friendly alternative for its more high-end series DXR and DSR. Given its low price and small size, the speaker is surprisingly loud.
At first, I was pretty confused about their low price, but I trusted my gut and went with the purchase anyway. Upon receiving them, I was quite surprised about how lightweight these speakers are. The weight was almost around 10kgs.
My first experience listening to them made sure that I had not made a mistake purchasing them. The small-sized box, measuring almost 15.12 x 15.94 x 22.92 inches, was able to deliver far beyond what I was expecting.
Yamaha DBR10 Review – Best PA Speaker
1000W Class-D Amplifiers
50°wedge angle for floor monitoring
Dimension: 15.12 x 15.94 x 22.92 inches
2-way powered PA speaker
10-inch cone woofer
1 Inch compression-driver tweeter
Maximum output power: 700 watts
Maximum SPL: 132 dB
Corded Electric
The Yamaha DBR10 is a two-way speaker. As mentioned above, the size is 10 inches, and the body is made of plastic. The premium feature in this speaker is its incorporation of 700W of Class-D amplification (325W 'continuous' power).
Another thing that separates this speaker from others of its kind is its maximum SPL delivery of 129dB at 1 meter. This makes the speaker very loud, which is rare for speakers of this size.
The bass driver of the speaker is custom owned by Yamaha, which they use in all their speakers. Other than that, it consisted of a two-inch voice coil. The speaker also had a cone that measured almost 10 inches.
The cone is placed beneath a horn-loaded compression driver, which is about 1 inch in size. A perforated steel grille has been used to protect the tweeter and the woofer. A DSP is utilized to deal with the crossover and speaker capacities. The cross-over (an FIR filter) is of 2.1kHz.
An angle of 90 degrees' horizontal and 60 degrees' vertical is used for horn coverage. The base of the cabinet body comprises a 35mm pole mount. The body itself is molded and has a top handle, which is carefully placed.
The speaker is also loaded with a transducer, an amplifier, and DSP technologies. The DSP technology is staple for Yamaha's high-end speaker models. The frequency response of the speaker is around 55Hz to 20kHz.
The angled case of the speaker makes it possible to be placed horizontally hen used as a stage monitor. The small size, light weight, and placement of the handle make it easier to carry around this speaker in between gigs. The portability of the speaker leads to more accessible transportation.
Yamaha DBR10 Speaker Features:
Like most PA speakers, this speaker occupies M8 rigging points and a 50-degree rear corner angle. This allows the speaker to double as a floor monitor. The speaker also allows freedom for mixing facilities. For example, in case of a simple job, the speaker has to be used in a stand-alone mode.
'Combi' XLR/jack sockets are fitted in both of the channels of this two-channel mixer. The channel one is for accepting a mic or a line level input. The second channel just accepts line-level inputs whether they are balanced or unbalanced signals.
For portable music players, the speaker offers a RCA phono socket. The speaker has a slide switch to select between mic and line sensitivity. The speaker lacks EQ controls.
You might get many options when purchasing a speaker at the same price as a DBR10. Among those options, there is a possibility that you get more features as compared to a DBR10.
It is because Yamaha is expensive in general. However, it is better to go with a reliable brand such as Yamaha when purchasing a speaker. The company has also managed to keep most of the features in this low-price series.
Yamaha DBR10 Sound Quality: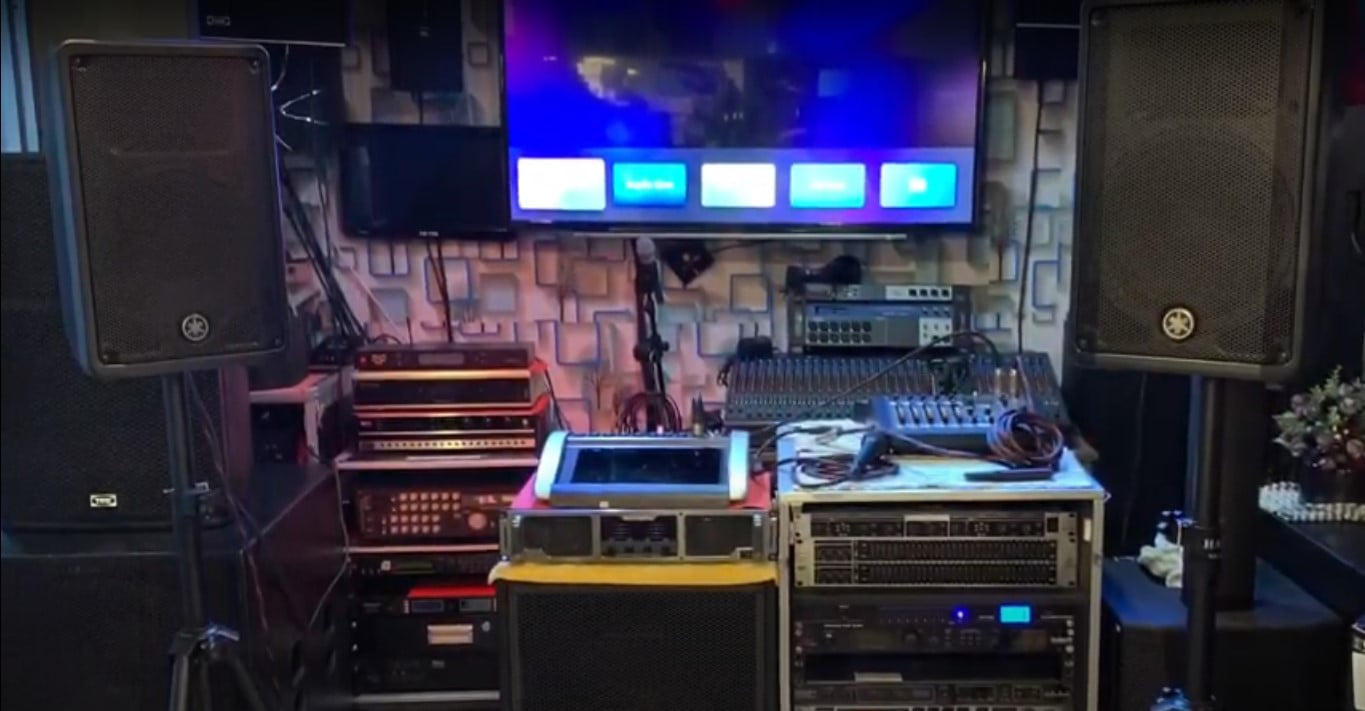 It might take you some time to get the monitor balance at the correct spot as a floor monitor. However, once you reach there, the speakers will outperform most of their competitive speakers. The sound produced is clear and has no feedback issues.
The speaker provides a pleasant warmth to the sound even when used as a PA. The speaker projects loud, clear sounds. However, the voice sounds slightly distorted if I stand behind the speaker. This is indicative of resonance, which is better corrected by wooden enclosures.
One needs to use a mic that does not require phantom power to connect it directly to the speaker. The sound then produced is also clearly projected towards the audience. The speakers are unique in handling acoustic guitar and other keyboard sounds.
Sometimes, the speaker struggles with low frequencies. This is where one needs to introduce a subwoofer. It should be considered beforehand that purchasing a subwoofer will increase the cost.
Pros
Light in weight and heavy in sound quality
Built-in mixer
Loud, warm sound
Rich bass
Connection flexibility
Budget-friendly
Simplicity of the rear panel
Cons
No phantom power on mic input
Mids and Highs dominate
Lows are not very powerful
PEOPLE ALSO ASK (FAQS)
Q- Can you use Yamaha dbr10 for crowded gigs?
Yes. Depending on the size of the venue, you can easily cover almost 100 people with 2 Yamaha DBR10. For more crowd, you can either switch to Yamaha DBR15 or you may proceed with more DBR10s.
Q- who manufactures the DBR10?
DBR10 is a speaker from the budget-friendly DBR series by Yamaha. Yamaha in Indonesia manufactures these speakers.
Final Verdict: If you are looking for a budget-friendly speaker that is small and compact but provides excellent results, Yamaha DBR10 is the way to go. These speakers are exceptionally loud for their small size. They play nice, warm, loud, and clear sounds. The high and mid frequencies are played perfectly; however, the lower frequencies are sometimes missed. Overall, the speaker has excellent value for money and is suitable for both a floor monitor and a PA speaker.