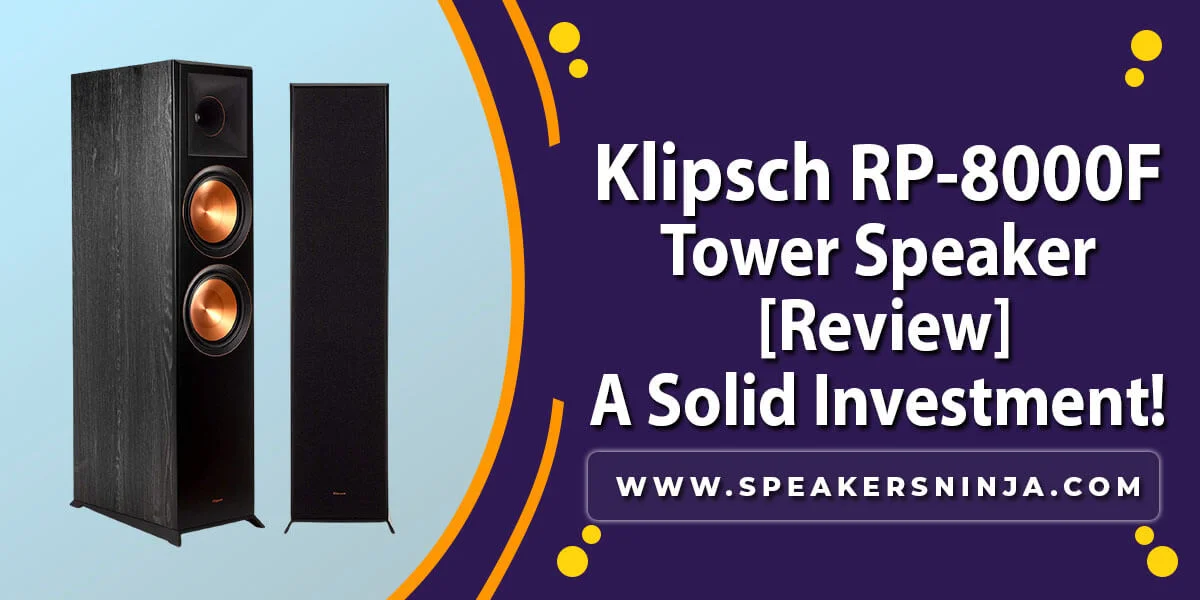 Klipsch has recently come up with an audio speaker that we thought was worth reviewing. It had been a while since we did a review on any Klipsch product so we thought why not!
This is a loudspeaker that comes designed as a tower. Klipsch is known for manufacturing some of the best audio systems in the market and we had to check out what they have cooked for us this time. The product that we have chosen to study is the Klipsch RP-8000F Reference Premiere Floorstanding Speaker.
Klipsch RP-8000F Review:
Frequency Response: 32-25,000 Hz (±3dB)
Sensitivity: 98 dB
Power handling: Upto 150 watts RMS
Peak Power: 600 watts
Impedance: 8 ohms compatible
Bass-reflex Design
If you have been looking for a new speaker system to enhance your overall music listening experience at home, then continue reading and see if this speaker falls in the appropriate category or not.
Piano Black Edition is the model we are currently trying out. With the combination of an absolutely great design and awesome sound, this model is sure to leave you satisfied with both aspects.
This speaker doesn't offer Dolby Atmos performance so if that is what you're looking for, you might be a bit disappointed. However, whenever we purchase an audio speaker system, the thing that we focus on the most are the fundamental needs such as having a good frequency range, clarity, excellent sound accuracy, and good bass which Klipsch RP-8000F Tower Speaker provided us with efficiently.
As the speakers are also reasonably priced, we opted for the Piano Black Addition, which costs an additional $100 per speaker, but considering how stylish and sleek they look, I think it's worth it.
Klipsch, what you need to know about the company?
Klipsch has been in the industry, manufacturing some of the best audio recording and production equipment for the last seventy years. The company has hired the most talented and passionate people of all and their primary focus is to come up with audio systems that provide exceptional performance to the users.
The company is known for its diversity. Over the years, they have brought in huge revolutions in the audio industry, and their products such as home theater systems, headphones, speaker systems, stereos, soundbars, amplifiers, and so on are known for exceptional build quality and awesome performance.
The Klipsch RP-8000F Tower Speaker is another one of their exceptional products, one that didn't disappoint us even one bit and we are sure you're going to love it just as much as we did.
Don't Forget to Read – Klipsch RP-280F Review
Design
The Klipsch RP-8000F Reference Premiere Floorstanding Speaker might seem a bit larger or taller than most of the tower speakers but it really isn't. If we are being honest from the design perspective then we have to say that we just adore the simplicity and sleekness of this speaker set.
It comes in two finishes which are ebony and satin. Both are scratch-proof and resemble sandalwood. We also loved the Black Piano Glass finish. It keeps the fingerprints at bay to ensure your speaker looks crisp and clear for the longest time.
Klipsch integrated the speakers with aluminum feet to ensure minimum resonance when you take the higher volume. The surround speakers and center channel also come with aluminum feet to minimize contact with the floor and provide a more clear sound.
We love the flawless built and the fact that it feels sturdy and solid in hands just ensures your money won't be going to waste.
Setup
These aren't small speakers so you will have to give them their due dedicated space. Since the Klipsch RP-8000F Tower Speakers have already been integrated with an aluminum footing, you won't have any trouble of placing them on a speaker stand. You can easily keep them on the floor if there isn't a lot of space on your table.
However, we do recommend that you provide them with enough breathing space so that they can reach their full potential. If you're pairing them with an amplifier or an equalizer to enhance the bass, make sure you have the correct settings for that so you don't end up buying something you didn't need.
Also If you want to add a microphone to your setup then check out MicGuides.
Performance
By installing the accurate subwoofers and making sure the setup is correct, the Klipsch RP-8000F can ensure that they will make any sound system sound very good. We assure you that once you have it installed in your living room, everyone is going to tell you that your home theater system sounds way better than a movie theater.
During system testing, we visited our old Atmos playlist and we have to say that it might not be that good but it was still something awesome that we heard. It is very clear in the sound production, with no muffled voices, and extra clarity.
Klipsch designed these speakers to be highly up-to-date so if they aren't capable of playing a sound, they alert you beforehand where the higher frequency is needed. You can also enjoy all kinds of digital music on these speakers.
The larger sweet spot and low resonance provide a very detailed sound. We won't say that these are the best speakers in the market but they do pack a punch given for the price.
Final Thoughts,
The Klipsch RP-8000F Reference Premiere Floorstanding Speaker is better than most of the currently available. It is a highly exceptional speaker that produces accurate sound coming straight from the source. So, if you're looking for a mid-range speaker that can work well in small gatherings, you should totally go for this one.
Pros
Excellent sound quality
Solid and flawless construction
Sleek design
Easy to place and setup
Cons
These aren't Digital Atmos