If you are an audiophile, you may wonder what the advantages of a soundbar are over a pair of quality tower speakers (which sound better). Depending on the size of your room and your personal tastes, a soundbar may be better.
People who are first getting into home theater have smaller rooms, and the number one reason they don't buy tower speakers is they don't want to deal with positioning them correctly.  With a soundbar, you don't have to worry about this since it takes care of everything.  
However, soundbars do have some downsides. In certain situations, they won't sound as good as a good pair of tower speakers, and they can take up more space and consume more power than tower speakers.
Tower speakers may be a better option for you if space is an issue. Additionally, soundbars can be more challenging to set up correctly than tower speakers. A soundbar may require a special receiver or amp, while tower speakers can be plugged into an existing receiver.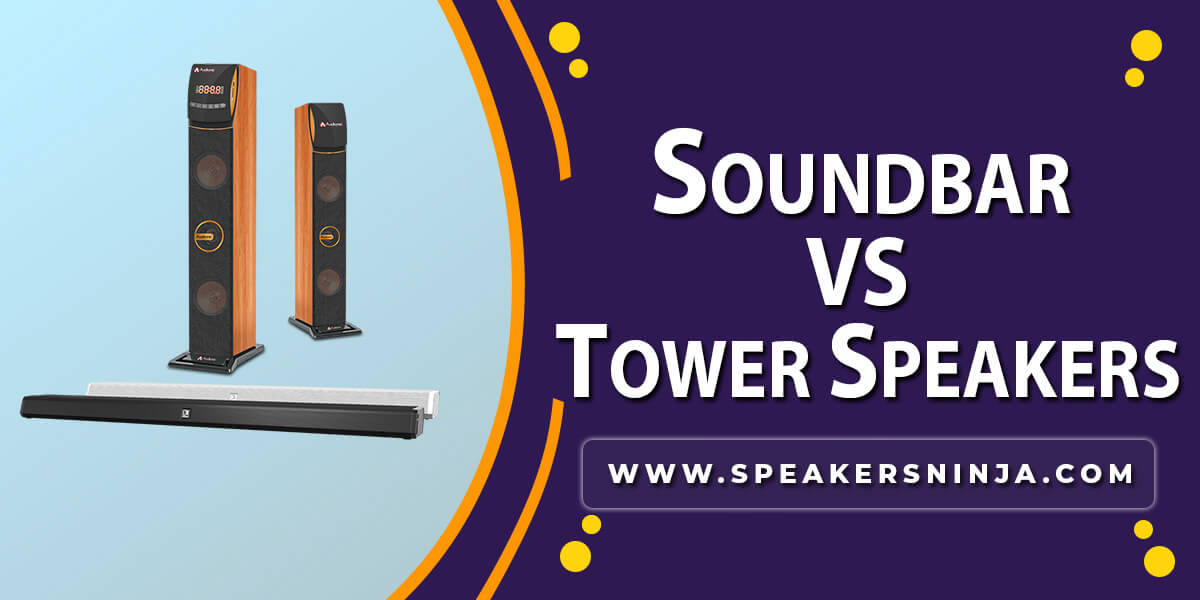 The Soundbar could be your best option if you prefer a quick, easy solution that works right out of the box.  Many great soundbars sound incredible.  Additionally, a soundbar is a good option if you want a wireless speaker you can move around easily.  If you like, you can quickly grab one and take it to another room or outside.  If your space is limited, this may be your best option.
Let's dig deeper into the Soundbar vs tower speakers debate to help you arrive at a definitive decision. Start with Soundbars.
What is Soundbar?
The soundbar is a long, thin speaker placed under or beside your PC. Typically, it has one main driver at the bottom and a few tweeters at the top. The soundbar will also include a subwoofer to provide your bass frequencies. Think of them as tower speakers that you mount above or below your TV. Rather than having to have multiple speakers around your room, and run the wire to connect them, a single soundbar can achieve the same result with much less hassle and expense.
Soundbases are also known as soundbars. In most cases, the enclosure sits directly below the TV, with the driver facing upward and the tweeters facing you. For truly wireless surround sound, some soundbars even have wireless subwoofers.
Besides being inexpensive and easy to set up, soundbars usually come with remote controls that can be used to adjust the volume and bass (and sometimes treble). Additionally, they usually have a built-in digital-to-analog converter (DAC) to decode and process the audio signal. More about DACs later.
If you choose a reputable brand and the Soundbar has a decent-sized driver, the sound quality can be excellent. If you don't want to spend the money or hassle on a surround sound system, a soundbar is an excellent alternative. They can be too bulky or large for some people, especially if they don't have much space below their TV set.
Don't forget To read : Best soundbars under $1000
Best Soundbars For Tv: Our Top Picks [2023]
1. Majority Bowfell Small Sound Bar
50 watt Powerfull speakers
Bass Boost
1x Bowfell
1x Remote
1x RCA cable
1x Power cable
1x AUX cable
The Majority Bowfell offers a slim and ultra-compact design so you can enjoy your favorite TV, films, and media. The soundbar is small and sleek in design, but it can be connected to your television via RCA or Optical, Bluetooth, USB, and AUX.
The Majority Bowfell soundbar delivers a high-quality audio experience. The provided remote offers preset equalizer options that you can use to tailor your sound to suit the occasion. In addition to the built-in subwoofer, the Majority Bowfell also has a rich, deep sound that enhances your audio experience.
You can use the Bowfell to listen to your own music and enjoy streaming services. Bluetooth's connectivity lets you play your favorite songs from any Bluetooth device or phone and immerse yourself in a spectrum of sound. In addition, you can connect a memory stick, MP3 player, or audio device directly to the USB or AUX port and play music from them. 
Pros
Smart, sleek design
Great sound
Easy to set
Bluetooth connectivity
Remote control 
Affordable price
Flat-screen
Cons
The extra remote is required
Bottom line
The Bowfell can be used to listen to music from many sources, watch movies on your TV, or play games – depending on your preferences.
Various connection options are available, including cables to connect to your TV or Bluetooth to stream music from your smartphone. You can set up all connections very quickly and easily.
The remote has specific listening mode buttons and is lightweight and easy to use. I enjoyed the sound quality from all different sources – music, TV, movies, and gaming.
If you have a large room, then this may not be the soundbar for you. In general, this would be an excellent soundbar for small spaces, and you are getting a great deal.
Don't Forget to Read – How To Connect Bose Soundbar To TV
2. Bose Solo 5 TV Soundbar Sound
Bluetooth connectivity to wirelessly stream music
Universal remote controls TV, bass, Bluetooth connections etc
Power cord
Optical digital audio cable
Dialogue mode
Compared with the Zvox 420 and SpeakerCraft CS3, the Solo feels solid, with curved edges and a matte gray finish that give it an aesthetic advantage. It doesn't matter what you think of Bose. The company designs attractive products.
I've always liked the look of pedestal soundbars, which also avoid the problem of blocking the remote sensor on your TV. What's the downside? According to Bose, it is recommended that you use it only with TVs up to 37 inches and some lighter 42-inch TVs. For most 32-inch televisions, it's perfect but too small for the 46-inch and larger sets that have become increasingly popular.
Soundbars usually come with chintzy, credit-card-style remote controls, but Bose's remote is fantastic. Bose's minimalist design leaves users with only four rules — Power, Volume (up and down), and Mute — that are more than enough for most users. Although simple, it feels solid and reassuring, with a rubberized texture and a reassuring heft.
Ports are located on the back of the Bose Solo. Again, connectivity is limited, but a soundbar doesn't need to offer much.
Digital audio inputs (optical and coaxial) are available, as is an analog stereo input. Since Bose expects you to use your TV as a switcher, the only limitation is how many inputs your TV has.
(The Bose accepts Dolby Digital audio as well, so it can receive audio from the TV's internal tuner.) It isn't possible with the Solo if you're hoping for extra features such as Bluetooth or a minijack input.
Pros
Elegant design
Excellent remote
Great sound quality
Built-in speakers
Affordable price
Easy to install
Cons
It lacks a front panel display
Only supports smaller TV up to 40 pounds
Bottom line
The Bose products we've tested have generally blown us away, but the Solo 5 was an exception. The company's product isn't wrong, just not to the high standard we've come to expect. Bose's Solo 5 is meant to be its budget soundbar, and it delivers decent audio considering its relatively low price.
Yamaha's YAS-108 is undoubtedly an affordable option if you're looking for one. It costs significantly less than the Solo 5 but outperforms it in almost every category. You can still get the Solo 5 if you already own several Bose products and need an inexpensive soundbar that will work with them.
Read Also – Bose Solo Soundbar Series II Review
3. SAMSUNG HW-T450 2.1ch Soundbar
Impressive sound
Deep rich bass
Optimized sound
Wireless Subwoofer
Dolby Digital 2ch
DTS 2.0ch
Samsung OneRemote
The Samsung HW-T450 200W 2.1-Channel Soundbar System provides an immersive surround sound experience and wireless audio streaming. With the soundbar and wireless subwoofer included, this system delivers up to 200W of power.
Dolby Digital and DTS support Two-channel audio. This soundbar is equipped with Bluetooth connectivity so that you can stream music wirelessly from compatible devices such as smartphones and tablets. With its optical input, the soundbar provides direct connectivity to compatible TVs.
As you watch, the soundbar automatically adjusts the sound settings according to what you're watching. Soundbar T450 provides clear sound regardless of the volume of a sporting event or a drama with quiet dialogue.
You can enhance your gaming experience by connecting your console to the soundbar. It offers clear directional sound and excellent sound quality.
There is only one remote you need. Use your Samsung TV remote to control critical functions of your soundbar, such as power and volume. You can enjoy crystal clear sound with this soundbar for your home theater.
Read Also : 2.1 Vs 3.1 Soundbar: Which Should I Choose?
Pros
Connectivity via Bluetooth 
Easy to install
Remote control
Great sound quality
The great value of the price
HDMI arc
Surrounded by sound.
Powerful base
Cons
Noise leakage in subwoofer circuit
Low volume from most sources
Bottom line
This product is for you interested in listening to and watching movies with crystal clear voices and dialogues. You can experience actual home theater. With its elegant design, it enhances the decor of your home. The soundbar has a remote control, so you can easily control the volume. Overall, it's a lovely soundbar, but ultimately, it's up to you.
What Is Tower Speakers?
A tower speaker is a small, stand-alone speaker without a subwoofer. The tweeter and woofer are typically located at the front of the speaker, facing you.
Tower speakers are usually placed on a shelf or side table facing you. They can also be mounted on the wall behind your TV set or placed on a floor stand. Tower speakers are typically 2-way speakers. This typically includes a tweeter and a woofer. On top is the tweeter, and on the bottom is the woofer. Additionally, there may be a passive radiator (or two) to help improve bass response.
The sound quality of tower speakers is generally better than soundbars, but they can be more expensive. The sound they produce is much better since they have a wider frequency response range, more dynamic range, and usually larger drivers and tweeters. Furthermore, tower speakers are easier to place around your room and often look better than long, thin Soundbars.
If you want an authentic surround sound experience, tower speakers are a great choice. You can also use them if you want to upgrade your home theater system or if you want to try something more powerful.
Best Tower Speakers For Your Home Theater [2023]
1. Polk Audio T50
Immersive Surround Sound 
Hi-Res Audio
1″ Tweeter
6.5″ Driver 
Two 6.5″ Bass Radiators
Polk's T50 speakers are handsome. Their medium-density fiberboard cabinets are covered with an attractive black grain wood vinyl finish, and the drivers are protected by removable, black cloth grilles. Speakers with a flat, small pedestal base have an overall fit and finish that is above average for their price range. They certainly do not look like entry-level models.
Compared to other towers, the T50 isn't very big. Its dimensions are 36.25 inches high, 7.75 inches wide, and 8.75 inches deep.
It features a two-way bass-reflex design with a 1-inch silk dome tweeter, two 6.5-inch passive base radiators that are not powered by your receiver's power amplifiers. Bass radiators are useful because they replace bass ports (it's a closed box), so they never create audible "chuffing" noises. Additionally, they let you place them in more places than ported speakers.
Pros
For the price, the Polk T50 tower speakers sound great. 
The speakers look good, too, and include a 1-inch tweeter, 6.5-inch woofer, and two 6.5-inch bass radiators.
Easy to adjust
Cons
It costs the same and sounds better than the Pioneer SP-PK52FS. 
There is only a black, wood-grain vinyl finish available for the Polk.
 Some recordings can sound harsh because of their treble detailing.
Bottom line
In spite of facing stiff competition, the Polk T50 is a remarkably decent-sounding tower speaker for not much money.
2. Wharfedale – Diamond 240 (Walnut)
Room-Filling Sound
Soft-Dome Tweeter
5 1/4" Kevlar Midrange,
Dual 6.5" Kevlar Woofers
Nominal impedance: 4 ohms
Minimum impedance: 3.0 ohms
Frequency Response: 35Hz – 24kHz
Before I begin my review, let me tell you that I was extremely satisfied with the shipping time and price.Diamond 240 is quite impressive for the price that these speakers deliver clear and crisp sound. When I compare it to my Martin Logan motion speakers, I honestly don't think they're worth the price other than the fact that they're bigger and louder, apparently.
In Wharfedale's Diamond 200 Series floor-standing speakers, the Diamond 240 sits in the sweet spot. With a three-way design, it distributes frequencies among two 6-1/2″ woofers, a 5-1/4″ midrange, and a 1-1/4″ soft dome tweeter, making it capable of reproducing natural, lifelike sound in medium- and large-sized rooms.
Pros
Design with a slot-loaded port for bass reflex
Wire, banana connectors, or pins can be attached to binding posts
With two sets of input terminals, bi-amping and bi-wiring are possible
Grilles that are removable
Installation is easy
Powerful sound
Good value
Bottom line
In my opinion, With its stunning highs and impressive midrange, the Diamond 240 is one of the most impressive floor-standing speakers on the market today. Further, I highly recommend it to anyone who appreciates music more than equipment and is interested in listening to music rather than equipment.
3. Q Acoustics 3050i Best Tower Speaker
Enclosure type: 2-way reflex
Bass unit: 165 mm (6.5 in)
Treble unit: 22 mm (0.9 in)
Average impedance: 6 Ω
Stereo amplifier power: 25 – 75 W
Crossover frequency: 2.4 kHz
Frequency response: (+/-3 dB, -6 dB): 46 Hz – 30 kHz
Over the past decade, Q Acoustics has made some of the best floor-standing speakers on the market, but the 3050i offers an exceptional combination of energy, scale, warmth, and control.
It could be the speakers you've been looking for if your love for bass and a big sound exceeds your budget. The 3050i woofer is hard to beat at this price and produces a taut, punchy, and accurate sound.
This speaker has a solid build and better cabinet rigidity than the firm's older 3010i and 3020i models. Additionally, HPE (Helmholtz Pressure Equalizer) technology is included, which reduces cabinet resonance.
Even though these towers won What Hi-Fi Awards back in 2018, they still have a lot to offer today.
Pros
Punchy, musical and subtle performers
Large-scale presentation
Smart finish
Flexible about positioning
Easy to install
Cons
Low-end performance can be unfocused and woolly with the Q Acoustics 3050i.
For the price, you can buy better speakers.
Speakers like the 3050i can't compete with home theater speakers when it comes to music.
Bottom line
It may only take a few minutes for you to decide which finish is best for your room when you hear the 3050is.
The 3050 towers are Q Acoustics' best mid-level towers yet, albeit at a higher price (the 3050 starts at £500).
By doing so, it has bridged a noteworthy price gap between Fyne Audio's F302 (400 pounds) and Monitor Audio's Silver 200 (1000 pounds).
Q Acoustics reinforces its position as a midrange floor stander with the 3050is. In light of the closest approach of the 2018 Awards, this is certainly a positive sign.
Soundbar vs Tower Speakers: Which One Is Best For You?
Although tower speakers have better sound quality than soundbars, they are more expensive and more difficult to set up. Those who want a simple setup that can be used for music and movies won't find them useful. The soundbar is much easier to set up than tower speakers – especially if you do it yourself!
If you have problems setting up your tower system, you might want to consider getting a soundbar instead. But if you're willing to spend some time and money on your setup, then Tower speakers might be a better option for you!
Is it possible to connect a soundbar to a stereo?
An optical cable can be used to connect the soundbar to a receiver. To connect the soundbar, connect one end to the receiver's digital optical out port and the other end to the receiver's optical in port. Then you may need to adjust the receiver's settings so that the audio is pointed in that direction. Soundbar stereo lets you enjoy your favorite movies with a top-notch sound.
Which is better, tower speakers soundbar?
Tower speakers are more prominent, typically more expensive, have better overall sound quality, are best for streaming music, and can be used with other pieces of audio equipment. In contrast, Soundbars bring a sleeker design at a smaller size, lower price, and sufficient to watch movies.
Do tower speakers sound better?
In general, tower speakers produce a deeper, more impactful bass than standalone bookshelf speakers due to their larger size and more airflow through the drivers than desktop or bookshelf speakers. In addition to having more woofer drivers, towers generally have more bass as well.
Do I need a subwoofer with tower speakers?
Subwoofers are not necessary for floor-standing speakers, and they can also use without them. However, if you want to experience deep, powerful bass, you require a subwoofer. Subwoofers allow you to hear the sound of the bass from your floor-standing speakers.
Should tower speakers be on the floor?
Examine your speakers' construction for placement suggestions. Putting your speakers directly on the floor is a bad idea. It is meant to be used against a wall if the backs are unfinished. It may be challenging to find the best floor spot for them if they're finished since they sound best a few feet from the wall.
What is the use of tower speakers?
In-home theater systems, tower speakers are frequently used for the left and proper channels. Therefore, they can make up a crucial component of the surround system, providing a louder and broader range of sound than everything else.
Do wake tower speakers have bass?
Tower speakers, however, are better the larger they are! They are capable of producing high frequencies and bass. Additionally, they can also have mid and high frequencies if you need something smaller. Your wakeboard size also plays a role.