I was looking for a product to make clear sounds at high volumes. This is because my family cherishes a good movie night. So far, I have never been much impressed with the sound volume of my TV or the other speakers I have gotten.
I had been hearing positive comments about Bose soundbars for almost an eternity, so when I decided to upgrade my sound system, Bose was my top choice.
I did thorough research, and even though it was pretty evident that some features were lacking in Bose's solo soundbar series II, I decided to go with it. This decision resulted from hundreds of positive reviews I read online and a few friends constantly praising the Bose soundbars.
Immediately after getting it, I tested the speaker by playing a suspenseful movie, and to my surprise, the soundbars added life to the suspense. Every little footstep, every sound in the rear, was crystal clear. It was unavoidable, but then i made one of the best choices regarding sound systems.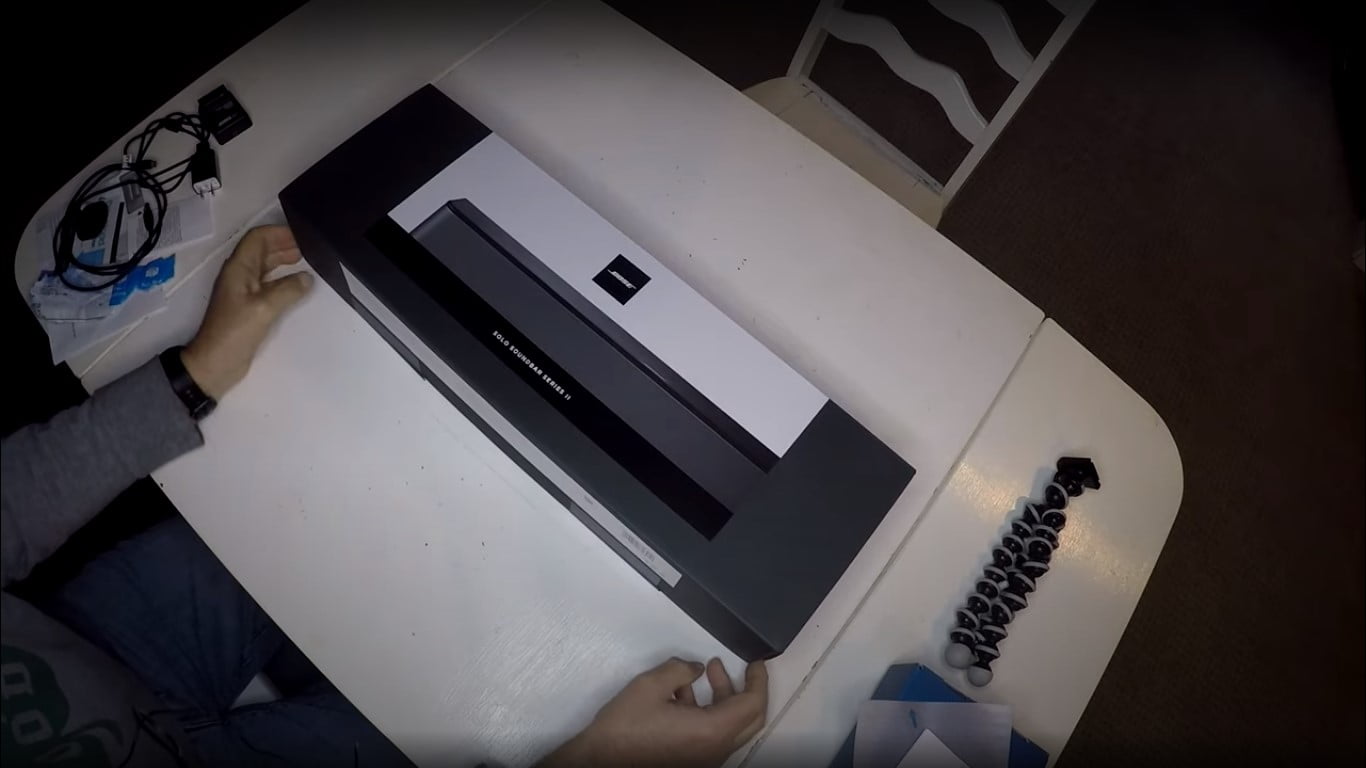 Bose Solo Soundbar Series II Overview:

Compact and single-piece soundbar design
Bluetooth streaming from any device
Multiple connectivity options
Dialogue mode for clear vocal enhancement
Night mode for balanced low-volume sound
Easy wall mounting with the included bracket
Designed for TVs 32" and larger
ADAPTiQ audio calibration tunes sound to room
The most significant advantage of the Bose solo soundbar series II is that it is very easily compatible with almost every TV set. The ease of connectivity sets this apart from all the other overly complicated products in the market.
Another feature that sets this apart from all the other conventional products is the compactness and sleekness of the product. It goes well with the aesthetic decor of your home theater, and you do not have to deal with a thousand wires hanging around everywhere.
For every music enthusiast, Bose is a familiar and trusted name. The manufacturers at Bose do not shy away from trying new things and adding more and more features to their products now and then. This makes every product a hit, including Bose's solo series 2 soundbar.
Read Also: How To Turn On Bose Soundbar Without Remote?
Specifications:
The compact and sleek soundbar is 8.6 x 54.9 x 7.1 cm. This makes it easier for users to place it in even the smallest spaces. Even though the size is small, the sound delivery is quite heavy. This is one of the smallest soundbars available on the market.
The sound is crisp and clear, and even the most minor murmurs in the dialogues are pretty easily audible. Bose soundbar series 2 can deliver rich and powerful bass.
Leaving the sound quality for a second, the design of the Bose solo soundbar 2 is also very elegant. The modes available can be customized as per the requirements of the user.
Several connectivity options are available. This includes wireless Bluetooth, which is obviously a plus point. Other than that, AUX and optical wire inputs are also available.
The soundbar has a built-in Dolby decoder and consists of 2 speakers. The exterior of the soundbar has a matte finish. The sound quality of the Bose solo sound bar series 2 is superior to any other competitors at the same price range.
Dialogue Mode:
If you are buying the soundbar for a fun movie experience inside the comfort of your home, just like me, then this is it. The dialogue mode on the Bose Solo series 2 allows crystal clear delivery of the dialogues without needing to adjust the volume.
Believe it or not, this has been a life-changing experience for movie fanatics such as me. The settings can be changed using the remote. If you want to turn on the Dialogue mode, press it on your remote and enjoy.
Don't forget To read : Best soundbars under $1000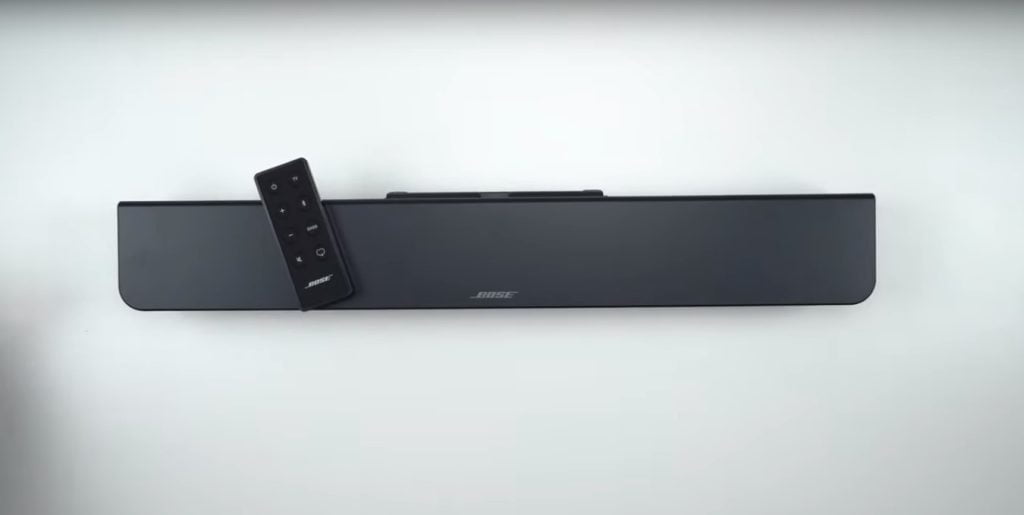 This is a newer alternative to the Bose Solo 5 and offers a similar set of features. Its Optical port makes it perfect for your TV if you don't have much space between your setup and your TV. Many soundbars will have trouble setting at a location for the first time until one finds the right site and setting. This is, however not the case for our Bose soundbar.
The soundbar is highly adaptable and can do wonders wherever it is placed. You can just put the soundbar beneath your TV, and leave it up to the soundbar to create its magic.
The soundbar can fill every room with crystal clear and superior sound quality, whether in your bedroom or living room. In case you want the soundbar to be wall mounted, it can be done quickly.
There is no need for a stand, as the light weight of the soundbar can easily be carried by two anchors that are delivered along with the product.
Mount the soundbar onto the wall using those anchors, and you are good to go. The anchors are made of high-quality steel, so you do not have to worry about their durability.
For many people, mounting it onto the wall is not a choice. I recommend placing it under your Smart TV, just like I have. The control of a soundbar is accessible via remote control. This remote is delivered along with the soundbar as a package.
An optical cable is also provided along with the soundbar. The cable is 1.5m long and serves as a supply cable. The package's last content is a manual with the complete guide for the Bose Solo series 2 soundbar.
Features:
There are several extraordinary features in your Bose solo series 2 soundbar. We will be discussing them one by one in great detail.
Sound Quality:
The Bose solo series ii can effortlessly elevate your smart TV's sound quality. This product is especially for those who are not satisfied with the unclear sound system of their TV.
Besides superior sound quality, Bose solo series 2 soundbar is also famous for providing crisp and clear sound even at the highest of volumes. The sound delivery has been made possible because of the two speakers.
The soundbar is highly self-sufficient in terms of bass control and does not have to rely upon a sub-woofer like other speakers. Both the Bose soundbar series 2 speakers are immediately behind the front grilles.
As mentioned above, the soundbar uses Dolby Decoding technology for audio enhancements. This results in a much more realistic and rich audio quality. The 20W power output is not exceptional and almost as much as any ordinary TV set would provide.
Regardless of the normality of the output, there is a significant difference between the sound quality of a regular TV and the sound quality of Bose Solo series 2 soundbar. Like many sound systems, it does not allow a connection with a subwoofer.
Usually, this would have been catastrophic for the soundbar, but Bose Solo Series 2 has done an excellent job of maintaining the frequency response. The soundbar works exceptionally well without any internal subwoofer or an external one.
Connectivity:
When choosing a soundbar, one of the most influencing factors is the flexibility of the connection. The more options available, the easier it gets to connect to the soundbar.
Multiple inputs can make an exceptionally flexible soundbar, but this requires as many as 5 input options to be available. If you have a modern smart TV, you can easily connect your Bose solo series 2 soundbar using either the optical port or the AUX.
Besides these widely accepted wired audio transfer options, Bose also allows coaxial communication, which works best with outdated TVs limited to a coaxial input.
Lastly, a widely used method to maintain connection these days is also offered by Bose solo series 2 soundbar. This is wireless Bluetooth connectivity. The range of the Bluetooth is 30ft, which is almost around 9m.
Not only can you connect your Bose solo series 2 to your TV using Bluetooth, but you can also connect it to your mobile phone, laptop, and any device that allows a Bluetooth connection.
The connection achieved is reliable and does not face connectivity issues like most of the speakers available on the market.
Additional Features:
One thing that is definitely lacking is the absence of an LED screen. Usually, the LED screen is used to represent the volume and bass settings. It also assists in making a wireless Bluetooth connection.
The volume and bass settings are to be done using the remote. This means there are no buttons or knobs on the soundbar's exterior, top, or rear. This has its pros and cons. The size of the remote is relatively small, and it measures 4.1″ H x 1.6″ W x 0.5″ D only.
Remotes can be tricky sometimes, you can lose them, and it can be a whole other mess. Knobs are easier to locate, but sometimes when they are placed at the back, it can get quite uncomfortable reaching them.
You will be either comfortable with the remote or not depending on your preference. I enjoy sitting far away and making all the necessary changes, but it can be pretty confusing for some.
The auto-awake option automatically turns on the soundbar when the TV signals it to do so. However, it only works with a smart TV.
Price:
Bose solo series 2 soundbar is currently priced at around USD $200. When looking at the features of the soundbar, the price seems a little extra. This is especially true when comparing the price with similar soundbar models.
Having said that, it should also be remembered that Bose is one of the most trusted brands in sound systems. Not only do they provide a durable product, but their sound quality is always superior in comparison.
Pros
Sharp and crisp sound
Rich bass and superior audio quality
Multiple connectivity options
Compact size
Elegant and sleek design with a beautiful matt finish
Remote available for volume and bass controls
Easy and simple setup
Cons
Unavailability of HDMI ARC
Controls are not placed on the buttons but on the remote
Lacks LED display
Bose Solo Soundbar Series 2 Buying Guide:
You can spend a fortune on the wrong product and still be dissatisfied with the results. This is why it is essential first to understand your needs, find the most suitable product for you, and then purchase it after reviewing it online.
Choosing between speakers and soundbars:
It all depends on your needs. If you are looking forward to having a simple speaker that can make the TV sounds more intense and understandable, then a speaker will do just fine. In that case, you can go for a Bose TV speaker.
Regular speakers should not be your choice if you want to further up your game. Instead, buying a soundbar is an excellent choice for a consumer like yourself.
This is because they are packed with all the latest technologies that can make the listening experience twice as better for you as compared to the TV speakers. If you are convinced about soundbars, buy a Bose solo series 2 soundbar or a Bose soundbar 700.
Choosing between the soundbar and sound base:
Sound bases are ideal for small places because they can easily be placed beneath the TV. Once located under the TV, mounting it to the wall or making further room for it becomes out of the question.
Thus, setting it up is quite convenient. Sound bases are not as popular as soundbars, thus, when buying one, you will have limited options. Sound bases also support external subwoofers and sometimes even accommodate an internal subwoofer.
In contrast to sound bases, soundbars are long and thin. They are sleek in appearance and can either be mounted to the wall or placed below the TV. Soundbars have multiple speakers in their enclosures, and generally, soundbars are purchased after matching their dimensions to the TV.
Connectivity:
When choosing a soundbar, you must understand the connectivity options available on your TV. If you have a modern smart TV, this is usually not a problem since it will allow several connectivity options.
But if you have an ancient TV that only allows an HDMI ARC connection, then you need to purchase a soundbar that also allows an HDMI arch connection to be made.
Control Options:
Some individuals are more tech-savvy than others. Some would want to physically move up to the soundbar to change bass and volume settings, while others would like to enjoy doing it from far away.
Depending on which way is more convenient, you will choose a soundbar that allows remote control accessibility or a conventional control panel on the soundbar exterior.
Choosing between Bose Solo series 2 vs solo 5:
The Bose Solo Series 2 has superior technology compared to the Bose Solo 5. Bose Solo also allows digital signal processing and has the famous Dialogue mode. Setting up Bose solo soundbars is relatively easy, and its compact size makes it easier to place anywhere.
Bose Solo 5 allows Bluetooth connectivity. Just like Bose's solo series, it also has a Dialogue mode. Remote control accessibility is available, and a single TV connection is possible.
Frequently Asked Questions (FAQs)
Q- How many speakers are in Bose solo soundbar series 2?
Two full-range speakers are in the soundbar, located just behind the front grille. The speakers provide excellent sound quality even in high-volume settings.
Q- Does Bose Solo series 2 soundbar have Bluetooth?
Yes. There is a wide range of connectivity options in the Bose Solo series 2 soundbar. This includes a wireless Bluetooth connection as well. The connection is easy to make and stable.
Q- Is there a subwoofer present in the soundbar?
No. The Bose Solo series 2 soundbar does not have a subwoofer. Neither does it allow you to play it with an external subwoofer. But unlike most soundbars, you will not require a subwoofer.