Welcome to the best soundbar for dialogue clarity, top picks, and recommendations. But, Why spend dollars on a soundbar when you can buy TV speakers? It is because, when compared to your TV speakers, a soundbar can be an advantage, particularly if you have trouble comprehending dialogue in television programs and movies.
It's also a brilliant way to improve the quality of your audiobooks or podcast listening, specifically if you intend to stream the content wirelessly.
There's also a downside of some soundbars that they can make voices more messy and cluttered, and it's a real thing of matter to find a soundbar that can make dialogue crisper and simpler to comprehend.
So, after thorough research on sound bars, I am here with 5 of the best TV soundbars for enhanced dialogue clarity. And almost all of them support Dolby Atmos along with other surround sound effects to provide you with an immersive audio experience.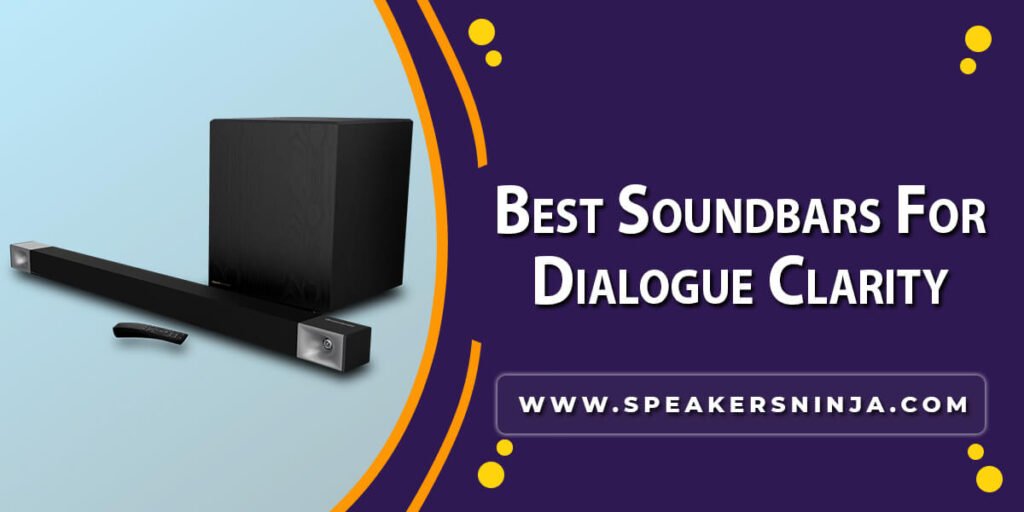 5 Best Soundbar For Dialogue Clarity (Based On Our Testing)
1. Nakamichi Shockwafe Ultra 9.2.4 – Best Soundbar For Dialogue And Music
On my journey to upgrade my music system for enhanced dialogue clarity, I tested a big giant, yes, Nakamichi. It was a risk, though, a bit pricey, I mean. But guess what happened next? It didn't sound premium for stereo content. I think of it as a loss.
Proving myself wrong, I tested Nakamichi for movies as I am a cinephile. And it worked wonders. Now mark my words; NAKAMICHI IS THE BEST FOR EXCELLENT DIALOGUE CLARITY while watching your favorite TV shows and movies. Now let me tell you why it is the best for voice clarity.
The Nakamichi Shockwafe Ultra soundbar system is remarkably unique. With two wireless subwoofers and four specific surround back speakers, it has a 9.2.4 speaker setup. Particularly when combined with Atmos content, it provides a rich listening experience.
Along with Bluetooth 5.0 connectivity, it features many HDMI ports to serve as a hub for your various devices. It has numerous settings that let you customize the sound to your preferences.
Countless features make the Nakamichi Shockwafe Ultra 9.2.4 well worth the expense. The Shockwafe Ultra is the perfect choice for your home theatre because it was expertly designed to provide you with a fully immersive, cinematic, accurate, and precise audio experience.
Let's get to know all the details of the most premium choice soundbar, Nakamichi: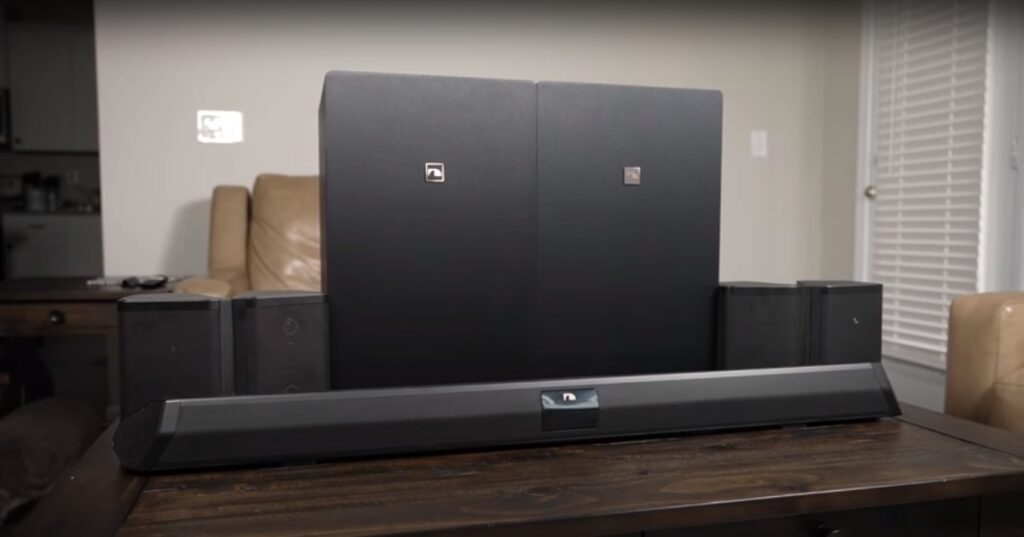 Sound performance:
The soundstage of the Nakamichi Shockwafe 9.2.4 is acceptable.
It feels so cinematic that objects on the soundstage appear to be coming from a precise spot rather than a general area.
I found the stereo frequency response on the Nakamichi to be satisfactory. However, its low-frequency extension is higher than several other soundbars. Favorably, the two subwoofers appear to have smoothed out the bass throughout the arena.
When watching movies, the Nakamichi Shockwafe offers a very immersive experience. It uses up-firing speakers in the satellites and side and front-firing drivers in the bar to imitate sound objects in the soundstage because it does not come with down-firing speakers for your ceiling.
You can better feel the action in scenes because of the thundering depth of the bass. It is my favorite dialogue-clarity soundbar for movies.
Related Read: Best Soundbar For Sony Bravia TV
Sound enhancement of your room:
I found this feature of Nakamichi very helpful. The soundbar contains a "Room" button that modifies the sound profile according to the size of your room, but it's not quite the same as a room correction because no microphone is used to assess your room.
The 'Bass' button on the remote controls the sub volume instead of how much bass the entire system produces. To help you adjust the sound to your preferences, this soundbar system offers a variety of specific features and sound control alternatives.
Although some compression errors are audible in the bass at maximum volume, this soundbar can become quite loud. Unfortunately, the stereo content has a dark sound profile, while the surround sound seems highly energetic.
Additionally, the treble lacks some definition, creating a darker sound profile with stereo material.
The stereo dynamics performance of the Nakamichi soundbar is outstanding. Although it is one of the loudest soundbars we have tested to date, there is, regrettably, some audible distortion at maximum volume, particularly in the bass range. However, at a typical listening volume, no problem is encountered.
Connectivity:
There are numerous physical inputs available for the Nakamichi Shockwafe Ultra 9.2.4. It is simpler for you to use your soundbar as a network for all of your devices, owing to its three HDMI connectors.
Additionally, an AUX cord can be plugged in, which is perfect for big gatherings where guests want to play their music without linking their Bluetooth devices.
Along with supporting the more prevalent Dolby Digital and DTS, the Nakamichi Shockwafe Ultra 9.2.4 also supports Dolby Digital Plus, which acts as a driver for Dolby Atmos. If you have DD+ content, the bar can decode it and use the ARC port to give a more immersive listening experience. It does not support eARC.
Design and build quality:
When it is about the design of the Nakamichi soundbar is highly distinct in its aesthetic design. It has subtle silver touches throughout and a unique design for a soundbar. Otherwise, it is entirely black.
A metal grille protects the front and side speakers of the soundbar, and the remainder of the bar is encased in plastic. The soundbar comes with two subwoofers, which are primarily made of wood. They feature an extremely simple but stylish design.
The two satellite speaker connectors are located next to the port for the subwoofer on the back side. The soundbar from Nakamichi has a distinctive design that could even be attractive. It has six 2.5-inch full-range speakers.
Additionally, the two ground-breaking Surround Effects produce a multidimensional sound profile 35% wider than comparable soundbars by reflecting sound off the walls.
Controls:
The soundbar comes with a remote control. The remote for the Nakamichi Ultra 9.2.4 is rather big. Although it is not a universal remote, it provides excellent control over the soundbar system.
It's a second-generation remote, which features big, backlit buttons that are color-coded for convenient control even at night.
There is no built-in voice assistant integration for this soundbar. You can link a third-party device that supports the Amazon or Google speech assistants if you need to operate the bar with your voice.
And lastly, to further enhance user experience, Nakamichi is a standby soundbar. It enters standby mode in "Eco Mode" after 20 minutes of inactivity.
2. Editor's Choice: SAMSUNG HW-Q950A 11.1.4ch Soundbar
At a glance: Samsung HW-Q950A is the successor of the Samsung HW-Q950T series. The subwoofer and satellites will improve your audio clarity performance on this high-end Dolby Atmos soundbar. It is the company's first 11.1.4 setup, and in comparison to the previous model, it offers several additional features like Apple AirPlay 2 compatibility and Auto EQ room adjustments.
Additionally, you get accessibility to Samsung's premium features, such as Q-Symphony, which enhances the Sound on compatible Samsung TVs by using the bar with the speakers.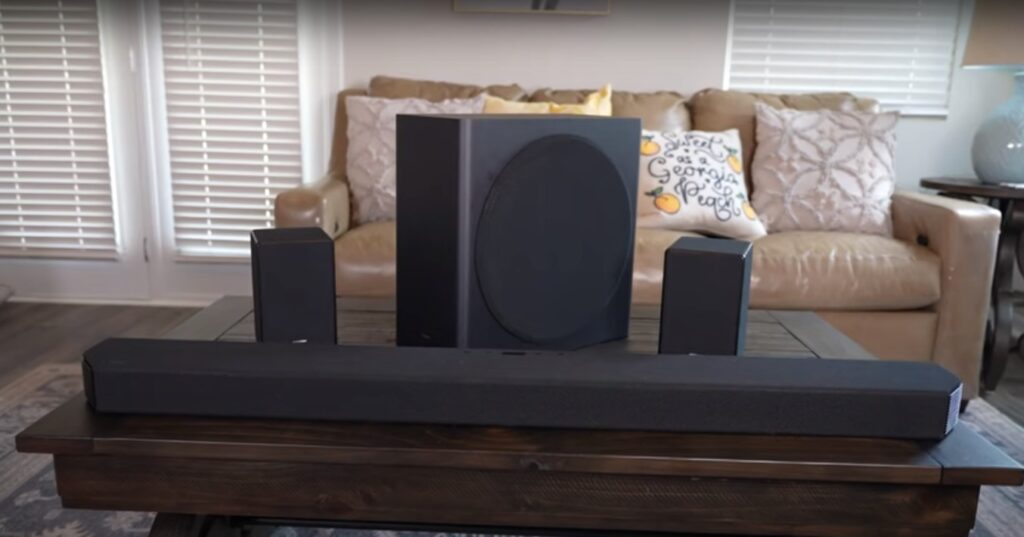 Here is why it's a must-buy:
Sound performance:
When looking for a soundbar for people with impaired hearing, I couldn't find a perfect soundbar. But in the nick of time, I found out the Samsung Q950A can be an ideal choice. It is because it features low latency and an accurate sound profile.
After initial calibration, the stereo frequency performance of the Samsung HW-Q950A is outstanding. This soundbar provides a highly neutral and controlled sound profile when the subwoofer volume is set to "+2." It preserves greater low bass, enabling you to experience the deep thump and rumble in bass-heavy musical genres and action-packed cinema.
Further, I encountered effective stereo dynamics in this model of the Samsung soundbar series. Your audio may easily fill a big room or a crowded party because it can get fairly loud. Additionally, even at maximum level, there isn't much compression, ensuring the audio reproduction is crisp and unspoiled.
The Samsung HW-Q950A performs well in terms of stereo soundstage. It has a clear focus, so sound effects appear to originate from precise, recognizable areas within the soundstage.
Most importantly, HW-Q950A is one of the best volume leveling soundbars with its Auto EQ room adjustment technology. It uses a microphone included in the subwoofer to adjust the audio output to the specific acoustic properties of your arena.
It provides a rather neutral, well-balanced sound profile when this feature is enabled. Because of its balanced mids, which will allow voices and lead instruments to be heard clearly and prominently, it is appropriate for most audio content.
Related Read: Top 5 Best Soundbars Under $1000
Total Harmonic distortion:
One of the reasons it is my favorite for voice clarity is that it has less THD. Its audio representation is primarily clear and pure at moderate listening volumes. When you set the bar to its maximum volume, there is a tiny increase in THD, which is normal. However, distortion is difficult to detect with real-life content if you're a regular listener.
The Samsung HW-Q950A performs well in terms of latency. You will not experience any lag between the Sound you hear and the video you see when watching over Optical and Full HDMI In because of its low latency.
Cinematic performance:
The HW-Q950A's back channels also offer an unanticipated additional feature that makes the rear soundstage seem more involved in the action overall. This further reinforces your involvement in the world of the movies you're seeing by highlighting the cohesiveness of the wrap-around 3D staging.
Connectivity:
No soundbar in this price range offers WIFI connectivity, but HW-Q950A comes with wifi connectivity and many other options. The soundbar provides excellent wireless playback support. The bar can wirelessly receive audio streams from your mobile devices using Bluetooth and wifi.
Additionally, it enables Apple AirPlay 2 connectivity, in contrast to the Samsung HW-Q950T. You can also use the Tap Sound function to mirror Sound to the bar's speakers by "tapping" compatible phones against it.
Moreover, the Samsung HW-Q950A supports a wide range of audio formats via Full HDMI In. Dolby Digital, which is frequently available on Blu-ray discs and streaming services, as well as more advanced object-based surround formats, is also supported.
Design and build quality:
The Samsung HW-Q950A and Samsung HW-Q950T have similar designs. It has slightly inclined vent-like apertures for its lateral surround speakers and is fairly broad and robust. The front and top of the bar are heavily covered with fabric, most of which is made of plastic. The fabric, though, appears to be prone to dust accumulation. So it needs regular dusting.
Although The HW-Q950A's main unit isn't tiny, at 130 cm, it is still smaller than many other current top-tier Dolby Atmos soundbars. So it's amazing that a whopping 15 drivers are packed inside. Two subwoofers and a wide-range tweeter are used in the left, center, and right channels, respectively.
Next, there are two each of the surround, wide-surround, and upward-firing drivers. The cordless surround units include three drivers, one towards the front of the room, one upward, and the last facing the listening area.
Control:
On the top of HW-Q950A, there are located four controls: 
a multi-function button
volume up button
Volume down button
Mute button
You can easily control the essential functions of the soundbar via these buttons. Also, the multi-function button is helpful as it can control the soundbar's power and change input sources.
Cutting to the chase, the display is small, so you can't see it from the sofa. It displays the current input as well as the soundbar's mode, and two buttons accompany it.
Moreover, the soundbar comes with a remote that features a basic yet practical layout, making it simple and ergonomic. It includes;
a central four-way navigational keypad
easily accessible volume sliders
Mute button
Settings button
Bluetooth connection, input selection, and power buttons. Of course, if your TV supports HDMI-CEC, you might also choose to adjust the soundbar's volume via the TV's remote.
Furthermore, Alexa is pre-installed on the HW-Q950A, but you can reactivate it anytime. After 18 minutes without an audio signal, the Samsung HW-Q950A shuts off on its own.
3. Best Standalone Soundbar For dialogue Clarity: SENNHEISER AMBEO Soundbar Max
For a standalone bar, the Sennheiser AMBEO Soundbar MAX's 5.1.4 configuration and 13 speakers provide an incredibly realistic and immersive sound experience with enhanced voice clarity. This system's special 3D mode makes it possible to listen to sounds above and around you without using wireless speakers.
Nevertheless, the bass is on the light side, especially with stereo content, and the bar can get quite loud. On the contrary, it supports almost all audio formats and comes with various inputs.
Related Read : Best Soundbars Under $300
Here is why it's a must-buy:
Sound performance:
Sennheiser AMBEO Soundbar MAX's loudness makes it ideal for large rooms or crowded parties. It operates well at maximum volume, but when driven against the highest limit, there are some compression errors, but just in the bass range. The bar performs admirably across the rest of the range aside from that.
The soundbar performs effectively with surround content when employing the AMBEO 3D sound mode. The side-firing speakers on the bar produce clear audio and perform well overall. Although sounds appear to come from above you, around you, and from the sides, they don't feel as real as a discrete surround, such as tower speakers. It has excellent performance for phantom localization.
Most importantly, the Sennheiser's AMBEO Soundbar MAX uses in-bar up-firing drivers to reflect voice off the ceiling and back down at you, giving the impression that it is louder and more profound than it actually is.
Yes. And this soundbar is equally competent as the best soundbar for dialogue clarity. It performs a wonderful deal of emulating an ambient sound, and when the AMBEO 3D Mode is activated, you feel that sound is surrounding you.
Although its overall sound profile is relatively accurate, the bass range might need adjustments. The bar still generates a significant amount of bass. Still, at the same level, the bass is audibly lower than other frequencies, providing stereo content with many basses, like some musical genres.
On the plus side, it offers a room's sound adjustment feature that adjusts the sound to your environment and ensures that voices are played clearly and accurately.
Consider it a superb way to enjoy multi-dimensional music like Dolby Atmos and an even more realistic way to appreciate the two-channel sound.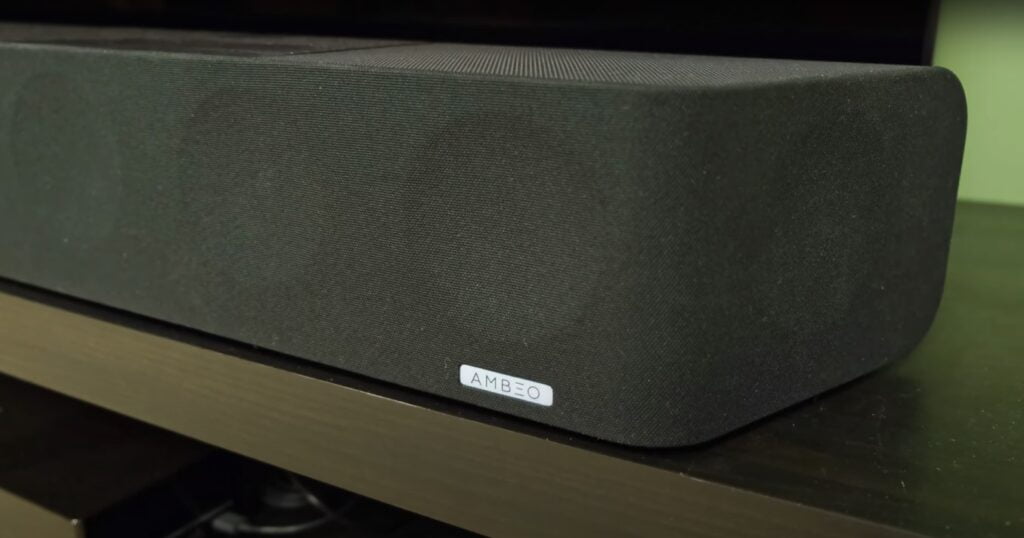 Connectivity:
One of the reasons behind the premium cost of Sennheiser, along with speech clarity, is the large range of connectivity options. The Sennheiser MAX may serve as a connector between your TV and other devices like gaming consoles, PCs, Blu-ray players, etc., because it offers a full range of physical inputs. Through the "SW PRE OUT" connector, this bar also allows connecting to an external subwoofer.
With that saying, you can connect up to four wireless and one wired subwoofer to the sub.
eARC is also supported by the Sennheiser Soundbar. You will be glad to know that this expanded version of ARC supports Object-based surround signals as well as premium lossless formats. With these formats, you may encounter the most advanced audio available on many Blu-ray discs and streaming services like Netflix.
Furthermore, this soundbar supports the most advanced and bass-heavy sound genres via Full HDMI In. You can stream uncompressed formats like PCM 5.1 as well as surround sound formats like Dolby Atmos.
Lastly, and most importantly, it supports Bluetooth and WIFI connectivity. Once the bar is updated to 1.0.237, then it also supports;
Apple AirPlay 2
Spotify Connect
Tidal connect
Design and build quality:
When it comes to the design of the AMBEO Soundbar MAX, it has an enormous size that will immediately catch your attention. And overall, the build quality is high, making it durable. The center of the bar is made of high quality plastic, while there is a metal grille on top and sides of the bar.
Before making a purchase, consider it a huge and substantial soundbar. So, it won't lie between the legs of the stand for a 55″ TV, and considering how tall it is, it probably won't allow you to see the bottom of the screen.
You'll be better off fixing the bar and TV to the wall or putting it on a smaller table than the TV table. If you have little space, the manufacturer has also made a smaller version of the Sennheiser AMBEO Soundbar Plus bar.
Control:
You can navigate the soundbar via the remote control. The remote layout is easy, making it easy to get used to. Along with the standard volume, mute, and source buttons, there are preset and Ambeo controls and a multifunction key for stopping and skipping video streaming through Bluetooth or Chromecast.
4. Best Budget Soundbar For Dialogue Clarity: Bose TV Speaker – Soundbar
One of the most well-known brands of speakers is Bose, and Bose TV speaker soundbar is suitable for enhanced dialogue clarity. It targets individuals seeking a simple and quick setup by eliminating all the unnecessary steps. The bar delivers an audio improvement that is readily evident and may get reasonably loud for its small size.
It further adds versatility by quickly pairing with smartphones and tablets to stream music of high dialogue clarity. If you prefer listening to spoken word material, the speaker offers an alternative Dialogue Mode that focuses voices and improves their precision.
Here's why it's a must-buy:
Although the soundbar's low bass lacks the deep thump and thunder, the high bass has a slightly more boom. You can add a separate subwoofer to the speaker system if you listen to a lot of bass-heavy genres to enhance the bass reproduction.
Further, tweak the bass on the Bose TV Speaker to personalize your experience.
There is no distinct center speaker in the 2.0 setup of the Bose TV Speaker. Instead of a single center channel, it employs its left and right speakers to produce sound in the middle. Voices are nevertheless reproduced with clarity and detail because of their frequency response's well-balanced mid-range.
Connectivity:
There are several physical inputs on the Bose TV Speaker. It contains an HDMI ARC, unlike the Bose Solo Soundbar Series II, allowing you to connect it to your TV and make use of HDMI CEC functionality. There is a USB connector; however, it can only be used to update the bar. Sadly, you cannot use it as a hub to connect your TV to other devices, such as a Blu-ray player.
In order to provide a quick wireless connection, Bose TV speaker supports Bluetooth connectivity which I found very helpful. In my opinion, you should prefer a wireless connection over a wired one to have a good user experience with this pocket-friendly soundbar.
Design and build quality:
I found the design of Bose TV speaker very comfortable for me, and its build quality is also acceptable in this price range. It is small in size as compared to other soundbars.
It includes a sleek plastic top and a metal grille with tiny holes on the front and sides to shield the speakers, giving it an extremely streamlined appearance.
Moreover, it includes one opening for the power cord, and the inputs are provided on the rear of the soundbar. You can conveniently wall-mount this soundbar because it has universal mounting holes on the bottom.
5. Best Soundbar With Al-Room Calibration: LG S80QY 3.1.3ch Soundbar
Here is the last product in my recommended list of the Best soundbar for dialogue clarity. Named LG S80QY, it is a typical sound bar system with some special features, including an additional up-firing center-channel speaker that improves voice clarity and positioning.
Dolby Atmos and DTS:X features make it a suitable sound bar for dialogue clarity and within budget.
Here is why it's a must-buy:
Sound performance:
During our testing, we experience exceptionally superb stereo frequency response with the S80QY soundbar. It comes with a subwoofer, and when watching videos and playing music, the soundbar and subwoofer's integration was seamless, resulting in deeper voices that sounded full and authentic. The S80QY's subwoofer produced powerful, crisp bass.
The bar's sound may be adjusted based on the particular acoustics of your area using a technology called AI Room Calibration, like most premium setups. When it is turned on, the bar functions similarly to the LG S90QY, with a generally even and consistent sound, notably in the mids, where most voices and lead instruments are reproduced.
In bass-heavy genres like EDM, the added boom in the bass makes it easier to sense the rumbling. Cymbals and other instruments are pushed to the back of the mix by the low-treble drop, and there is less low-bass rumble than with different settings.
BUT,
The dialogue delivery of the S80QY was most impressive. Dialogue in Television programs and movie soundtracks sounded dependably clear and realistic, and the soundbar's center speaker's upward-firing gave a vertical dimension that "lifted" conversation to the level of the screen. Due to this, the dialogue appeared to originate from the actors' lips rather than the TV's speaker.
Furthermore, the stereo dynamics on the LG S80QY are also acceptable. It can fill a standard living room with sound because it gets pretty loud. However, because it becomes less loud than other premium soundbars in the industry, there are better soundbars to use in large, open areas.
That said, when you turn up the volume to its maximum, there isn't any compression. It supports uncompressed and object-based technologies like Dolby Atmos and widely used surround sound formats like Dolby Digital. The output is an accurate representation of sound.
One drawback in sound performance I encountered while using the LG soundbar was that it offered few surround sound effects. But then, I realized it was quite evident from the beginning because it doesn't come up with satellite speakers. However, you can buy a separate speaker kit to enhance the surround sound experience.
Connectivity:
Along with ARC, the LG S80QY offers excellent audio format support. LG S80QY supports these connectivity options;
HDMI
USB
Bluetooth
Chromecast built-in
Airplay 2
Spotify Connect
Tidal connect
Design and build quality:
The S80QY's design is similar to previous LG soundbars. With dimensions of 39.4 x 2.5 x 5.3 inches, it complements TVs with screens of 50 inches and larger, while the 5.3-inch depth means it will protrude somewhat if you want to wall-mount it below a TV that is also attached to the wall.
The dark grey plastic bar's housing, which also features a matching grey cloth grille wrapping on the front and sides, has a sturdy, sleek appearance. Each up-firing driver is protected by a circular metal grille, which adds some flair to the design and gives it a high-tech appearance.
The LG S80QY is well-designed. The drivers are primarily composed of plastic and feel sturdy and long-lasting. And the fabric in front feels tightly woven and unlikely to rip easily.
The sub's wood-like solid construction is another plus. The cloth covering the side, however, is more flimsy than the fabric on the bar and may be prone to tearing.
Control:
You can navigate the LG soundbar with remote control and its supported application. The LG remote control is a slick plastic, yet it has a basic button layout and can be used to do most tasks, like switching inputs and sound modes and adjusting volume.
You can also use it to change the basic EQ and speaker's volume. For anything else more complicated, you have to switch on the application.
The LG Sound Bar app is the main app you need to download to enjoy all of the soundbar's features. With this application, you may navigate the soundbar, access the internet, and even employ the built-in auto sound tuning system.
Although it supports Alexa and Google Voice and comes with a built-in microphone, it still requires a separate device. It is the one downside.
Best TV Soundbar For Dialogue Clarity (FAQS)