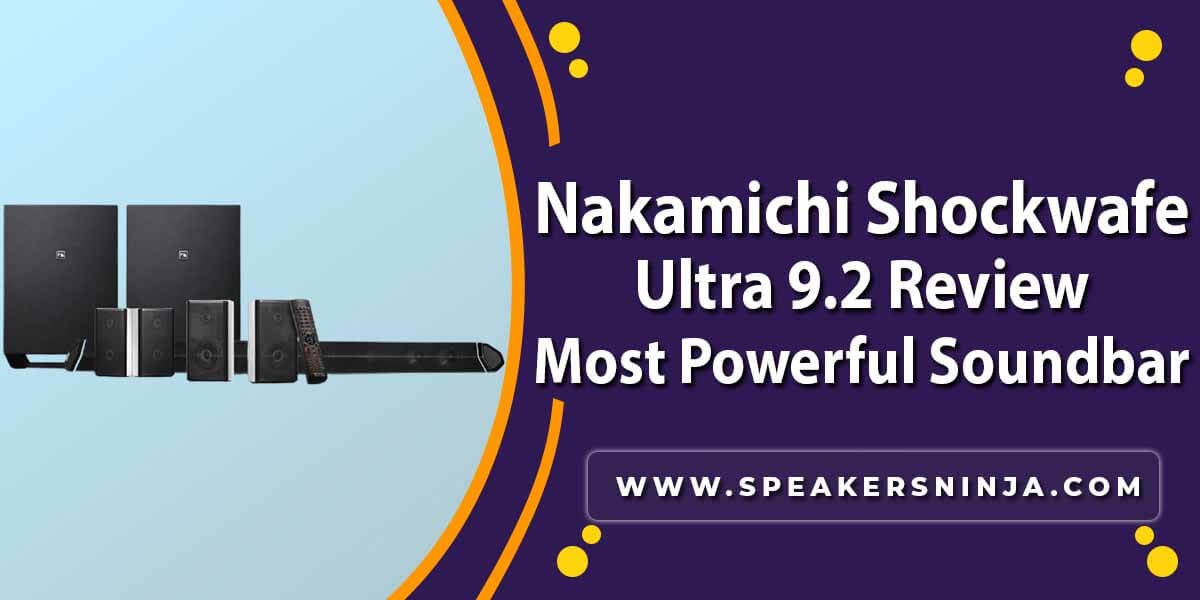 Before starting the review of Nakamichi Shockwafe Ultra 9.2.4 let's establish what a soundbar is? it is also known as a media bar, this is a kind of amplifier that will enhance the sound quality and it does so very efficiently, thanks to the way it has been designed.
The difference with this product is that it is a lot wider than it is tall. While this does have acoustic reasons, another reason why it is engineered to be so wide is so that it becomes easier to be placed either above or below your TV screen, home theater system, or even your PC.
This soundbar system comes with a 9.2.4 speaker configuration and thanks to the addition of two wireless subwoofers along with four surround sound speakers at its back, you get the most immersive sound experience that you could ask for. This means that while this device can manage high sounds especially if you are using Atmos content, you might hear some distortion or compression sounds.
However, this only is a problem if you try to get to maximum volume levels and these are already dangerous for human ears and best avoided. One of the most important considerations for any soundbar device is that it allows for connectivity to occur and this device comes fitted with a lot of HDMI ports which means it can be used with many external devices and systems.
360° Surround Sound
Support 4k HDR and Dolby Vision
SPL :1000W / 110dB
4 Rear Speakers
stream Dolby Atmos using Smart TV Apps
Qualcomm aptX 16-Bit BT Streaming
What are the main features of this device?
One of the coolest features of this device is that it comes with a handy remote control which has so many features, is fitted with 52 buttons and those are also back-lit! It is sleek and stylish and you won't want to hide it in your home.
Moving onto the features, you can control the equalizer settings, the source selection modes, audio focus, and even adjust the Spatial Surround Elevation (SSE) processing modes. This makes it an extremely user-friendly remote that makes navigation easy and convenient.
There is also a feature known as Advanced Sound Support and thanks to the addition of its built-in cinema-grade 3D advanced surround sound quad-core processor this soundbar supports tons of music systems such as DTS digital surround, Dolby Atmos, Dolby Digital Plus, DTS:X, DTS-HD Master Audio, and Dolby TrueHD among more!
Finally, there is also the incredible Video Pass-Through in Nakamichi shockwafe ultra 9.2 with which this soundbar becomes compatible with the Dolby Vision. This means that you can easily enhance your sound experience and it also increases the connection you can work with as it will allow audio inputs from different kinds of media sources.
Don't Forget to Read –SVS SB-2000 Review – Best All-Around Subwoofer
Where does the Nakamichi s
hockwafe

lack as a soundbar system?

However, there is a bit of an issue with the Nakamichi shockwafe, as it is complex, especially regarding its internal setup. This is essentially not the kind of device to invest in if you want great sound and a simple user interface.

The thing to remember about this soundbar is that it is somewhere between being a full soundbar and a more conventional home theater system and that can be both a flaw and a good thing, depending on your use of the device. While setting up the device is easy as can be even though you have to connect quite a few speaker channels, it isn't the easiest task to connect the surround to the subwoofer.

Now, we are going to move onto an in-depth review of the product with its pros and cons discussed in detail:
Nakamichi Shockwafe Ultra 9.2 Review – Most Powerful Soundbar
The Nakamichi Shockwafe Ultra 9.2.4 Channel 1000W Dolby Atmos Soundbar comes fitted with two dual 10-inch and completely wireless subwoofers which are an innovation you find easily in the market. The coolest feature, however, is the addition of the soundbar reference standard which takes your listening experience to another level especially with the effect it has on the bass.
The subwoofers can evenly distribute bass throughout the space that you place them in and they merge as one to ensure there is no localization. All of these cool features come together to ensure that users get all of the perks of cinema-quality sound without the addition of any distortion which is common when you raise the volume or bass slightly. Luckily, that won't be an issue with this device.
Other than this, you will also get to benefit from the addition of four incredible 2-way surround speakers as well and all 4 are connected with a tweeter in place which lets them create exceptionally high frequencies without any loss of clarity. Another advantage is the addition of the full-range driver which also adds in a depth of accuracy and precise sound quality.
The device has been engineered to appear in a modular construction which allows it to mold along with the acoustics of just about any room. Thanks to the addition of the 4 individual speakers, each time you turn these on, you will get to experience an incredible 360° surround sound.
The most important thing about the soundbar in this device is that not only is the soundbar amazing but thanks to the inclusion of their revolutionary new SSE Technology, you get to make use of 3 advanced audio processing engines which will add in a new depth and clarity to your music or movie viewing experience.
If you want to create your home entertainment system and have your sights set on new heights, then this is the best device to invest in. you will get to revel in around 9.2.4 channels of Dolby Atmos, which creates an immersive and multi-dimensional audio experience. Apart from the drawback that it might be difficult to set up in terms of its sound technicalities, with this product you can get up to 110dB of incredible sound.
Pros
Two 10-inch subwoofers
Cinema-level volumes
4 individual speakers
360° surround sound
Full-range driver
SSE technology
2.4 channels of Dolby Atmos
Cons
It might be a more technical device
If you're on the hunt for the Nakamichi shockwafe ultra 9.2, then this is for you. We have extensively researched to help you quickly choose the right product for your needs.
PEOPLE ALSO ASKED
Is Nakamichi a good sound system?
Stereo dynamics are good on the Nakamichi Shockwafe 9.2. Although it is one of the loudest soundbars we've tested to date, it has some noticeable distortion at maximum volume, particularly in the bass range. You shouldn't have any problems listening at normal volume.
Can you add speakers to Nakamichi Shockwafe?
By adjusting the remote control, you can customize the surround sound of any Shockwafe soundbar based on the size of your room and ceiling height. By connecting quad modular surround speakers in pairs to form dipole speakers, the shockwave Ultra 9.2.4 can also deliver signature surround sound even in small rooms.
Is Nakamichi Shockwafe Ultra 9.2 a good home theater system?
In addition to an all-in-one soundbar, this system features dual subwoofers and four satellite speakers. Undoubtedly, this is one of the best surround-sound systems you can get, with loads of features and support for all advanced audio standards.
Related Topics