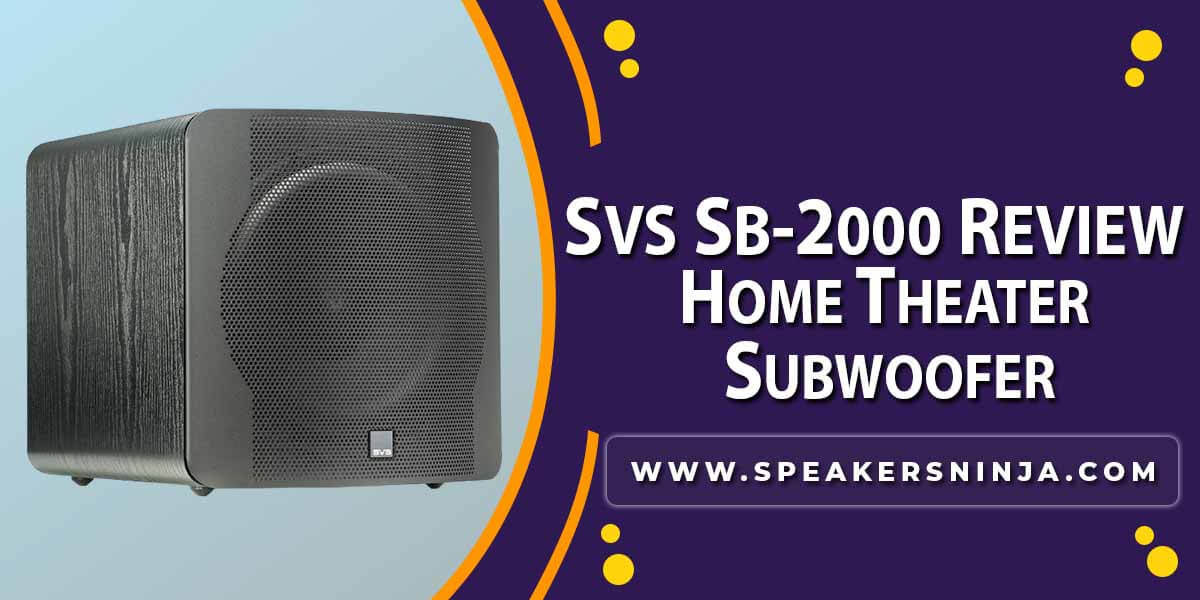 If you are an audio elitist looking for excellent subwoofers that would make your neighbors call the police then you must have heard about the SVS subwoofers. The SVS subwoofer lineup is jam-packed with extraordinary amazing audio devices that are nothing less than the dream product of many audio enthusiasts.
SVS is the world-class leader in the speakers' field and has some of the best and prime quality ultra-speakers, audio devices, and accessories and all thanks to its best in the town series it is enjoying a pristine position in the market.
If all the repute of the brand is put aside and only SVS subwoofers are given due weightage, the SVS brand will still emerge victorious as these subwoofers are the highly demanding and best in the town subwoofers immensely popular all across the world.
Let's Get Started The SVS SB-2000 REVIEW :
DSP Controlled 12″ Compact Powered Subwoofer
Sledge Amplifier STA-500D
Amplifier Power: 500 Watts RMS (1100W Watts Peak)
Max Acoustic Output: 125.0dB
Fully Discrete MOSFET Output
Frequency Response: 19-220Hz ±3 dB
Inputs: RCA
Grille: Steel Mesh
Size w/ Grille (L x W x D) : 14.6″ x 14.2″ x 17.1″ @ 35 lbs
FEATURES:
SVS is a solidified name in the industry, and its subwoofers lineup is having 1000, 2000, and recently launched 3000 and 4000 series along with the 16-ultra series. Among all of these members, the 2000 series are most commonly encountered and world-recognized, and this is all thanks to the appeal, design, performance, and high-quality bass and immersive audio produced by these audio devices.
The recent model of the SVS 2000 series is the SB 2000, and it is a top-rated product that has garnered the attention of critics and potential buyers all across the world. This model is all about the best quality audio and immersive performance suitable for the movies, music, and all other sound requirements of a subwoofer.
This SB 2000 subwoofer is coming with 12 inches sports drivers that are amplified using the STA 500D amplifier and has the sub-frequency of 20 hertz, which is again a commendable and praiseworthy aspect of the product.
The recent SB 2000 model of the SVS subwoofer series is approved after the testing of 20 prototypes and is therefore coming with all the very best features and has the best in the town performance that will compel your neighbors to call the police complaining about your loud and clear audio (You can definitely, prevent the scenario by turning the volume low! If you want to).
Don't Forget to Read about –SVS SB-3000 Review – Best All-Around Subwoofer
Design and Outlook
SVS has retained the elegance of its subs in its latest model and this SB 2000 model is no exception to manufacturing legacy since it comes with a very stylish and trendy outlook. It has an MDF that is medium-density fibreboard and this enclosure is stabilized by using a rubber foot.
Talking about the front side of the subwoofer, we will see a curved metal grille and the design of this metal grill is the standard design that you can encounter in almost any subwoofer in the industry. It is a curved front and is nothing more exceptional than the gold standard of subs in the field but some SVS fans seem to be demanding a straight front.
The dimensions of the subwoofer are also satisfactory and are coming with a 16 kg weight along with the measurement of 37 X 36 X 43 cm thus, you can say it to be a small subwoofer falling in the smaller sized category of the SVS 2000 series.
Digging deep into its core, we will find an STA 500D sled, this is complemented by an amplifier of 500 watts classified as a class D amplifier. This amplifier has an RMS coming with a peak power of 1100 watts.
The inner core has all the ports and electronic units that are mouthpieces of SVS's exceptional manufacturing skills and expertise. The driver of the SB 2000 model produces a low distortion that is based on the Finite Element Analysis (FEA) and is computer optimized for better efficiency and low distortion.
Performance
As we stated earlier that the SVS SB 2000 subwoofer is falling in the small-sized category and its lightweight design is giving it portability and easy maneuverability. Therefore you can easily roam the speakers all through your house and will be able to test the different places to decide which is the ultimate winner.
You can do this to find out the specific location inside your room or house where the sound will have less diffraction and you will be receiving more quality audio. Usually, the left corner inside a small room is supposed to be the best place for the SB 2000 subwoofers, where the performance is at its peak. But you definitely, have to try different placements to find out your own best place.
Movies
The most specific reason for buying the white elephants like 1000 USD sound devices is nothing else than watching the movies with a cinema-like feel at home. And the SB 2000 is good to give you this home cinematic experience with its high base and immersive, thrilling, and detailed audio.
You would be feeling the rumble and bass of the sound produced by these subwoofers, and this would be the best partner for a 4k UHD home theater transforming your home into a cinema.
Music
Many people would like to listen to their favorite music on their subwoofer and to many of the users, this doesn't sound like a wise idea. You can have a very fine quality electronic bass and the rubble will be felt, producing a mesmerizing sound that will keep you hooked to your favorite playlist or album.
Pros
High bass
Great rambling
Excellent low-frequency punch
Affordable
Wireless connectivity
Easy pairing
Cons
Wireless audio adapter not included
Doesn't support app control
No brass spikes
FINAL VERDICT FOR SVS SB-2000
SVS SB 2000 subs are quality and dependable subwoofers that offer users an impactful and distortion-free bottom without any lumpiness. These come out with solid and deep bass and are reasonably priced to retain the affordable price tag.
In a nutshell, we can say that these subs would be an astonishing product for you, compelling you to listen more and more and will prove to be a fashion statement for you as these sealed subwoofers are a name everyone wants to have beside themselves.