When it comes to looking at products launched on the anniversaries of companies, they tend to remind us of two things;
They either tell us exactly what the company is capable of manufacturing
Or they remind us of where the company started and how good still they are at being retro
However, KEF LS50 doesn't fall into both of these categories. It comes with an ecstatic price and provides the user with an extra set of features in an affordable range.
The reason why there has been so much hype about this speaker is because of its features the patented technology of KEF known as the Uni-Q. The driver is known to be one of the most advanced in the world. If you're looking for a reasonably priced speaker that offers magnificent sound quality then LS50 has everything that you can find.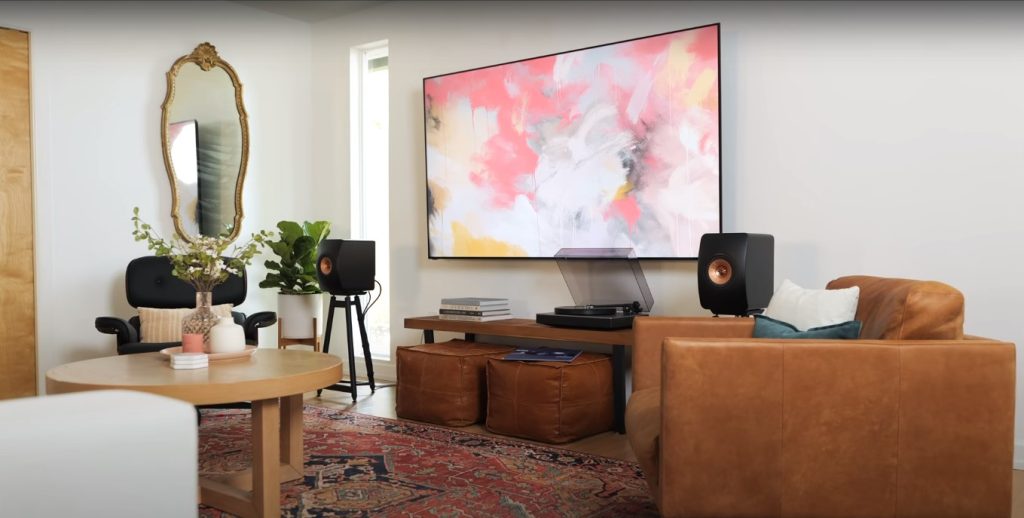 Don't forget to read: KEF Q950 Review – Best Floorstanding Speaker
What do You need To Know About KEF?
Before we indulge in more details about the speaker system, let's talk about the brand. KEF is reputed for coming up with some of the best and most highly versatile speaker systems that are currently available in the market. The company was founded back in 1961 and since then, they have worked day and night to reach the position they are in today.
Since the very beginning, KEF has wanted to try out new technologies and mold them into their speaker systems to produce sound in the most efficient way possible. The fact that KEF was keen on new inventions, many audiophiles took the liberty to try out their products and loved what they got.
However, the brand didn't stop there. For years, KEF has continued to provide us with exceptional performance and excellent speakers. The LS50 is another one of their high-end products that don't fail to impress us.
Let's Jumped Into KEF LS50 Wireless II Review
Metamaterial Absorption Technology (MAT)
Frequency range (-6dB): 40 Hz – 47 kHz
Amplifier output power (per speaker): LF: 280W HF: 100W
Supported format (all inputs): MP3, M4A, AAC, FLAC, WAV, AIFF, ALAC, WMA, LPCM and Ogg Vorbis
Power input: 100 – 240VAC 50/60Hz
Smart Design
The very first thing that anyone obviously notices is the design. Trust us when we say that you're going to love what KEF LS50 Wireless II has to offer you.
The aesthetic construction of this speaker instantly gives us the vibe that it is something we would be delighted to keep on our top-shelf. It's compact size and the sleek design means that you will easily be able to keep it anywhere you want no matter how messy your room might be.
Anyone's biggest concern when buying a book-shelf speaker would be the build quality. We are happy to tell you that KEF has gone an extra mile to keep the build quality of this speaker as topnotch as possible.
The LS50 comes with a curved front panel that not only makes it look aesthetic but it is also made out of polyester resin which is then combined with calcium carbonate and fiberglass for added strength. Because of the quality construction, another thing that you're bound to notice is how resonances have been minimized. This is something one can hardly find in a bookshelf speaker.
Remarkable Sound
The Uni-Q driver is what the KEF LS50 Wireless II takes advantage of over every other speaker of the same price and design. This is considered to be the best sound driver in the world which you're getting in a mini speaker that too on an affordable price point.
And not just that, the Uni-Q driver that LS50 has been integrated with was then further customized to meet its settings. It features a larger sweet spot that helps the speaker deliver a more detailed and accurate sound.
We also love how this driver enables the LS50 to match the settings of a small or a medium-sized room. If you have a small gathering and want a speaker that will not produce muffled sound then this is your winner.
Placement Matters
Now, if you need your speaker to give you most of its potential then you need to make sure that your place it correctly. Most people are okay with mounting on the wall but we have to tell you that takes away 30% of its sound. Also, by wall mounting, you will not be able to create 3D imaging that LS50 is capable of.
What we do suggest is that you put it in a clear space on a speaker stand. We know that these speakers are very small and don't really require a speaker shelf but trust us when we say, it will make a huge difference.
We did keep it on a shelf and on our TV, but what we got out of it were a mushy bass and blurry sound. It isn't good enough if you have a solid speaker in your grasp, but you fail to make the most out of it.
Pros
Aesthetic design
Excellent sound quality because of the Uni-Q speakers
Accurate and detailed sound
Excellent imaging
Cons
You will need partner equipment
KEF LS50 Wireless II Review Conclusion
If you happen to be someone who is looking for a clean and crisp audio experience, then KEF LS50 is everything you have been looking for. KEF LS50 Wireless II  offers exceptional quality when it comes to sound output and has been manufactured out of high-quality materials.
So, keep it calm because you're getting the best bet for your money. Featuring high-quality housing and Metamaterial technology, LS50 wireless is currently the class leader at this level; this newly launched speaker is a worthy investment with cutting-edge technology.