If you are trying to upgrade your sound experience, switching to a soundbar has been the correct call. But now that you have bought it, you might be wondering how to connect it to your TV.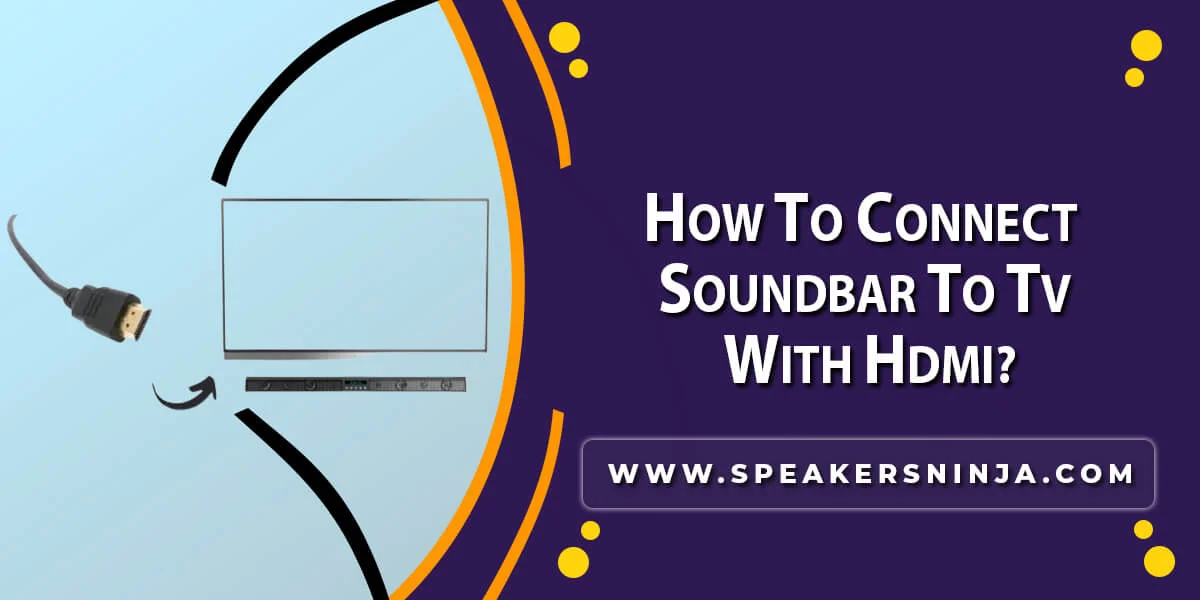 Connecting your soundbar to your TV depends upon the availability of given connections. Some might allow a simple HDMI connection while others might need an optical digital audio cable or an analog audio cable.
This may vary depending on your products. You need to see their manual for further illustrations regarding your own product and determine which connection is available for them.
Here are some other great reads that you might enjoy

Best Soundbar For Sony Bravia TV
How To Connect Soundbar To Tv With HDMI ARC?
As mentioned above, there are multiple ways of connecting your soundbar to your TV. However, we will focus upon an HDMI connection in this article.
HDMI (ARC):
In order to connect your soundbar to your TV via HDMI, you first need to establish one thing. Whether your TV supports Audio Return Channel (ARC) or not.
Most of the TVs do support this, which means establishing a HDMI connection is possible. However, if there is no ARC label near your HDMI IN port on your TV, then you will not be able to connect your soundbar via HDMI.
Don't Forget to Read –

How to Reset Vizio TV Without Remote

How To Connect Yamaha Soundbar To Tv?
1. Power connection:
This might be a basic step for some, but some miss connecting their soundbars to power. Before making any connections, you need to connect both your TV and soundbars to power outlets.
2. TV connection:
Once you have made sure the ARC is present in your TV. It is time to connect the HDMI cable. You will have to connect one end of the cable to the HDMI IN port on your TV.
3. Connect the soundbar:
Now that you have inserted one end of the cable in your TV, you need to connect the HDMI with your soundbar. This is just as easy.
For this, you will have to connect the other end of the HDMI cable to the TV OUT port on your soundbar. This port is usually present in the rear side of the soundbar.
If you are unable to find the ports, try reading for labels. You can also read the instruction manual for your TV or your soundbar.
4. Audio Output Settings:
Now that you have made a connection between the TV and the soundbar, it is time to change some settings and then you will be good to go.
For this, switch the audio output settings from your TV to the audio system. For most of the models, this is sufficient. However, you will also have to switch your soundbar settings to TV for certain models.
Frequently Asked Questions
Q- what is the best way of connecting your TV to your soundbar?
While there are many ways of connecting soundbars to TV, the best one is by using an HDMI cable. It is because they provide the best results due to their digital audio transmission. Other than that, the sound transferred is raw and uncompressed. They also allow a connection with most of the models, including the most luxurious ones.
Q- Why is my soundbar not working with my TV?
If you have just started to face this issue and the connection was established before and working fine, you can re-do the connection. This means that you can simply unplug and replug the wire and restart both the TV and the soundbar. However, if this is your first time, then this is a chance that your TV does not support ARC. Make sure that you follow each step closely.
Connecting your soundbar to your TV is simple; you only need an HDMI cable. There are other options for connecting your TV with HDMI too, and if you are unable to connect them via an HDMI cable, then you should move on to the other options.