When I purchased my Soundbar, it came with a remote control, but now I don't have any remote control, so I can't turn on my Soundbar at home. On most Bose sound devices, there is no power button.
The remote control is the only way to turn them on. If the remote control is damaged, the device won't turn on. The device might not turn on if your remote control is not working or gets lost. Even if your remote has stopped working, you can still turn the devices on. So today, I will show you how to turn on your Bose soundbar without remote.
Related Article : How To Use Bose Speaker Without Remote
Why Does The Bose Soundbar Remote Not Work?
Plug the speaker into a working outlet.
If in doubt, change to the outlet that is 100% working
It may be best to plug surge protectors directly into the outlet that works
Make sure that the power cable is clean and well-connected at both ends
Replace the remote battery if it is low
If your Bose remote is compatible with a specific device, you can try using it on that device to see if it works.
Unplug the device for a while and plug it back in again to check.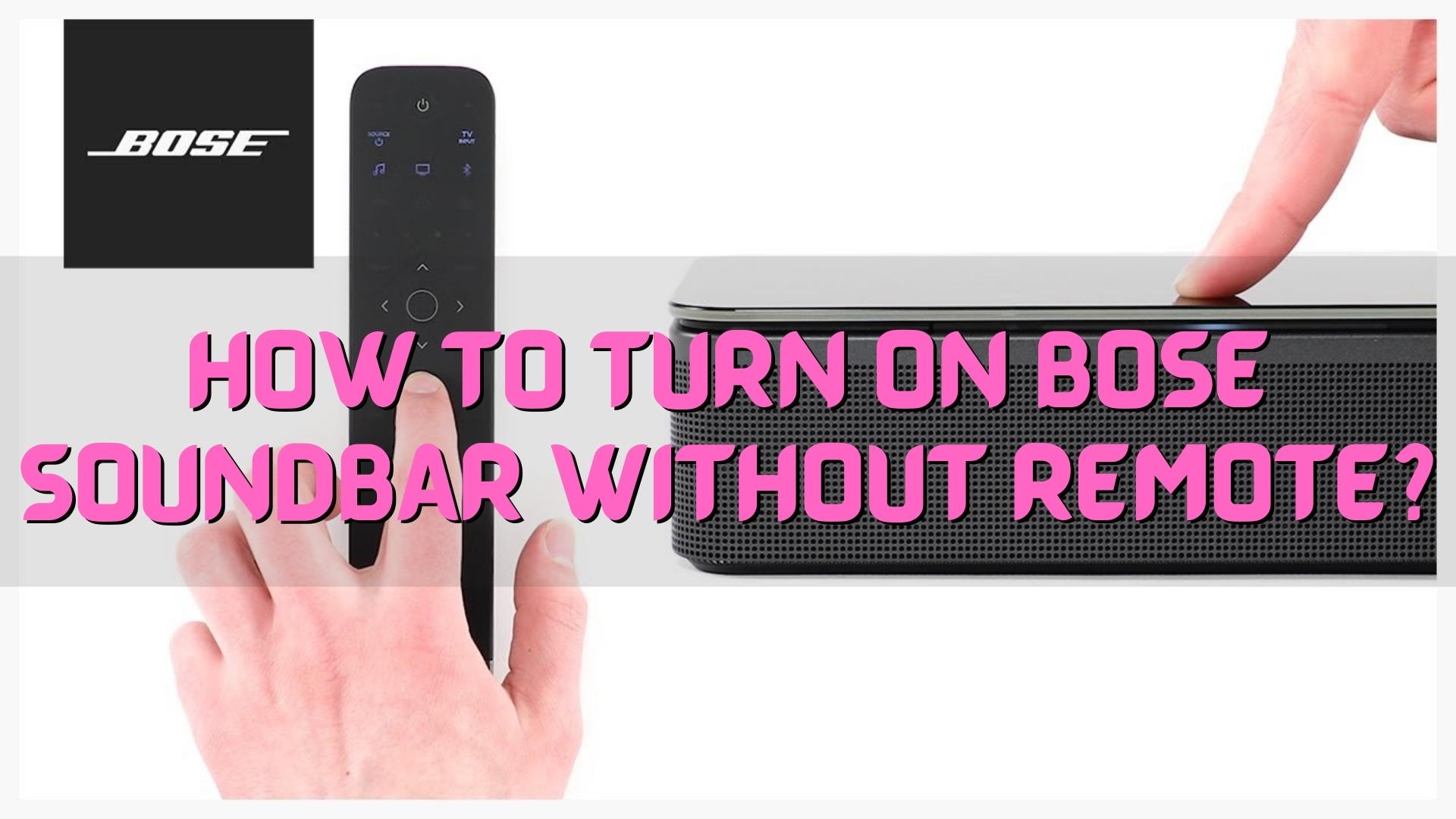 7 Ways to Turn On Bose Sound Bar Without A Remote Control?
If you lose the remote, there are seven ways to turn it on:
Step 1: Use Universal Remote Control
Several universal remote controls are available on the market. Universal remote controls work with all devices, unlike specific device remote controls.
It can control a variety of devices. Many homes already have universal remote controls. Using this method, you can turn on any Bose sound device without its original remote control.
Step 2: Remote Replacement For Bose
You can purchase replacement remotes for all Bose speakers and soundbars on Bose's website. If you need assistance purchasing a new remote, contact the Bose service center.
Step 3: Programmable Bose Remote
It is possible to program a remote to control any device. You can find many articles and videos on the program Bose's soundbars and speakers' remote controls.
You can now use the Bose remote to turn the speaker/soundbar on and off.
Step 4: Pairing Bose With A Samsung TV
Bose's systems can be paired with Samsung televisions designed for home entertainment in several ways.A Bluetooth connection is also available as an option on Samsung's newer televisions.
Step 5: Cables And Ports
Before connecting Bose, check your Samsung smart TV's port options. Cables are usually purchased separately, giving the user a choice.
Since HDMI cables are digital connections, they provide crisp Audio. In some cases, HDMI is preferred over Bluetooth to operate soundbars and televisions.
Optical cables provide a clear sound as well. A Blu-ray player, cable box, and Xbox system can be connected via optical cable to various external devices.
Through optical cables, you can connect a Samsung TV and a Bose speaker
As a final option, you can connect speakers with an ordinary rope. Auxiliary wires connect phones to vehicles and other devices with audio jacks.
HDMI is a better choice than an old-fashioned cable in terms of quality and provides a better connection than auxiliary cables.
This connection may be compatible with older Bose surround sound systems
Step 6: Creating Connections
Connecting the devices is simple after choosing a suitable cable. Turning off the Bose speaker and disabling the music allows the HDMI cable to be connected to the television's HDMI port.
Plug the other end into the Bose speaker's HDMI out port. Select the Source and Function options on each to create a bridge between the two devices.
A portion of the optical cable is plugged into the optical output port of the Samsung television, and the other end is plugged into the wall. You will join the other cable end to the speaker's digital audio input port.
Click on the D.IN button on the speaker to select the source. There is also an option to connect a cable. In the television's audio settings, choose Speaker External from Speaker Output.
However, the sound quality of the auxiliary cable is poorer than that of digital cables. Connect the cable using the Bose speaker's Aux-In jack and your television's Audio Out jack.
From the remote's Source option, select AUX to complete the connection. Since you now have a Bose system, you can listen to the television's sound.
Step 7: Connectivity Via Bluetooth
In addition to Samsung televisions and Bose sound systems, one can use Bluetooth to connect them. In general, wireless transmissions are convenient for temporary settings and to avoid the need to connect to a stiff wire.
Even though Bluetooth does not offer superior sound quality, it can be a convenient way to connect digital and analog devices.
You can pair your Bose speaker or remote using Bluetooth by pressing the pairing button. Click on the Connection Guide in the television menu.
The Bose will start playing television sound without a wired connection when selecting the speaker from the list of ready-to-connect devices.
Bose wireless speakers can also be connected to Bluetooth devices, such as cell phones. Using Bluetooth, one can use multiple devices simultaneously to control the speaker.
Related Article: Best Soundbar Under $1000
Related Article: Best Soundbar For Sony Bravia TV
Frequently Asked Questions
Can you use a Bose Soundbar without a remote?
You can switch on and off your system automatically without a remote control. The auto-wake feature can be turned on or off in turning auto-wake on or off. After 20 minutes, your computer will automatically shut off.
How do I know if my Bose remote is working?
You can quickly test your remote by placing it next to an AM radio. Tune the radio off the station and turn up the volume. Then press any button on the remote. A radio will emit a pulsing sound if the remote signal is good.
Can I use a universal remote for my Bose Soundbar?
It can control most devices connected to your display since it features a universal remote. Additionally, it is compatible with the Soundbar 700 and the Soundbar 500.
How do I control my Soundbar with the TV remote?
Your Samsung TV's remote controls should be used to navigate to Settings, Sound, and then Sound Output to select your Samsung soundbar. Click Close once you have chosen your Samsung soundbar. You can mute the Soundbar and adjust the volume using your TV remote. You can also turn the Soundbar on and off using the remote.
Does the Bose soundbar have a remote?
Only the buttons relevant to the task appear on the Bose Universal Soundbar Remote. You can adjust the remote to show only the controls you need when listening to music or watching TV.
How do I Turn On my Bose soundbar?
Bose speakers and soundbars can only be turned on with remote control. Once your remote stops working, you cannot turn on your speaker or soundbar.
Can I use my phone to control my Bose soundbar?
Bose Music app allows you to control multiple smart speakers and soundbars from any house room.
Is there a Bose remote control app?
Bose Professional has announced ControlSpace Remote, a new installer-configured mobile device app enabling end-users to wirelessly control their audio systems using an Android or iOS mobile device.
Conclusion
Turning on your Bose Soundbar without a remote is simpler than you might think. Simple steps can make your home theater system come alive. This is great news for those who've misplaced their remote or find it's not working. You can use the buttons directly on the soundbar or connect through a handy smartphone app. This flexibility makes your audio experience hassle-free and enjoyable. So, don't let a missing remote ruin your fun. Elevate your audio game with your Bose Soundbar now!