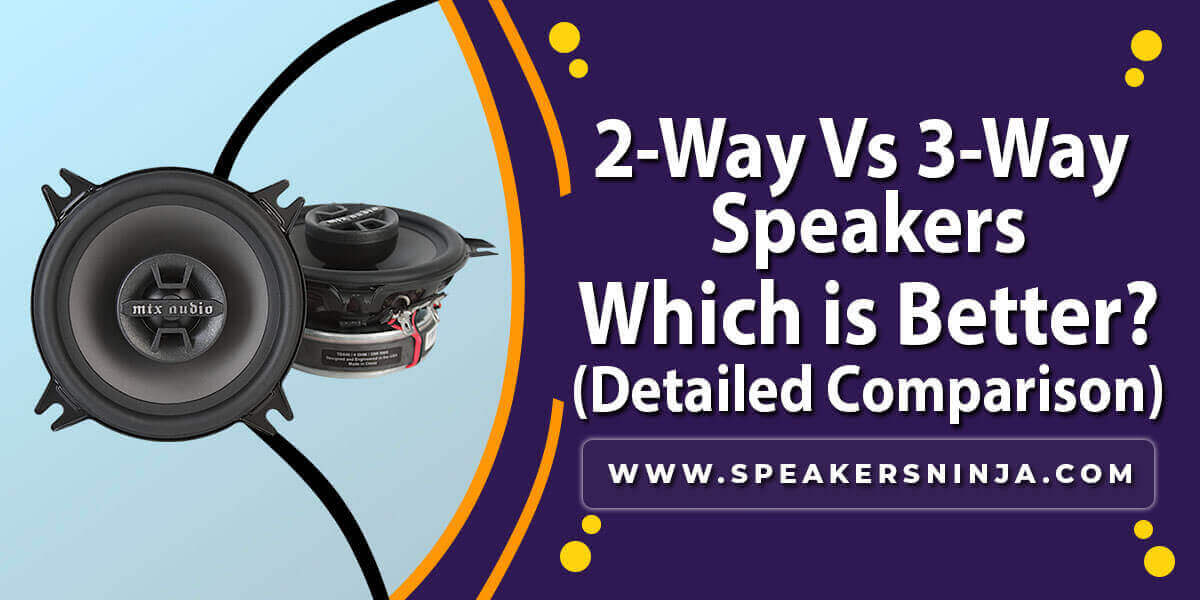 Let's face it; nowadays, with the increase in newer and newer technology, music has become an integral part of our lives with no minute spent without our favorite tunes. Thanks to amazing apps like Spotify we have our favorite playlists ready for on-the-go usage.
So, to ensure that our music experience is fully enhanced while we ride in our cars, we must ensure that the speakers we have fitted in are not of lower quality. We will be looking into two main types of car-based speakers today the 2-Way Vs 3-Way Speakers.
So to start this article, let's establish each type's differences and main features. A 2 Way speaker is a device that comes with two drivers. Two main components in the 2-way category are the tweeter and the woofer.
The woofer is responsible for tackling the low and mid-scopes of the sound frequency, while the tweeter will handle the higher frequencies. As they work simultaneously, these speaker frequencies may overlap each other now and again, leading to slight levels of distortion but not enough to ruin the sound quality.
On the other side of the equation, we have the 3-way category of speakers, which come with not two but three drivers, so the sound frequencies across this can be more equitably separated.
The prevalence of 3 speakers implies every speaker can carry out its responsibility more proficiently than just two speakers. However, since there is an extra frequency involved, there will be even more overlapping and thus way more distortion than in the 2-way category.
So, Of Course, The First Question That Comes To Mind Is, When We Look At 2-Way Vs 3-Way Speakers, which one to pick?
2-Way Vs 3-Way Speakers – Which Is Better?
When we look at the answer to this question from a very technical point of view, we refer to the kinds and quantities of components they have. The main difference between 2-way vs 3-way speakers is that 2-way speaker comes with both a tweeter and a woofer joined in one speaker package, and they may make use of a crossover function to hinder specific frequencies from every speaker. On the other hand, a 3-way speaker also has a tweeter and a woofer joined together; however, it is distinguished by adding a midrange.
By now, readers must be confused or wondering what a crossover is. To answer that question, it is essentially an electrical circuit generally included for full-range coaxial speakers, and this device blocks out undesirable frequencies so the speakers can sound great together.
There are a few letdowns in both of the two categories that must be taken into consideration before you actually make your purchase. So to start off, 2-way speakers do not come with a midrange, but this isn't necessary as there is not a high probability that the sound quality will be impacted.
For 3 ways, since there is an addition of an extra midrange component, therefore, a larger and more significant area of the woofer is blocked by both the tweeter and the midrange. However, luckily, there is still a low chance that this will distort the sound or decrease its quality.
Now that we have looked at the difference between 2-way and 3-way speakers, we should also look at one main similarity as well.
While one component in both is different, both come with crossover filters added to guide the divers as to which sort of frequencies they should produce. The crossover filter has been designed to use materials that minimize any chance of distortion or overlapping of frequencies as the speakers produce sound.
Now, let's compare some of the most sought-after 2-way and 3-way speakers available in the market.
Also Read: 2 Way Vs 4 Way Speakers
1. Focal EC 2-Way Car Coaxial Speakers
EC 165 K 6-1/2″ K2 Power Coaxial Speakers 
Maximum Power 160W
Nominal Power 80W RMS
frequency response: 60-22,000 Hz
sensitivity: 93 dB at 2.83 V
These Focal speakers highlight a special kind of sandwich-shaped woofer cone design which implies that strong yet increasingly lightweight Kevlar woofer cones are sandwiched between some of the lightest glass fiber layers for expanded quality and an increased life span.
The speaker is hooked up with a very strong elastic encasing and is featured by Focal's Tuned Mass Damper (TMD) innovation, which offers way more grounded protection from bending to keep the volume knob under control.
Now, moving on to the tweeters, users will find that they are fully integrated with the speakers and thus follow the M shaped cone structure for the best and most premium sounding sound quality. This also allows the sound dispersion to be handled well so that the user gets the best audio experience.
Another amazing feature of this device is that it can accommodate and handle up to 80 watts consistently so you can have confidence that these speakers will not let you down when you will need them the most.
Pros
Sandwich woofer cone design
Kevlar material
Hardy rubber surround
Up to 80 watts
Inverted shaped tweeters
2. Infinity Reference 6032CF 6.5 Inch 2-Way Speakers
Power Handling: 55W RMS
Peak Power: 165W
Sensitivity: (@ 2. 83V) 93dB
Frequency Response: 57Hz – 21kHz
Impedance: 3. 0 ohms
Next up we have yet another 2-way speaker called the Infinity Reference 6032CF 6.5 inches inch 2-way speakers. These are updated versions with a remarkable redesign thanks to the OEM brand. The best thing about these, straight off the bat, is that they are affordable and come well under the 100-dollar mark. With functioning at 180 peak watts, 4 ohms of power, and of course, 60 RMS watts, these performances are incredible.
There's more cone surface area which expands bass yield and improves effectiveness. Another fantastic feature here is that not only is the tweeter in this speaker easy to balance and adjust in terms of the directions it can point towards but it can also be adjusted in terms of the sound levels.
So, this device can be balanced either in a clockwise or counter-clockwise direction to be pointed where the listener will get the best results. This empowers the speakers to point the sound straight at the audience members, taking into consideration much better quality.
When we look at the level's adjustability, if the speakers are situated down low where the sound is excessively of good quality, you can change from 0 dB to +3 dB. As long as they are wired and set up correctly, these speakers work well with just about any car system.
Pros
Affordable price
Larger cone surface area
Direction and level adjustable tweeter
Compatible with most systems
3. Jaras JJ-2646 3-Way Speakers Car Speakers
Now, we are looking at our first 3-way speaker, the Jaras JJ-2646 car speakers and as the name suggests, they are primarily meant for usage within cars. Who says you can't customize and choose a brilliant and bold color? This is why these speakers come in very interesting cobalt blue shading. Another feature of these products is that they are a mere six inches in width and length, making them portable if you need to detach them.
Users will be glad to know of the 1-inch neodymium film-based dome, which is the most excellent way to get to the mid and high notes. Other than that there is also a midrange sound function with a 0.75-inch Piezo tweeter for the higher notes and vocals.
Another excellent feature is that they come with all the fantastic features but are so affordable that anyone can enjoy them. Furthermore, the product comes packaged with all the essential wires and screws so you can easily set them up in your car system.
Pros
Power rating of 360 watts
Affordable options
Cobalt blue design
Come with wires and tools needed to install
1-inch neodymium film dome
Cons
More chance of a crossover
4. Kenwood KFC-6965S 3-Way Automotive Speaker
Polypropylene cone
6×9 speaker
strong bass performance
impedance: 4 ohms
frequency response: 35-22,000 Hz
sensitivity: 91 dB
Last but not the least; we have the Kenwood KFC-6965S that offers the absolute best in sound clarity. It comes with a capacity of accommodating around 400 Watts per pair and an additional 45 Watts RMS per pair. It comes with 2 specialized tweeters which look at the higher and lower notes.
Even though they are super affordable options, these sound good in both vocals and bass levels and even though they are not going to provide you with extreme bass options, they are still an amazing offering from the OEM brand.
People Also Ask / FAQs
Q. Are 2-way speakers good for bass?
The 2-way speakers basically come with 2 frequency bands. It is basically a combination of a tweeter and a woofer, but as it comes to the bass, they do not prove that much good as the bass gets bundled in 2-way, whereas in 3-way, it remains separated.
Q. Is a 4-way speaker better than a 2-way?
In a comparison of 2-way and 4-way speakers, the 2-way speaker is far better than the of 4-way in terms of sound quality. A 2-way speaker basically comprises 2 high-quality drivers whereas, in the case of a 4-way, the quality of drivers is not that good. Apart from all this, they come with 4 channels; hence they offer a clearer and wider range with low distortion.
Q. Can you replace 2-way Speakers 3-way?
No, you can't. The 2-way speaker comes with 2 drivers, a woofer, and a tweeter, whereas, in the case of 3-way, the 3 drivers are part of it so the frequency is divided into 3. The 2 drivers can result in more distortion because of bundling. In 3 drivers, there is no crossover of frequency which results in high-quality sound.
Q. What is a 2-way speaker?
The 2-way speaker comprises dual drivers which include a woofer and a tweeter. The woofer is responsible for low-frequency sound, whereas the tweeter is for higher ones.
Q. Are 4-way speakers worth it?
The 4-way speaker comes with the super tweeter and offers a wider and more precise frequency range. If you want to use it for home theatres or a loudspeaker, then it is really worth it, and you can entirely rely upon it.