Installing an amplifier and subwoofer yourself Is a big deal, and we recommend getting all the necessary tools beforehand. You don't want to start the process and end up in a crisis by not having the right tools or incomplete stuff.
You can get an amplifier wiring kit, which includes all the essential tools and materials required and is sometimes cheaper than getting everything separately. Getting an amplifier wiring kit has the added advantage that it pairs the wire size correctly to the fuse, and all you have to do is choose which amplifier you are trying to connect.
You will still need to get the RCA and speaker wires separately. Either way, great in-store and online options will not cost much money.
Also Read: Best Amplifier For Outdoor Speakers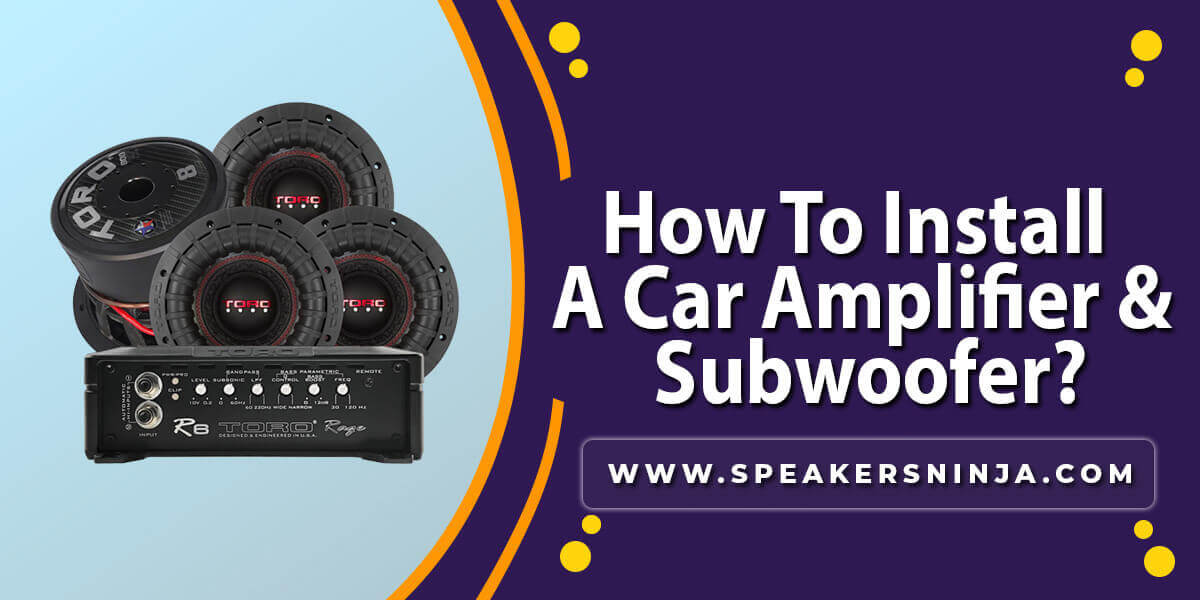 Things that you need while installation:
An amplifier
Power wire
Ground wire
RCA cables
In-line fuse and fuse holder
Speaker wire
A wooden board for securing the amplifier (optional)
Panel tool
Line output converter
Remote turn-on wire
Zip ties (for neatness and secure vehicle operation)
Wire cutting pliers
Crimp ring terminals
The power and ground wires must be thick enough for the amplifier to work correctly. The amplifier recommends what size and gauge wire works best for it. We recommend checking the amplifier manual for details regarding wiring instructions.
Once you have selected the correct wire size, you need to measure the distances of your car to get the right length. We recommend you take a few extra inches for the safer side. We selected the correct wire size depending on our amplifier; we must choose the correct in-line fuse to protect our system.
The wiring cable influences the choice of an in-line fuse. Once again, we recommend checking the wire manufacturer's notes regarding the wire's current capacity. Depending on that, you can choose a 25 amp,60 amp, or 100 amp fuse.
Amplifier placement:
We must first allocate a specific location to place our amplifier. Depending on that, we will use all the wiring. The location of the amplifier depends on its size mostly. For smaller amplifiers, you can use the space under the seat or on the firewall; this way, you need to use shorter wires, but you might need to remove the seat, and it requires expertise not to mess around anything there.
We recommend you be extremely careful of your SRS system while removing your seats. Most amplifiers are placed in the trunk or hatch area because of the availability of enough space. Remember, you need additional air space around your amplifier for it to cool off.
Once you have designated a spot for the placement, it is recommended that you attach a wooden board to the car and then secure your amplifier onto it. Attaching the amplifier directly to the car's body can cause noise disturbances.
Once you are done choosing the correct place for your amplifier, go ahead and mount it. Ensure you have 6-7 hours of free time when you start; you don't want to rush into anything. It is better to double-check everything.
STEP-BY-STEP INSTALLATION:
1. Remove the battery connection:
It would be best if you disconnected your batteries' negative terminal. This way, you will avoid any power shocks; remember to set the parking brake beforehand.
2. The power supply:
Now you must maintain a power supply for your amplifier from the battery. This might be tricky since you must find a way from your engine to the back of your car. Don't worry. All you need to do is to find the grommet from where all the wiring moves inside.
Remember to be extremely careful when working around the car wiring. Following the factory's wiring path is recommended to ensure you are on the right track. Once you have found an unused grommet, it might not be easy to get your wire on the other side just using your hand.
You can use a coat hanger instead and straighten it out beforehand using pliers. At this point, you need to secure the power wire using a fuse holder. Establish a place 4 to 5 inches away from your engine to place the fuse holder. Run the wire through it and onto the positive terminal of your engine by stripping off its end.
It would be best if you used crimp ring terminals to fasten your power wire with the positive terminal of your battery. Once your power wire is out through the glove compartment, you must take it to your amplifier. You need to finish this job aesthetically; for this, you might need to scrape out the carpet a bit or pry a couple of panels.
Once again, if wires are already going through from somewhere, follow the factory's path. Once you have reached your amplifier, use zip ties to hide your power wire. Please don't leave it loose or hanging for safe vehicle operation.
3. Ground wire:
You need to install the ground wire as near as possible to your amplifier. It is a crucial step; making mistakes in leaving the wire loose can cause problems in the sound. It means that you will need the help of crimp ring terminals again to bolt it onto the car's metal surface. The entire exercise will be a waste of time if that happens.
4. Connect your amplifier's turn-on lead to the stereo's turn-on lead:
For this part, you will need to remove the car stereo. Once the stereo is removed, find the turn-on lead. It is usually the blue one. Now you will have to strip both the wires and solder or crimp them together. You must route the wire back to the car's body just like you did with the power wire. At this point, you also need to cut the speaker wires from your radio if you are placing a LOC (next step).
5. Installing line output converter:
Usually, the radios don't have an in-built RCA output. For this, we need to get a line output converter. The LOC converts the speaker-level signals to the inputs. All you have to do now is connect the wires from your speaker to this LOC.
6. From the amplifier to the speaker:
Remember the speaker wires that we cut before? Now is the time to replace them. We need to connect the amplifier's output to each speaker. Once again, you will have to run these along with your power wire connection. Remember to secure each wire to the speaker terminal after you have cut the factory speaker wire.
7. Input to the amplifier:
This is an easy step; you are almost done at this point. Just fix the RCA cables into the amplifier's signal inputs. Always remember to use zip ties to secure the extra wire. We do not want any loose wire creating any nuisance. Connect the power wire, remote wire, and ground wire as well.
8. Bridge the subwoofer:
Suppose you are using a subwoofer instead of the factory system. You need to connect your RCA and speaker output to the subwoofer. Also, remember to buy a giant subwoofer, which gives better sound quality. Place the subwoofer in a music box, and it is not recommended to install it improperly because, in case of an accident, it might fly across the vehicle, causing injuries.
(steps 6 and 7 are for factory speakers, avoid them while using a subwoofer)
Now that you are almost done, connect your engine's negative terminal back and turn the power on. It's time to check the sound system. First, make sure all the connections are tight and secure. Set the gains to the minimum and play the sound. Listen carefully to each speaker or subwoofer and make sure it is working correctly.
Installing an entire sound system is undoubtedly a tiring job, but the sense of achievement once you're done it is incredible. Make sure to get all the things required beforehand. Also, you should spare an entire day for this job and don't want to run out of time. Always read the reviews before buying any of the items mentioned above. Lastly, always double-check everything that you do.