As a car enthusiast, nothing is more frustrating than listening to music with a speaker buzzing. It's like having an itch you can't scratch; it distracts you from the joy of driving and ruins the entire experience. Luckily, there are ways to fix this issue and get back to enjoying your favorite tunes while cruising down the open road.
In this article, I will guide you through identifying the cause of the speaker buzzing in your car and offer practical solutions for fixing it. From checking for loose connections to using noise filters or suppressors, we'll cover all bases so you can get rid of that annoying sound once and for all. So buckle up and get ready to eliminate those pesky speaker buzzes!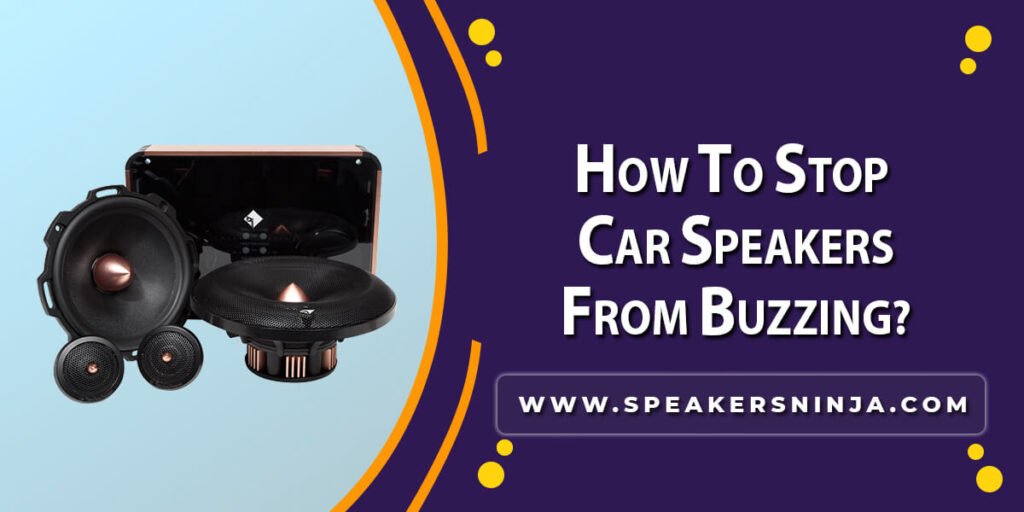 How Can You Fix Buzzing Speakers In A Car?
If you're tired of hearing that annoying buzzing sound from your car speakers, it's time to figure out what's causing the problem. The first step is to identify the source of the buzzing sound. Many things, such as loose connections, faulty wiring, or interference from other electronic devices, could cause it.
One possible cause of speaker buzzing is loose connections. This can occur when wires become disconnected or are not properly connected in the first place. To fix this issue, check all connections and ensure they are secure and tight.
Another common culprit for speaker buzzing is faulty wiring. If there are any damaged wires or if the wiring is not installed correctly, it can cause interference and lead to a buzzing sound. In this case, replacing or repairing the wiring may be necessary to eliminate the problem altogether. By identifying these causes and acting accordingly, you can finally enjoy clear and uninterrupted music while driving your car on long trips!
Step 1: Check for Loose Connections
Examining the connections lets you quickly troubleshoot any potential issues causing unwanted noise in your car speakers. Loose connections are among the most common causes of buzzing or crackling sounds. The first step is to check the speaker wires and ensure they are securely connected to the amplifier and speaker.
If you find a loose connection, gently reseat the wire and tighten any screws or clips holding it in place. It's essential to be careful when handling wires as they can be fragile and easily damaged. Once all connections have been checked and tightened, turn on your car stereo and test for any remaining buzzing or static.
In some cases, loose connections may not be the only issue causing the speaker to buzz. If tightening all connections doesn't solve the problem, it may be necessary to look into other possible causes, such as faulty wiring or defective components. By thoroughly examining your connections, however, you'll increase your chances of quickly resolving any issues with unwanted noise from your car speakers.
Step 1: Check for Loose Connections
Take a moment to check your cables for any signs of damage, such as fraying or cuts, to ensure optimal sound quality from your audio system. Cables are essential in delivering clear and crisp sound from your car speakers. Damage to the cables can cause interference and result in buzzing or crackling sounds. Therefore, it is essential to inspect them regularly.
Locate all the cables connected to your speakers and head unit to start the inspection process. Look closely at each cable for any visible signs of damage, including frayed ends or cuts that may expose wires. If you find any damages, replace the cable immediately with a new one that matches the specs of your audio system.
Another important thing to consider when inspecting cables is their length. Ensure they are long enough to reach all components without being too tight or loose. A tight cable can cause strain on the connectors and lead to damage over time, while a loose one can create noise due to electromagnetic interference (EMI). So be mindful of these factors when checking for cable damages.
Step 3: Replace Damaged Cables
When you find damaged cables, it's crucial to replace them immediately to ensure optimal sound quality from your audio system. Even the smallest damage can cause buzzing, crackling, or distortion in your car speakers. Replacing damaged cables is a straightforward process that will improve the overall performance of your audio system.
To replace damaged cables, you will need to purchase new ones based on the specifications of your car and sound system. The table below provides some common cable types and their uses:
| Cable Type | Use |
| --- | --- |
| RCA Cables | Used for connecting amplifiers and subwoofers to head units |
| Speaker Wire | Used for connecting speakers to amplifiers or head units |
| Power Wire | Used for supplying power to amplifiers |
Once you have purchased the appropriate cables, locate the old damaged cable and disconnect it from both ends. Carefully insert one end of the new cable into its corresponding port on either the amplifier or head unit. Then connect the other end of the cable to its corresponding port on either the speaker or subwoofer.
Replacing damaged cables can significantly enhance sound quality while reducing distortions associated with buzzing or crackling sounds in car speakers. It is an essential step towards ensuring a pleasurable driving experience while enjoying music at optimal sound levels.
Step 4: Test the Speaker for Damage
Before you crank up the volume, it's essential to test your speakers for any damage that may affect sound quality. One way to do this is by playing a variety of music genres and listening for any distortion or buzzing sounds. If there are no issues with the sound, then move on to checking the physical condition of the speaker.
Scrutinize each speaker and look for any visible signs of damage such as cracks or tears in the cone, loose wires, or broken connections. If you notice anything unusual, it's best to take your car to a professional mechanic who can diagnose and repair it properly.
Another method of testing for damage is using a multimeter to measure the resistance of each speaker. This will help determine if there are any wiring problems or internal issues with the speaker. If you're not familiar with how to use a multimeter, it's recommended that you seek assistance from an expert in car audio systems. By taking these precautions and regularly testing your speakers for damages, you'll enjoy high-quality sound without any annoying buzzing sounds disrupting your drive!
Read Also : How To Protect Car Speakers From Water?
Step 5: Replace Worn-Out Speakers
If you want to upgrade your car's audio system, swapping out those worn-out speakers can bring your music to life with crisp and clear sound. However, before you start the replacement process, you must ensure your vehicle has compatible speakers. Here are five things to consider when replacing worn-out car speakers:
Speaker size: Make sure you know the correct size of the existing speaker in your car and choose a replacement that fits perfectly.
Power handling capacity: The power handling capacity of a speaker refers to how much power it can handle from an amplifier without getting damaged. Choosing a speaker with a lower power handling capacity than what your amplifier delivers may result in distortion or damage.
Sensitivity rating: A higher sensitivity rating means the speaker will produce more sound with less power. Look for speakers with a sensitivity rating above 88 dB for optimal sound quality.
Frequency response refers to the range of frequencies a speaker can produce. Choose speakers with at least a 20 Hz – 20 kHz frequency response range for natural-sounding music.
Build quality: Check if the material used in building the speaker is durable enough to withstand heat and moisture.
Replacing worn-out car speakers is an excellent way to improve your driving experience by enhancing your music-listening experience. Remember always to check compatibility when choosing new ones and keep these five factors in mind when making your selection. With this knowledge, you can select high-quality replacements that will give you years of great sound on any road trip!
Step 6: Adjust Sound Settings
Now that you've replaced those worn-out speakers, it's time to adjust your sound settings to get the most out of your music. Adjusting sound settings is an important step in ensuring that you enjoy high-quality audio from your car speakers. Here are some tips to help you adjust your sound settings like a pro.
Firstly, start by adjusting the balance and fader controls in your car's stereo system. These controls help you balance the volume levels between different speakers in your vehicle. Use the table below as a guide:
| Control | Function |
| --- | --- |
| Balance | Adjusts Volume Levels Between Left and Right Speakers |
| Fader | Adjusts Volume Levels Between Front and Rear Speakers |
Next, adjust the equalizer to fine-tune the sound of each speaker. The equalizer helps balance frequencies between low and high notes for optimal listening experience. Use this table as a guide:
| Frequency Band | Range (Hz) | Function |
| --- | --- | --- |
| Bass | 20 – 250 Hz | Enhances Low-End Frequencies |
| Midrange | 250 Hz – 4 kHz | Adjusts Vocal and Instrumental Clarity |
| Treble | 4 kHz – 20 kHz | Enhances High-End Frequencies |
Consider using advanced features such as digital signal processing (DSP) or bass boosters to enhance certain aspects of your music. With these features, you can add more depth and dimensionality to your music while minimizing distortion.
Adjusting sound settings is essential for getting high-quality audio from car speakers. By balancing volume levels between different speakers with balance and fader controls, fine-tuning frequencies using equalizers, and utilizing advanced features such as DSP or bass levels, you can customize the audio output to suit your preferences perfectly.
Step 7: Use Noise Filters or Suppressors
To truly elevate your listening experience, utilizing noise filters or suppressors can significantly reduce unwanted background noise and enhance the clarity of your car's audio system. These devices work by isolating the power source of your speakers from other electronic components in your car that may cause electrical interference. Noise filters are typically installed between the speaker wires and the amplifier, while suppressors are placed on the power wire leading to the amplifiers.
One benefit of using a noise filter or suppressor is that it can eliminate buzzing sounds when you accelerate or decelerate your vehicle. Another advantage is that it can prevent alternator whining, a high-pitched sound often occurring when turning on certain electrical components such as headlights or air conditioning. Moreover, these audio devices can improve overall sound quality by reducing distortion caused by electromagnetic interference.
When shopping for a noise filter or suppressor, choose one with appropriate specifications for your car's audio system. Some factors to consider include impedance matching, frequency response range, and input/output voltage levels. Additionally, follow proper installation instructions to ensure optimal performance and avoid damaging any electronic components in your car.
Incorporating a noise filter or suppressor into your car's audio system lets you enjoy clear and uninterrupted music playback without distracting buzzing sounds. This upgrade will give you a sense of belonging among audiophiles who appreciate high-quality sound reproduction in their vehicles.
Step 8: Seek Professional Assistance
Consider seeking professional assistance when installing noise filters or suppressors to ensure optimal performance and avoid damaging any electronic components in your vehicle's audio system. While it may seem like a simple task, improper installation of these devices can lead to more problems than they solve. Professional installers have the knowledge and expertise to properly integrate these filters into your car's electrical system, ensuring that they work as intended.
Here are some reasons why seeking professional assistance is worth considering:
Avoid costly mistakes: Installing a noise filter or suppressor incorrectly can cause damage to other parts of your car's audio system, resulting in expensive repairs down the line.
Save time: A professional installer can get the job done quickly and efficiently, freeing up your time for other important tasks.
Ensure top-notch performance: Professional installers have access to high-quality products and tools that DIY enthusiasts may not possess. This means that you'll likely end up with better results by leaving the installation process to the pros.
While installing a noise filter or suppressor yourself may be tempting, seeking professional assistance will likely lead to better outcomes. Don't risk damaging your car's electrical components or wasting valuable time on a DIY project – leave it to those who know what they're doing. Doing so will save money in the long run and ensure optimal performance from your car speakers for years to come.
How To Prevent Future Speaker Buzzing?
To ensure a long-lasting and pleasant listening experience, you must take preventive measures against speaker buzzing. Even after seeking professional assistance, there are several things you can do to minimize the risk of future buzzing. First, it's essential to understand the common causes of speaker buzzing: damaged or loose wires, poorly grounded components, and interference from other electronic devices. Once you know what causes the problem, you can prevent it from happening again.
One way to prevent future speaker buzzing is by investing in high-quality audio cables with proper shielding. A poorly shielded cable can pick up electromagnetic interference from nearby electronics, causing unwanted static noise in your speakers. In contrast, a well-shielded cable minimizes outside interference and allows crystal-clear audio transmission without distortion or buzz.
Another way to prevent speaker buzzing is by keeping your audio equipment away from sources of electrical interference such as microwaves or fluorescent lights. These devices emit electromagnetic waves that can disrupt the signal between your amplifier and speakers if placed too close together. By keeping these items apart and using surge protectors on your power outlets, you can significantly reduce the chances of future speakers buzzing.
| Preventive Measures | Benefits |
| --- | --- |
| Invest in High-Quality Audio Cables | Minimizes Outside Interference |
| Keep Audio Equipment Away From Sources Of Electrical Interference | Reduces The Chances Of Speaker Buzzing Significantly |
| Use Surge Protectors On Your Power Outlets | Protects Your Equipment From Power Surges And Electrical Noise |
These preventive measures let you enjoy high-quality sound without worrying about annoying speaker buzzes or distortions. This will improve your overall listening experience and extend the lifespan of your valuable audio equipment. With just a little effort and attention paid towards preventative measures like these, you'll be able to create an optimal listening environment for yourself – one free from unwanted strange noise and buzzing.
Frequently Asked Questions (FAQs)
Can playing music too loudly cause speaker buzzing?
Yes, playing music too loudly can cause the speaker to buzz. If the volume is turned up beyond what the speakers can handle, it may produce distortion, resulting in a buzzing sound. Adjusting the volume accordingly to avoid damaging your speakers and ensure optimal listening experience is essential.
Will using a different audio source or device fix speaker buzzing?
Using a different audio source or device may help fix the speaker buzzing. If the buzzing persists, it could be caused by faulty wiring or a damaged speaker. Consult with a professional to diagnose and repair the issue.
How do I know if my amplifier is causing the speaker buzzing?
Check for poor connections or damaged wires to determine if an amplifier is causing the speaker buzzing. Test the speakers with another device to rule out issues with the speaker cone themselves. If the issue persists, it may be a problem with the amp.
Can dust or debris in the speaker affect sound quality and cause buzzing?
Yes, dust or debris in car speakers can impact sound quality and cause buzzing. Regular cleaning with a soft cloth and compressed air can prevent these issues. Handling the speakers carefully and avoiding damaging them during maintenance is essential.
Is it possible for speaker buzzing to be a sign of a larger electrical issue in my car?
Speaker buzzing in a car can indicate an electrical issue, such as a loose or damaged ground wire. It's essential to have the issue diagnosed and repaired by a professional to prevent further damage to your vehicle's electrical system.
Conclusion
Preventing car speaker buzzing involves identifying the root cause and taking necessary measures to eliminate it. Loose connections or damaged patch cables are common culprits that can be easily fixed by inspecting and replacing them as needed. Adjusting sound settings or using noise filters may also help resolve the issue.
However, professional assistance is highly recommended if these methods fail to produce results. This ensures a proper diagnosis of the problem and prevents further damage to your car's audio system. Following these steps and taking preventative measures, you can enjoy high-quality audio without worrying about annoying buzzing sounds in your car speakers.