As a car enthusiast, one of my greatest fears is water damage to my precious audio system. I have spent countless hours and dollars perfecting the sound quality in my car, and the thought of all that hard work going down the drain due to water damage is nothing short of terrifying.
However, with the proper knowledge and materials, protecting your car speakers from water damage is possible and relatively easy. In this article, I will share some practical tips on safeguarding your car's audio system from water damage so you can enjoy crystal-clear sound without any worries, even during rainy days or floods. So buckle up, and let's dive into the world of waterproofing for your car speakers!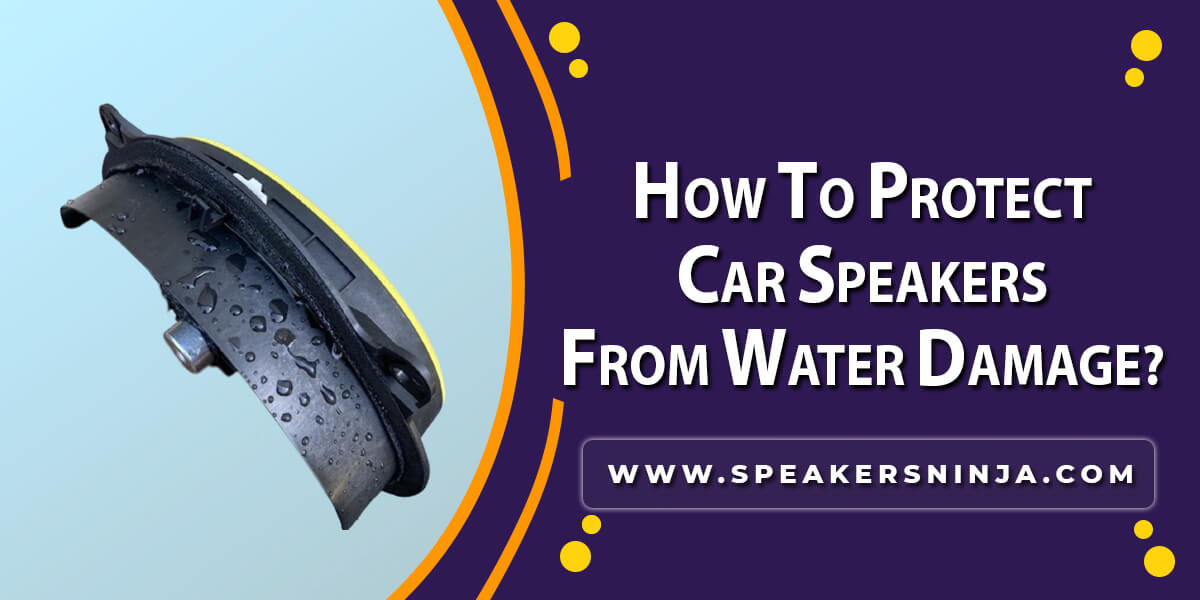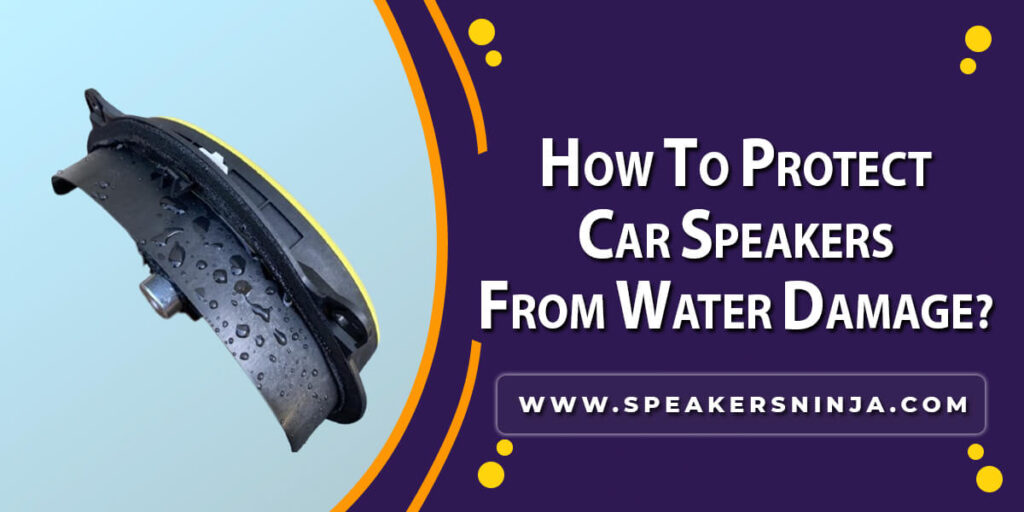 How to Protect Car Speakers from Water? 8 Easy Ways
If you don't protect your car speakers from water, you could be in for costly repairs. Water damage is one of the leading causes of speaker failure in cars. The risks are exceptionally high during rainy seasons or when driving through puddles.
Water can cause corrosion on metal parts and damage electrical components. Water seeping into the speaker cone can cause distortion or muffle sound quality. In worst-case scenarios, water can also short-circuit the entire audio system, causing irreparable damage.
To minimize these risks, it's crucial to understand how water can enter your 6.5 car speakers. Rainwater or splashes from puddles are obvious culprits, but even condensation inside the car can lead to moisture buildup over time. Keeping windows cracked open slightly while parked or using a dehumidifier in your car can help prevent humidity-induced water damage.
Step 1: Choose the Right Materials for Your Car's Audio System
You'll want to use suitable materials for your audio system to ensure optimal performance and longevity. When protecting your car speakers from water damage, a few key materials can help keep them safe.
Firstly, look for speakers specifically designed with waterproof or water-resistant coatings. These coatings will help prevent moisture from seeping into the speaker's internal components, which can cause damage over time. Additionally, consider adding a protective cover or grill over your speakers to provide an extra protection against rain and splashes.
Another vital material to consider is wiring. Make sure all wiring connections are properly insulated and protected against water exposure. It means using high-quality wire connectors and heat-shrink tubing to seal off any potential entry points for moisture.
Don't forget about the installation process itself. It's essential to take care during installation to ensure that all components are securely fastened in place and sealed against any potential water intrusion. By taking these steps and using the right materials, you can help protect your car speakers from water damage and prolong their lifespan for years.
Related Read : How To Stop Car Speakers From Buzzing
Step 2: Install Protective Covers for Your Car Speakers
When installing protective covers on your audio system, it's important to consider the impact of moisture and take necessary precautions to ensure longevity. After all, water damage is one of the biggest threats to any car speaker system. The good news is that several types of protective covers are available today.
Neoprene covers are popular for protecting your car speakers from water damage. These are made from a synthetic material resistant to water and heat. Neoprene covers come in different sizes and shapes, so you can find one that perfectly fits your specific speaker system. They're also easy to install – simply slip them over your speakers, and you're good to go.
Another great option is silicone covers. These are similar in design to neoprene covers but offer even more protection against moisture thanks to their waterproof properties. Silicone covers also provide an extra layer of insulation against heat, which can be particularly useful if you live in a hot climate or frequently use your car speakers at high volumes. When choosing protective covers for your car speakers, research and select the best option for your needs!
Related Read Why Are My Car Speakers Crackling?
Step 3: Waterproof Your Car's Audio System
To keep your audio system in top shape, it's essential to waterproof it against any potential threats that could compromise its performance. Water damage is one of the biggest threats to car speakers, and it can happen at any time, whether you're driving in heavy rain or accidentally spill a drink on the dashboard. You can protect your car speakers from water damage in several ways.
The first step is to invest in waterproof speakers. These speakers are designed to withstand water exposure and can be installed directly into your car doors or dashboard. Another option is to use marine-grade speakers, specifically designed for boats and other watercraft but work just as well in cars.
In addition to upgrading your speakers, consider installing a waterproof amplifier and head unit. These components are typically exposed to more moisture than the speakers, so it's important to ensure they're protected. These steps let you enjoy high-quality sound without worrying about water damage compromising your audio system.
Step 4: Avoid Driving Through Waterlogged Areas
If you're driving during heavy rain, avoiding areas with waterlogged roads is wise to prevent potential harm to your audio equipment. Water damage can be a huge problem for car speakers, and if they get wet, the sound quality can suffer or even stop working altogether. Even if your speakers are waterproof, avoiding driving through waterlogged areas as much as possible is essential.
One way to avoid these areas is by checking weather reports before heading out on the road. If there's a chance of heavy rain or flooding in your area, plan a different route that avoids known flood-prone areas. In addition, pay attention to warning signs and barricades indicating flooded roads ahead.
It's also important to drive defensively when encountering wet roads or puddles on the road. Slow down and approach them cautiously, as hydroplaning can cause loss of control and potentially damage your audio equipment. By avoiding waterlogged areas whenever possible and driving carefully when encountering wet conditions, you can protect your car speakers from potential water damage and ensure they continue working properly for years.
Step 5: Dry Out Your Car's Speakers After Exposure to Water
You may feel worried about the state of your beloved audio system if it has been exposed to water but don't despair as there are ways to salvage them. The first thing you need to do is remove the speakers from your car and let them dry out completely. You can use a hairdryer on low heat or leave them in a warm, dry place for a few days.
Next, you'll want to inspect the speakers for any signs of damage, such as rust or corrosion. If you notice any damage, replacing the affected parts immediately is best. You can also clean the speaker cones with a soft-bristled brush and a mild detergent solution.
Before re-installing the speakers back into your car, ensure all electrical connections are dry and moisture-free. You can use an electrical contact cleaner or compressed air to blow away any remaining water droplets. By following these steps, you can ensure that your car's speakers remain in good condition even after exposure to water.
Step 6: Use a Dehumidifier in Your Car to Prevent Water Damage
Now that you know how to dry out your car's speakers after exposure to water, it's important to take preventative measures to avoid future damage. One effective way of doing this is by using a dehumidifier in your car.
A dehumidifier removes excess moisture from the air, which can help prevent mold and mildew growth inside your car. This is especially important if you live in a humid climate or use your car frequently for outdoor activities like camping or beach trips.
To use a dehumidifier in your car, plug it into the cigarette lighter port or an AC outlet (if available) and let it run for several hours. You can also place it on the floor of your car or the dashboard for optimal air circulation. Keeping humidity levels low'll protect your speakers and improve overall air quality inside your vehicle.
Step 7: Regular Maintenance to Prevent Water Damage
Regularly maintaining your vehicle's seals and weatherstripping can go a long way in keeping moisture out and ensuring a dry, comfortable ride. Over time, these components can wear down or become damaged, allowing water to seep into the car and potentially damage the speakers. You can protect your car speakers from water damage by inspecting and replacing any worn or damaged seals or weatherstripping.
Several maintenance tasks should be performed regularly to protect your car from moisture. These include cleaning out any debris from drainage areas such as sunroof drains and cowl vents and checking for any signs of rust or corrosion on metal components. Additionally, it's important to check the condition of rubber gaskets around doors and windows and inspect the windshield for cracks or chips that could allow water to seep in.
Following these maintenance tips and performing routine inspections of your vehicle's seals and weatherstripping can help prevent costly water damage to your car's speakers. Not only will this save you money in repairs down the line, but it will also provide peace of mind knowing that your car is protected against potential water damage threats.
Regular maintenance may seem tedious at first glance, but investing time now will save you money later.
 Protecting your investment is essential, so don't skip out on performing routine inspections.
 Be proactive rather than reactive by catching issues early before they become more significant problems.
Maintaining a detailed checklist of all completed tasks helps track what has been done.
Taking pride in caring for your vehicle evokes a sense of belonging among car enthusiasts.
Step 8: Seek Professional Help for Water Damage Repair
Seeking expert assistance in repairing water damage can be a smart decision to ensure the longevity and functionality of your vehicle. While regular maintenance can prevent water damage, accidents happen, and it's important to know when to call in the professionals. Water damage can cause serious harm to your car's electrical system, which controls everything from the sound system to the engine.
When looking for a professional repair service, it's important to research and find a trustworthy provider. Look for reviews online or ask for recommendations from friends and family. Once you've found a reliable service, they will assess the extent of the water damage before providing an estimated repair cost.
In addition to repairing damaged components, these professionals can also advise on how to prevent future incidents. They may suggest installing waterproof coverings or seals on vulnerable areas like door panels or speaker grills. Taking these precautions will protect your speakers from future water damage and extend their lifespan even further. Remember that seeking professional help for water damage repair is always better than trying DIY techniques that could potentially make things worse – don't be afraid to ask for help!  
| Pros | Cons |
| --- | --- |
| Professionals have the specialized knowledge and equipment needed for effective repairs. | Repair costs may be higher than expected |
| Repairs will be completed efficiently and effectively | You will need to schedule time for repairs |
| Professional services often come with warranties or guarantees | Depending on location, finding a reliable service may take some time |
| Professionals can provide advice on preventing future water damage | |
Overall, seeking professional help when dealing with car speaker water damage is highly recommended. With their expertise and specialized tools, these experts can quickly identify problems and create effective solutions while minimizing any potential risks associated with DIY approaches. And by following their advice regarding preventative measures like waterproofing seals or covers, you can enjoy great-sounding music in your car without worrying about water damage!
Step 9: Upgrade to Water-Resistant Speakers for Better Protection
If you want to amp up your sound system, consider upgrading to speakers to handle any unexpected liquid mishaps. Investing in water-resistant speakers is smart for anyone who wants to protect their car's audio system from damage caused by spills or rain. These types of speakers are designed with special coatings that repel water and moisture, preventing them from seeping into the delicate electronic components inside.
Water-resistant speakers come in different variations, ranging from those that are simply splash-proof to ones that can withstand full submersion. When shopping for these types of speakers, paying attention to their IP rating is important. This rating indicates how well the speaker can resist water and other liquids. For instance, a speaker with an IPX3 rating means it can handle light splashes of water while one with an IPX7 rating can be fully submerged for up to 30 minutes.
Upgrading your car's audio system with water-resistant speakers provides added protection and contributes to a better overall listening experience. With improved durability and quality performance even in harsh environments, you'll feel confident about taking your music on the road regardless of weather conditions. Plus, knowing that you have invested in high-quality equipment will give you a sense of belonging among audiophiles who value protecting their gear as much as enjoying great sound.
Frequently Asked Questions
Can car speakers still work after being fully submerged in water?
Yes, it's possible for car speakers to work after being submerged in water, but the likelihood of damage increases with the duration and depth of immersion. It's important to dry them thoroughly and seek professional help if necessary.
Are all car speakers susceptible to water damage, or are there certain types that are more resilient?
There are certain types of car speakers that are more resilient to water damage than others. Speakers with waterproof coatings or marine-grade materials are designed to withstand exposure to moisture and can provide added protection against potential damage.
What should I do if I notice water damage to my car speakers?
If I notice water damage to my car speakers, I would immediately disconnect the power and remove them from the vehicle to prevent further damage. Then, I would carefully inspect for any signs of corrosion or rust and seek professional repair or replacement if necessary.
Are there any DIY methods for repairing water damaged car speakers?
I've found that using a hair dryer on low heat and letting the speakers dry out entirely before testing them can sometimes fix minor water damage. However, it's best to seek professional help for more severe damage.
How much does it typically cost to replace water-damaged car speakers?
Replacing water-damaged car speakers can cost anywhere from $50 to $500, depending on the make and model of your car. It's essential to properly protect your speakers from future water damage to avoid costly repairs.
Conclusion
In conclusion, protecting your car speakers from water damage requires a combination of preventative measures and maintenance. Understanding the risks involved is the first step toward safeguarding your audio system. Choosing the right materials and installing protective covers can provide a layer of protection against moisture.
Waterproofing your car's audio system can also be viable for those frequently encountering wet conditions. Avoid driving through waterlogged areas whenever possible, and consider using a dehumidifier to prevent moisture buildup in your vehicle. Regular maintenance, such as checking for leaks or damaged seals, is crucial in preventing water damage.
If you do experience water damage to your car's speakers, seeking professional help for repair is recommended. Upgrading to water-resistant speakers can provide better protection against future damage. Protecting your car audio system from water damage allows you to enjoy high-quality sound without any concerns about moisture-related issues.