As a car owner, I take pride in my vehicle's sound system. But nothing is more frustrating than hearing crackling sounds from my car speakers while trying to enjoy my favorite tunes. If you're like me and wondering why your car speakers are crackling, this article is for you.
This technical and analytical article explores the possible causes of speaker crackling, including loose connections, wiring issues, blown speakers, and overpowering. We'll also cover essential tips on upgrading your car audio system and avoiding future problems with your speakers. Whether you're a music lover or just looking to keep your car's sound system in top shape, read on to learn more about why the speakers in your car crackle and what you can do about it.
Find Out What Causes Speakers To Pop And Crackle!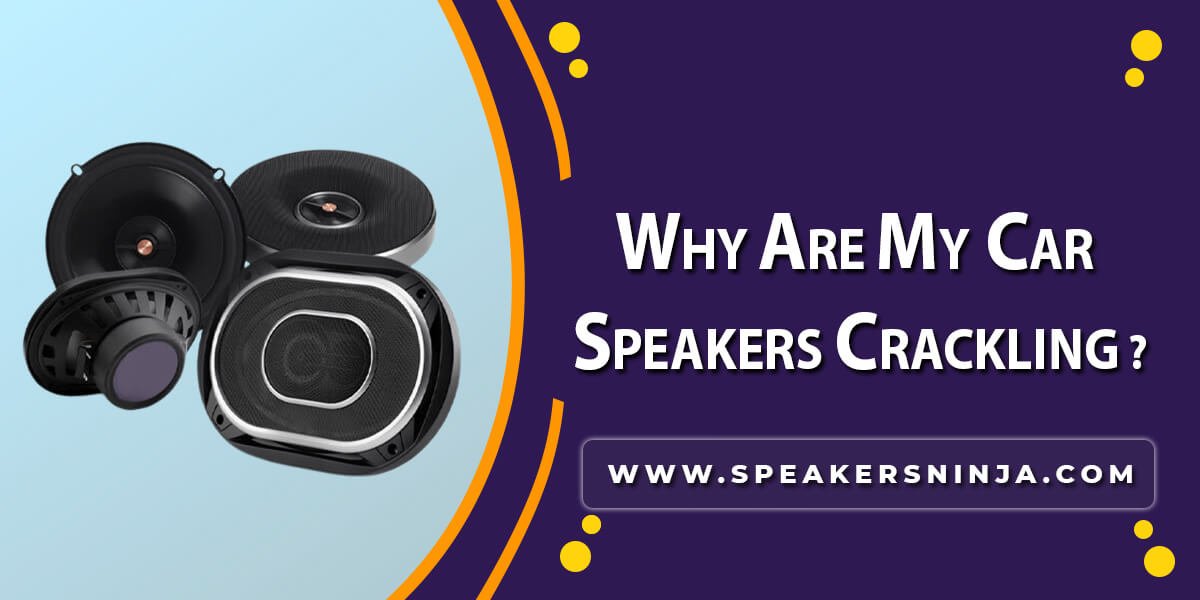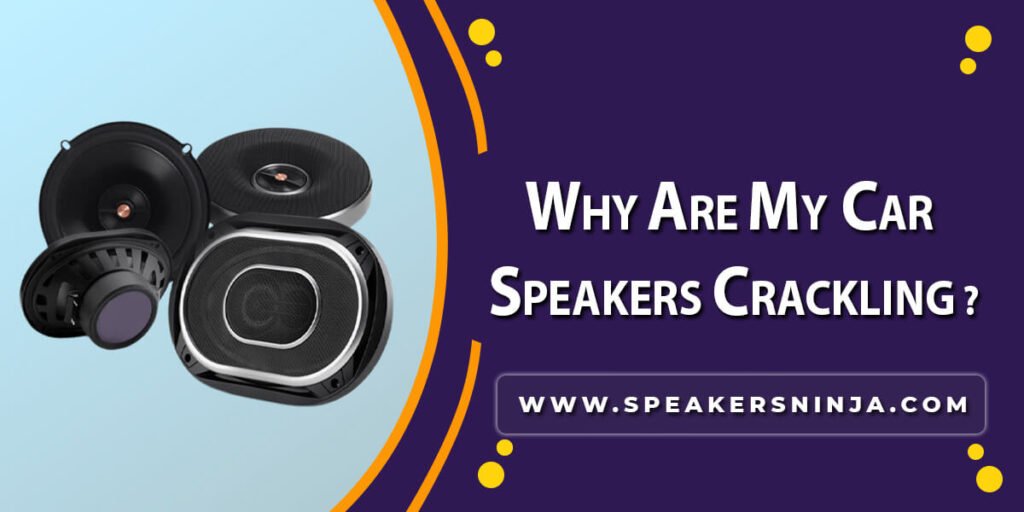 You might be experiencing speaker crackling due to various reasons, such as a damaged cone or voice coil, loose wire connections, or amplifier clipping. The most common cause of speaker crackling is a damaged cone or voice coil. This can happen if the speakers are played at high volumes for extended periods or if there's damage from moisture or mishandling.
Another reason why your car speakers may be crackling is due to loose wire connections. This can happen when the wires connecting the speakers to the amplifier become disconnected or frayed. It's important to check these connections regularly and ensure they're secure.
Lastly, amplifier clipping can also lead to speaker crackling. Amplifier clipping occurs when the amplifier tries to provide more power than it can deliver, distorting the sound signal. To prevent this from happening, it's essential to ensure that your amplifier is properly matched with your car speakers and not overdriven beyond their capacity. Understanding these causes of speaker crackling will help you identify and fix any issues with your car audio system, ensuring you enjoy clear and uninterrupted sound while driving.
Read Also: How To Stop Car Speakers From Buzzing
Checking for Loose Connections
Now, if there's a loose connection in the sound system, that could be the culprit behind those annoying crackling noises. Loose connections can occur anywhere along the wiring of your car speakers, from the speaker terminals to the input jacks on your car stereo. When these connections are not secure, it can cause interference and lead to crackling sounds.
To check for loose connections, start by inspecting all the wires connecting to your speakers. Look for frayed or damaged cables and ensure they are properly plugged into their respective ports. Additionally, make sure that all screws and bolts holding your speakers in place are tightened securely.
If you're still experiencing crackling sounds after checking for loose connections, it may be time to consider upgrading your sound system altogether. Investing in new speakers or a better-quality amplifier can significantly improve audio quality and reduce distortion caused by poor connections or outdated equipment. Remember, a high-quality sound system isn't just about enjoying music while driving; it also enhances overall safety by improving communication with passengers and other drivers on the road.
Inspecting the Wiring
If you want to improve your car's audio quality, it's essential to inspect the wiring for any signs of wear and tear. Speakers can crackle due to frayed or damaged wires, which cause interference and distortion in the sound. Here are three steps you can take to inspect your car speaker wiring:
Check for visible damage: Inspect the wires leading from your car speakers to the stereo system or amplifier. Look for any cuts, nicks, cracks, or other visible damage that could be causing a short circuit or a poor connection.
Test with a multimeter: Use a multimeter to check continuity between the speaker terminals and the connector plugs on both ends of the wiring harness. If there is no continuity or an inconsistent reading, this may indicate a broken wire or a loose connection.
Trace the wiring route: Follow the path of each wire from start to finish, looking for any areas where they might have been pinched or chafed against metal surfaces. This kind of contact can cause shorts and lead to crackling sounds in your speakers.
By taking these steps and identifying any issues with your car speaker wiring early on, you can avoid further damage and ensure that you're getting optimal sound quality from your system. Don't hesitate to seek professional help if you're not confident in performing these checks yourself – sometimes it's best to leave it up to experienced technicians who know what they're doing!
Identifying Signs of a Blown Speaker
One way to tell if a speaker is blown is by listening for distorted or muffled sound coming from the audio system. Several factors, including age and wear and tear on the speaker components can cause this. Another sign of a blown speaker is a crackling noise, which occurs when the voice coil inside the speaker begins to fail.
To identify signs of a blown speaker, it's important to look at both visual and auditory cues. Visual cues include cracks or tears in the speaker cone and any damage to the surrounding or spider materials that hold the cone in place. Auditory cues include popping sounds during playback and static or hissing noises that occur even when no music is playing.
If you suspect that your car speakers are blown, it's important to take action quickly. Continuing to use damaged speakers can cause further damage to your audio system and potentially lead to safety issues on the road. By identifying signs of a blown speaker early on and taking steps to repair or replace them, you can enjoy high-quality sound and ensure your safety while driving.
| | | |
| --- | --- | --- |
| Wear and tear on old speakers | Distorted/muffled sound | Popping sounds |
| Cracks/torn cones | Static/hissing noises | Safety concerns |
| Damaged surrounds/spiders | Loss of clarity | Need for quick action |
| Age-related degradation | Potential for further system damage | Importance of early detection |
| Need for repair/replacement | Desire for high-quality sound | Sense of belonging within audiophile community |
As seen in this table, there are many reasons why identifying signs of a blown speaker is crucial not only for maintaining optimal sound quality but also for ensuring one's safety while driving. With an understanding of the visual and auditory cues of a damaged speaker, individuals can take quick action to repair or replace their speakers and enjoy high-quality sound in their car. This technical knowledge can also foster a sense of belonging within the audiophile community, where attention to detail and precision are highly valued.
Testing the Speaker with a Multimeter
Testing the speaker's electrical resistance with a multimeter can provide valuable information about its condition and help determine if it needs to be repaired or replaced. A multimeter is an electronic device that measures voltage, current, and resistance. To use it for testing speakers, you need to set it on the ohms (Ω) setting. This will allow you to measure the resistance of the speaker.
To test a speaker with a multimeter, disconnect it from the amplifier or receiver first. Then, touch one probe of the multimeter to one terminal of the speaker and the other probe to the other terminal. The reading on your multimeter should show a value between 4 and 8 ohms if your speaker is in good condition. If you get a reading outside this range or no reading at all, then there may be something wrong with your speaker.
Testing your car speakers with a multimeter can help diagnose problems like crackling sounds or distorted audio which could indicate an issue with their electrical components. If you're not sure how to do this yourself, seek professional assistance from an auto repair shop or experienced technician who can help identify problems quickly so that they can be fixed before causing further damage to your vehicle's sound system.
Replacing a Blown Speaker
When a speaker has blown, it is important to promptly replace it in order to maintain the quality of your car's sound system. While testing the speaker with a multimeter can help you identify if there's a problem, sometimes the only solution is to replace the damaged component. If you notice that one or more speakers are crackling or producing distorted sounds, it may be time to invest in new ones.
Replacing a speaker can seem intimidating at first, but with some basic knowledge and tools, it's an achievable task for most car owners. Start by identifying which speaker needs replacing and purchase a replacement of similar size and power rating. You may also want to consider upgrading to higher quality speakers for improved sound performance.
Once you have your replacement speaker, begin by removing the old one carefully from its mounting location in your car door or dashboard. Then, connect the wires from your new speaker securely and test it out before fully reassembling everything. By taking these steps, you'll be able to restore clear sound quality back into your vehicle without needing professional assistance.
Upgrading Your Car Audio System
I hope you found the previous subtopic on replacing a blown speaker helpful. But what if you're tired of just replacing speakers and want to upgrade your entire car audio system? Well, I'm here to tell you that it's easier than you might think.
Firstly, consider upgrading your head unit. This is the brain of your car audio system and will have a huge impact on sound quality. Look for one with high-quality digital-to-analog converters (DACs) and preamp outputs for connecting external amplifiers.
Secondly, invest in some good quality speakers. Don't just go for the cheapest option – higher-end speakers will produce clearer sound and better bass response. Consider component speakers for more precise sound staging.
Thirdly, add an amplifier to power those new speakers. This will give them the extra boost they need to perform at their best. Plus, an amplifier can help reduce distortion and improve overall clarity.
Upgrading your car audio system doesn't have to be complicated or expensive. By focusing on your head unit, speakers, and adding an amplifier, you can significantly improve sound quality and make those road trips even more enjoyable!
Avoiding Overpowering Your Speakers
To avoid damaging your speakers, it's important to properly match the power of your amplifier to the ratings of your speakers. Overpowering your speakers can cause them to crackle and distort, and in some cases, even blow out completely. This is a common mistake that many car audio enthusiasts make when upgrading their systems.
To ensure that you're not overpowering your speakers, you need to understand the power ratings for both your amplifier and your speakers. The table below provides a quick reference guide for matching these ratings:
| Speaker Power Handling | Amplifier Power Rating | Recommended Match |
| --- | --- | --- |
| 50 watts RMS | 75 watts RMS | Good match |
| 75 watts RMS | 100-150 watts RMS | Good match |
| 100 watts RMS | 200-300 watts RMS | Good match |
| Above 100 watts RMS | Above 500 Watts RMS | Poor match |
As you can see from this table, it's important to pay attention to both the speaker power handling and the amplifier power rating when choosing components for your car audio system. A good match will result in optimal sound quality without risking damage to your equipment.
In addition to matching power ratings, there are other steps you can take to avoid overpowering your speakers. These include setting gain levels correctly, using high-quality cables and connectors, and avoiding cranking up the volume too high for extended periods of time. By taking these precautions, you can enjoy great sound quality without putting unnecessary strain on your car audio system.
Cleaning Your Car Speakers Regularly
Regularly cleaning your car speakers is crucial for maintaining optimal sound quality and prolonging the lifespan of your equipment. Over time, dust and debris can accumulate on the speaker cones, causing distortion or crackling sounds. This buildup can also obstruct airflow, which affects the overall performance of your speakers.
To clean your car speakers, start by removing any visible dirt or grime with a soft-bristled brush or microfiber cloth. Avoid using harsh chemicals as they may damage the speaker's finish. Next, use compressed air to blow out any remaining debris from between the crevices of the speaker cone.
It's important to note that cleaning your car speakers should be done regularly but not excessively. Excessive cleaning may cause unnecessary wear and tear on the delicate components of your speakers. By incorporating regular maintenance into your routine, you can ensure that you're getting optimal performance from your car audio system and enjoying high-quality sound for years to come.
Seeking Professional Help if Necessary
If you're having trouble with your car audio system, don't hesitate to seek professional help. As much as we want to fix things on our own, sometimes it's better to leave it to the experts. Car speakers are intricate pieces of equipment that require special knowledge and tools for repair or replacement. So if you notice crackling sounds in your car speakers despite cleaning them regularly, it's best to bring your vehicle to a reputable auto repair shop.
A professional mechanic can diagnose the root cause of the speaker issue and recommend the appropriate solution. It could be a faulty wiring connection, damaged amplifier, or even a blown-out speaker that needs immediate replacement. Attempting to fix these problems without proper knowledge and experience can lead to more damage and costly repairs in the future. By seeking professional help early on, you not only save yourself from unnecessary expenses but also ensure your safety on the road.
Moreover, consulting professionals can give you peace of mind knowing that they have access to high-quality parts and tools needed for the job. They have extensive training in audio systems repair and maintenance, enabling them to provide accurate diagnosis and timely solutions. With their expertise, you can get back on the road with clear sound quality without worrying about further issues. Remember, when it comes to fixing complex car issues like this one, always trust reliable professionals who have years of experience under their belt!
Frequently Asked Questions
Can speaker crackling be caused by environmental factors such as extreme temperatures or humidity?
As someone who values high-quality audio, it's important to understand that speaker crackling can indeed be caused by environmental factors such as extreme temperatures or humidity. However, there are also a variety of other potential causes that should be investigated.
Is it possible for speaker crackling to occur even if the volume is not turned up too high?
Yes, speaker crackling can occur at low volumes due to factors such as damaged cones or faulty wiring. It's important to address these issues promptly to prevent further damage and ensure optimal performance. Let's troubleshoot together for a solution.
Are certain types of music or audio files more likely to cause speaker crackling than others?
I've noticed that certain types of music and audio files can cause speaker crackling. High bass and treble levels, as well as poorly compressed audio, are common culprits. It's important to use quality speakers and properly balanced sound settings to prevent damage.
Can using the wrong type of audio cable or adapter cause speaker crackling?
Using an incorrect audio cable or adapter can cause speaker crackling by disrupting the electrical connection between devices. To avoid this issue, ensure proper compatibility and quality of cables and adapters.
Is it possible for dust or debris inside the speaker to cause crackling, and if so, how can it be cleaned?
Dust or debris inside a speaker can cause crackling. Use compressed air to blow out any loose particles and gently wipe the cone with a dry cloth. Be careful not to damage the speaker's delicate components.
Conclusion
So that's why my car speakers were crackling! Understanding the causes of speaker crackling allowed me to take action and solve the problem. Checking for loose connections, inspecting the wiring, and identifying signs of a blown speaker are all important steps in troubleshooting this issue. Testing the speaker with a multimeter can also help confirm if it is indeed damaged.
Upgrading your car audio system can provide better sound quality and avoid overpowering your speakers. Additionally, cleaning your car speakers regularly will prevent debris buildup that can cause distortion or damage over time. If all else fails, seeking professional help may be necessary to properly diagnose and fix any issues with your car's audio system. With these tips, you'll be able to enjoy crisp, clear sound from your car speakers for years to come!