Looking for the best amplifier for outdoor speakers? Hold on; I have a whole list in this regard. And I have been in this field for more than a decade, so my experience will be helpful to you.
It is pervasive these days to have outdoor parties and meetups. And we all know parties are incomplete with music. But you must have a sound music system to ensure no hindrance in your entertainment.
With that saying, outdoor speakers perform their tasks. But they are almost inefficient in delivering the most resonant sound alone. So it is inevitable to use amplifiers for passive speakers. Choose one of the most compatible amplifiers for outdoor speakers from my recommended amplifiers(receivers).
Additionally, this post also includes a buyers' guide. It will help you to consider all those factors that must be checked before purchasing an amplifier. All in all, you must consider the sound performance, connectivity, and the build-up of amplifiers.
On further reading, you will get to know about amplifiers of different categories. Choose one according to your demands.
List of 7 Best Receivers/Amplifiers For Outdoor Speakers: 
In a Hurry? Here are our top 3 picks for Amplifiers that are best suited for outdoor speakers:
Rank
Picture
Name
Rating
Shops
#1

Fosi Audio BT20A

Check Price

#2

YAMAHA R-S202BL

Best audiophile amplifier: 

Check Price

#3

Sony STRDH190 2-ch

Check Price
1. Fosi Audio BT20A – Best Receiver For Outdoor Speakers
Best for: High quality at a lower price 
Impedance: 2–8 Ohm
Input Sensitivity ≤ 280mV
Frequency Range: 20Hz – 20kHz 
Input Mode: Bluetooth and RCA
MAX Power Output: 100W x 2
Bluetooth Transmission Distance: Up to 50 Ft
SNR ≥ 98dB
Output: passive speakers and headphones
In my top choices of amplifiers for outdoor speakers, here comes one of the best in its range. We are talking about the updated version of Fosi amplifiers: Fosi audio BT20A – A proven class D power amplifier. 
Were you looking for a wireless amplifier in an inexpensive range? Fosi amplifier is one of the best amplifiers for outdoor speakers that offers high resolution and deep bass. It is a budget-friendly HIFI music amplifier with wireless Bluetooth connectivity. 
Sound quality:
How effective is this small, inexpensive amplifier? The sound effect is pretty good. This little guy has plenty of power available and can effectively drive most bookshelf speakers. It can reduce or eliminate the pop noises of outdoor speakers. 
The BT20A has a lively, powerful tone. It exhibits a strong sense of rhythm by using the polyrhythmic beat. The acoustics are interesting, the details and sharpness are good, and the entire performance exceeds my expectations for this tiny black machine. It is a great amplifier that can produce accurate, realistic, and resonating sound effects.
The adequate tone controls enable you to customize the sound as you choose. Adjust the treble and bass settings for a few seconds when the music is playing. For me, the balance point for treble and bass is in the middle, but it will also depend on your speakers and personal taste.
Although the Fosi BT20A amplifier does not provide a class A amplifier performance, in my personal experience, it sounds fantastic concerning its low price.
Connectivity:
The BT20A may receive audio through Bluetooth or its RCA Line in. SBC and AAC are the only codecs supported by the Bluetooth receiver. However, testing with my iPhone revealed that my smartphone's sound clarity was more than adequate.
Design:
The BT20A assumes the shape of a black box, typical of (most) tiny form factor inexpensive power amplifiers. Its sleek and simplistic appearance makes it easy to match with other parts of your system or put in a nook.
Moreover, it has a smooth anodized surface and seems sturdily built. You can move this speaker incredibly simply to place or move about because it weighs only 700g. The BT20A features rounded corners and a slick appearance, which is unexpected for a low-budget amplifier.
The power switch, bass, and volume control knobs are all located on the front screen. Comparable to the front panel features:
An RCA input
passive speaker output
Bluetooth antenna
A DC power port
It was good to find out that the unit's charge LED is modest and not bothersome, unlike other amplifiers.
Things We Like
It is compatible with most passive speakers that work at 2-8 ohms. 
To minimize delay in signal transmission anywhere, this amplifier has an incredible range of up to 50 feet. 
Accurate and realistic sound effects, reducing the distortion of outdoor speakers. 
It enables Bluetooth connectivity. 
Sleek and smooth finish; portable 
Things We Dislike
It would be great if the Fosi amplifier supports a remote control system as it enhances user experience. 
The Fosi amplifier is not a class A amplifier. 
The Fosi Audio BT20A is the most recent and updated version in its range of amplifiers. It is still in use and has many issues resolved that were encountered with the previous models. 
2. Moukey Audio Power Amplifier – Best Amplifier For Karaoke Music
Type: it is a two-channel amplifier
Frequency response: 20Hz to 20kHz
Preset Radio station: Up to 60 Stations
Signal-to-noise ratio: >71 dB
Best for karaoke 
Frequency adjustment: +/-10 dB
Color: Black 
Media Type: SD, USB
Technology: Wireless
Connectivity: RCA, Bluetooth, and USB
Moving ahead, during my research, I came across one of the best outdoor stereo receiver that are highly suitable for karaoke-type music. The amplifier's peak power is set at 330W (165W x 2), and it can be used with multiple outdoor speakers with a resistance of 4 to 8 ohms. 
It can cover your needs for high-quality enhanced ambient sounds in various settings, including home theatre, karaoke, conferences, etc.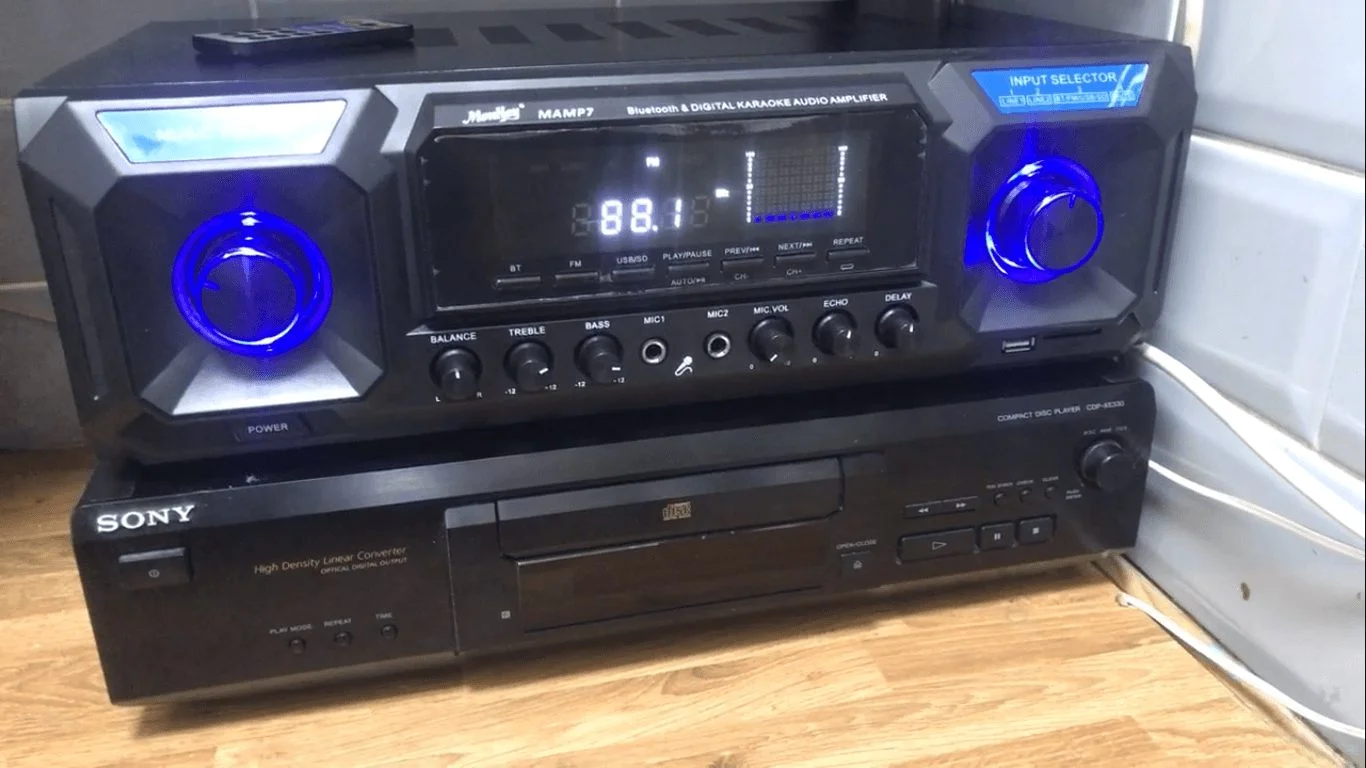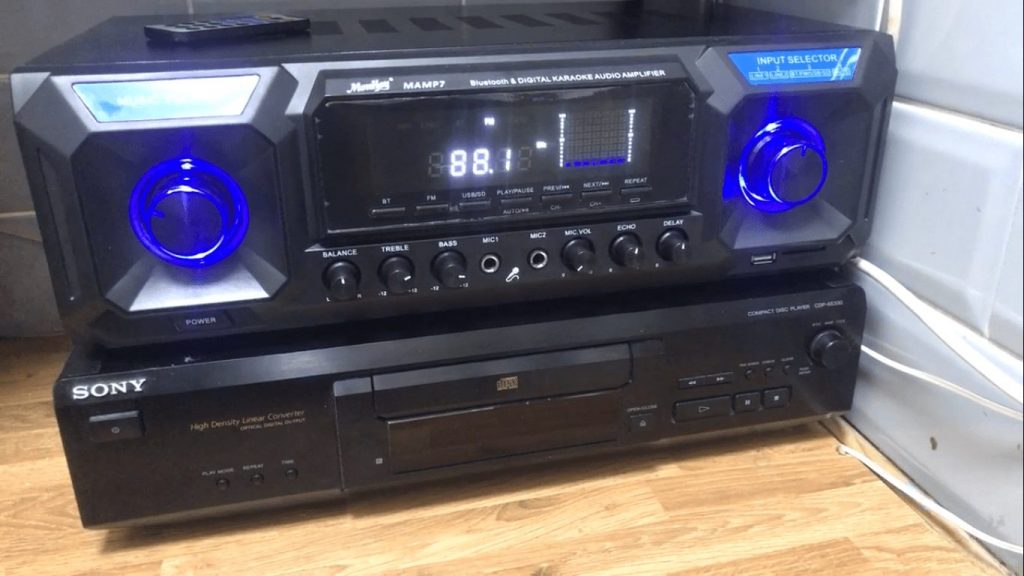 Sound quality:
When it comes to the sound quality that an amplifier produces, it depends upon its treble and bass adjustments. When these are correctly adjusted, you will experience a perfect echo and delay effect required for Karaoke singing. So, this amplifier can be used for outdoor karaoke parties.
Also Read: Best Karaoke Speakers For Outdoor Parties
Design:
The moukey audio power amplifier will be an elegant addition to your music system. It has a classic and simple design that makes it both attractive and valuable. The amplifier contains two mic input ports. And the Thin Film Transistor screens can precisely show any actions you've taken with this amplifier, including mode changes and volume adjustments.
Furthermore, you can conveniently operate this power amplifier from a distance with the accompanying remote control.
Connectivity:
Like many other conventional amplifiers, the Moukey also supports wireless connectivity via Bluetooth. The amplifier is outfitted with the latest version of in-built Bluetooth, version 5.0. It will enhance the reliability, audio quality, and use range.
Additionally, this power amplifier also supports various external signal sources, including RCA audio inputs for tuners. MP3 music can be read, plugged in, and played from USB and SD cards less than 32G. It also has an FM mode that automatically seeks and stores 50 radio stations.
User experience:
We had a great time with Moukey Audio Power Amplifier because it receives the low output of passive outdoor speakers and produces a realistic music experience. This amplifier is compatible with most electronics, including laptops, computers, smartphones, and tablets, so there was no restriction to use it with only speakers. 
Things We Like
It is best for home theatres, outdoor speakers, and karaoke parties. 
This amplifier is very straightforward to connect via USB and Bluetooth. Also, it is compatible with most current electronics. 
A must-have, cost-effective, high-performance package. 
Easy to set up, use, and maintain.
Remote control system 
It is a versatile amplifier. 
Things We Dislike
The Moukey Audio amplifier does not feature AUX input. 
The FM stations cannot be tuned manually. 
The previous models from Moukey amplifiers are also working well. Currently, most people are using Moukey MAMP7 for studios and parties. 
Further, you will be updated about all the product additions from Moukey. 
3. YAMAHA R-S202BL Stereo Receiver – Best Amp For Outdoor Speakers
Connectivity: Bluetooth 
Compatible with: speakers and smartphones 
Color: Black 
Number of channels: 40 
Controller: android 
YAMAHA is another one of the most iconic brands in the musical electronics world. Almost everyone has heard about it. Those musicians who focus on elegant design and high-sound performance can choose this option. It ensures an easy setup, wireless connection with BlueTooth, and durability. It is like an investment for a lifetime.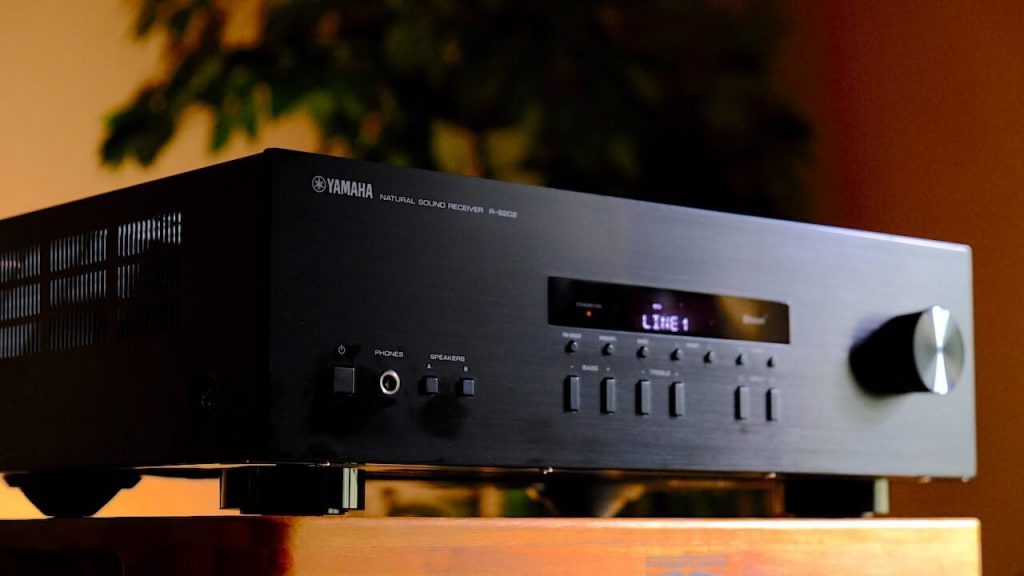 Sound performance:
Overall, the sound performance is excellent when compared with other units. This amplifier/ receiver produces a much more realistic sound.
Connectivity:
The Yamaha is easily connected to your speakers, smartphones, and other electronics wirelessly through Bluetooth. You can also connect it via USB. it also supports music formats, i.e., MP3, APE, WAV, and WMA.
Design:
The front panel is sleek and stylishly coated with black aluminum. The system contains a plastic remote that is pretty plain and has many tiny, non-backlit buttons. You can also use it to operate a Yamaha CD player.
It features tone settings and input selection controllers, tiny push buttons for setups, adjusting FM mode and memory, and channel selection.
Unlike other conventional amplifiers/receivers, Yamaha's fluorescent panel will let you read the panel from anywhere in the room. And it is white rather than orange as in the 1980s.
Things We Like
High audio quality 
Compatible with most of the latest electronics 
Elegant design with fluroscnet panel 
Bluetooth connectivity 
The remote controller works well 
It provides excellent value to the user experience 
Things We Dislike
It is a bit pricey 
It must have some more unique features for the price 
4. Pyle PTA66BT – Best Home Audio Amplifier
Type: it is a six-channel amplifier 
Connectivity: USB, RCA connector, wireless; Bluetooth
Wattage: 600 watts 
Compatible with: speakers, Television, and smartphones 
Color: Black 
Frequency: 20Hz-20KHz
Control method: Remote control 
The music enthusiasts looking for an amplifier that can boost sound effects significantly hold on; I include the Pyle amplifier system in my list for you. Unlike conventional two-channel amplifiers, it is a big power amplifier that supports six channels. Besides, it has a peak power of 600 watts, making it best for outdoor speakers.
Sound quality:
As far as the sound quality of an amplifier is concerned, it depends on the output power that the amplifier supports. Compared to the Pyle amplifier, some conventional amplifiers only enhance the power output up to 50-100 watts. But, Pyle is such a package that it delivers a peak output power of 600 at almost the exact cost.
And the sound quality is realistic and accurate and resonates as if the band is playing music right before you. You can also use this amplifier for karaoke music parties. With that saying, in my recommendation, Pyle is another one of the best amplifiers for outdoor speakers.
Connectivity:
Pyle features a wireless connection via Bluetooth. You can connect it to your speakers (indoor or outdoor; it depends on your needs), Television, laptop, and smartphone. The wireless connection has a range of up to 40 feet.
Further, it also supports RCA input connection, AUX inputs, and USB connectivity. Additionally, Additionally, it contains a headphone jack for listening to audio. The amplifier is compatible with speakers that have 4-8 ohms impedance.
Design:
This amplifier is like a box, with smooth finishing so that you can easily place it on your shelves. The front panel contains control buttons with an LED display. It is light in weight, so quite portable.
Moreover, this little Power amplifier has a MIC talk-over feature that, when used, briefly pauses any music or audio currently playing. It works well for voice-over and announcements.
Things We Like
It is very easy to connect multiple speakers at a single terminal. 
The amplifier supports six channels, enhancing power output to 600 watts. 
Cost-effective amplifier 
It is best suitable with outdoor speakers 
Wireless connectivity range of up to 40 feet 
The manufacturers offer a one-year warranty for this amplifier. 
Things We Dislike
It does not have a power cord. 
Some users reported overheating the amplifier for some time during work. 
The Pyle PTA66BT is the most recent model that gives the power and versatility a musician needs in his professional sound system. Previous models were; PTA24BT and PTA42BT. 
5. Best Inexpensive Amplifier For Outdoor Speaker: Wireless Bluetooth Stereo Mini Amplifier
Connectivity: USB, Bluetooth 
Channels: 2 
Control method: Remote control 
Output power: 100 watts 
Compatible with: speakers, TV, and Smartphones. 
Audio encoding: stereo 
Special feature: built-in safety system; prevents overheating of the system. 
Control: Remote 
It was difficult for me to find an inexpensive amplifier that also serves the primary purpose efficiently. Then I came to know about the wireless stereo mini amplifier. The design of this amplifier is well-built, the setup is easy, and above all sound quality is good. What else can one demand more within budget?
Sound performance:
The Bluetooth Stereo Amplifier Receiver has a 100 Watt power output and dual channel stereo output at 50W+50W with an impedance of 4–16 Ohm. It provides unmatched sound quality and allows you to listen to high-quality amplified audio. Adjust the bass and treble accurately and have a more realistic music experience than ever.
Moreover, it is compatible with the latest electronics available today, including computers, iPods, iPhones, and smartphones, and doesn't demand any costly receiver connection. The amplifier works excellently with the outdoor speakers.
Connectivity:
The Wireless Stereo Mini Amplifier supports three inputs. Namely, it supports AUX, USB, and Bluetooth connectivity. Although Bluetooth technology that it features is 4.2, it is still valid within a 33-foot range.
Connecting a DVD player, TV, computer, STB, or MP3 player to it via AUX input is very straightforward. Additionally, you may connect the amplifier to USB flash drives using the USB Input. Please note that it only supports music formats, i.e., MP3, APE, WAV, and WMA.
Design:
Despite its tiny size, it will significantly improve your entertainment system.
The front panel contains a power button, controls for bass and treble along with volume adjustment button. Due to its small size, it is portable; you can take it anywhere you like.
Most importantly, the system is designed in such a way that it contains unique protective elements. In order to keep your amplifier and connected speakers or other devices safe, it will prevent any overload and overheating.
Things We Like
Accurate audio performance 
It is a mini amplifier, light in weight so that we can carry it along with everywhere. 
The setup is just a breeze, and this amplifier is straightforward to run, maintain, and adjust the bass and treble. 
The wireless range is up to 33 feet. It also comes with a remote control. 
Additional built-in safety elements that prevent overheating system. 
Good for price 
Things We Dislike
The remote control does not work well over a long range. 
The bright red and blue light around the volume dial is irritating in low-light environments. 
6. Sony STRDH190 – Best Sony Amplifier For Outdoor Speakers
Best for: to enhance the power of outdoor speakers 
Audio: Phone Volume offset 
Speakers' impedance: 6-16 ohms  
Color: Black 
Number of channels: 2 
Compatible with: speakers, smartphones 
Wattage: 200 watts 
When looking for an Amplifier to enhance the sound quality of outdoor speakers, the STRDH190 2-ch is a big game changer. It is effortless on the pocket range and offers high quality sound with minimum distortion.
With its high-end stereo design and aesthetic looks, you can make your club or outdoor space look fantastic. Get the most amplified music in the outdoors with this amplifier.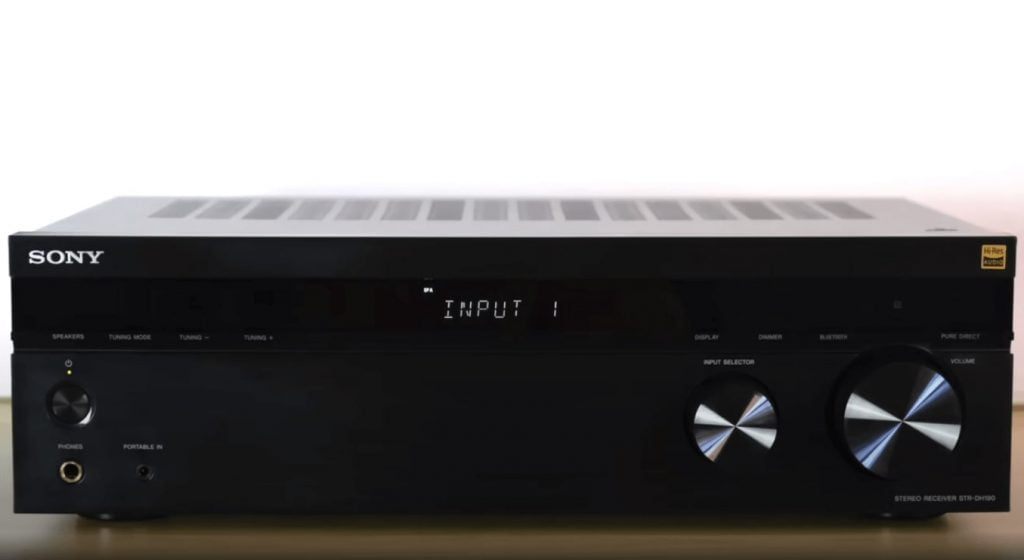 The reason why it is considered a good amplifier/ receiver for outdoor speakers:
An immersive audio experience:
Sony amplifier can produce high resolution audio that will give you an excellent and the most immersive audio experience, just like you are listening to music in a studio. Every aspect, from signal to speaker, is so significant that it gives the impression that the artist is playing right in front of you.
It minimizes distortion:
It can accommodate up to two pairs of speakers owing to a hidden amplifier and massive power transformer that produce astonishing power while reducing distortion.
Moreover, the vibrations can also be decreased for a more realistic sound because of the metal strengthened framework and beam fabrication.
Sound quality:
According to my experience, this receiver provides incredible 100 watts per channel. It offers sufficient power for most speakers, providing outstanding stereo performance.
To put things in perspective, you can hit the noise complaint zone when you are getting close to the range's absolute bound, but the power would be there in abundance whenever you need it. So, no worries.
Connectivity:
Connecting two sets of speakers and playing them all simultaneously or alternating between them via zones was incredibly useful and flawlessly functional. This model of Sony amplifiers supports Bluetooth connectivity.
Design:
It has a low profile, sleek and aesthetic design. As it has both analog and digital connectors, you can easily link your vintage gadgets, such as CD players, turn tables, etc., or use Bluetooth to stream wirelessly.
The receiver's display interface is clearly visible even in a light environment.
Setup:
Even though this unique AVR lacks an HDMI input, it may still be connected to a television with red and white RCA connectors. Connect your outdoor speakers to the respective black and red terminals for your left and right speaker when everything is turned off. If it doesn't, repeat the process.
Using a gaming console or DVD/Blu-ray player is feasible, but since there is no HDMI input, these devices would need to connect to the TV via HDMI instead of using the receiver as you would typically do.
If you are not using Bluetooth connectivity, you may also need a speaker cable because it doesn't come with any.
Here are some of the drawbacks of this amplifier:
With regard to connectivity, the Sony STRDH190 2-ch amplifier does not include an HDMI input or output. Consequently, this amplifier will be useless if you only have HDMI connectivity.
Additionally, there is no subwoofer port, making it unable to connect through wifi or attach a subwoofer.
You must decide whether such factors are highly essential to you, but, in my situation, they weren't. So it was a great deal for me to buy a SONY amplifier for my outdoor speakers.
I might condemn this receiver for its connectivity lack. Still, it would be to the cost of what it offers and excels at, providing an essential, high-quality stereo performance without the extraneous features.
This amplifier includes two sets of conventional left and right speaker outputs, an FM antenna adapter, five analogue audio inputs, one for phono usage, a USB input, and a headphone port. It also has a built in Bluetooth transmitter.
Things We Like
The amplifiers' connectivity to two sets of speakers via Bluetooth 
Reduces distortion to an agreeable extent 
It has a simple and aesthetic design profile 
Easy to setup and maintain 
Inexpensive 
Things We Dislike
It would be great if it supported wifi and had HDMI slots 
The amplifier doesn't have any subwoofer input 
7. Cheap Portable Amplifier: Nobsound Mini Bluetooth 5.0 Power Amplifier:
Decent audio quality and cheap price 
Color: Black 
Connectivity: Bluetooth, AUX, USB 
Voltage: 24 volts 
Channel: 2
Bluetooth version: latest; 5.0 
Impedance: 4-8 ohms 
If you are looking for a mini-size amplifier within budget, then Nobsound is another good brand to consider. It is a mini amplifier, so it will be handy for music lovers to carry them almost everywhere. Nosound ensures that all the users get Hi-Fi music in an affordable range.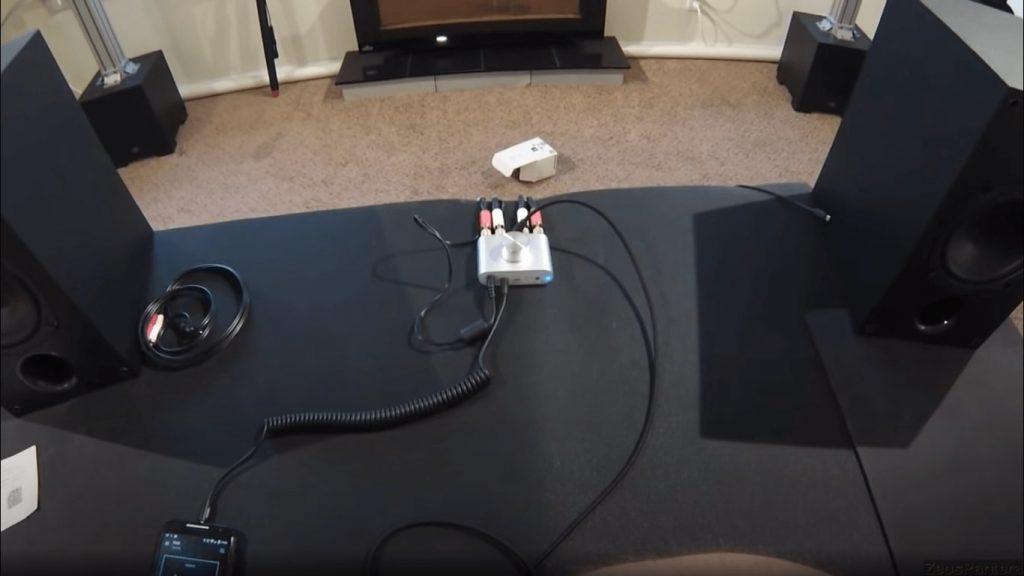 Sound performance:
As far as the audio quality of the amplifier is concerned, I must say it is average. Although it amplifies audio to a limited extent, you will experience realistic sound performance when connected with speakers within a low budget.
This mini amplifier provides 50 watts of output power to each speaker. It uses a power adapter of 24 volts. It is compatible with speakers having an impedance of 4-8 ohms.
Connectivity:
To ensure stable and faster music, Nobsound supports connection via different inputs. For enhanced wireless connectivity, Bluetooth is upgraded to 5.0.
You can also connect it to your speakers and other devices with a USB and AUX connection.
Design:
It is a mini-size amplifier with knobs for volume control. The panel has a power switch, AUX input, USB input, and Bluetooth indicator. 
Things We Like
It works well with Alexa as well 
Budget-friendly 
It is a mini amplifier with a pocket-friendly design 
It comes with a one-year warranty 
Things We Dislike
It does not have treble controls 
By default, it is connected through Bluetooth. So, for connection with USB, it needs to restart. 
How To Choose The Best Receiver/Amplifiers For Outdoor Speakers?
Selecting a suitable amplifier for your speakers set might be tricky as it demands many factors to consider. So, check out our buyer's guide before finalizing that one amplifier you wish to buy. I am sure it will help you in this regard. 
Usage:
The amplifier selection will depend on its utilization, as is typical with such electronics. Some people desire to have full entertainment and parties outdoors, while others like only light yet realistic acoustics. The idea of karaoke in the garden would make some people enjoy it as a bonus.
The first step is deciding what it is used for. Do you wish to connect it to other home systems? Or is it a standalone designed only for usage outside? It needs to be built sturdy if you're planning to move it around or leave it outside. But it must also be somewhat lightweight and portable.
Compatibility and Impedance:
As most of us already know, any amplifier cannot be used with any speaker set. Here comes the compatibility of the amplifier with speakers. Since speakers typically have different impedance values, you must choose an amplifier accordingly.
For example, if your speakers specify a 2-ohm impedance, you must select an amplifier with 2-ohm impedance. The impedance compatibility will result in excellent sound effects. 
Despite this, most amplifiers can operate with an impedance range of 2-4 ohms, 2-8 ohms, 4-16 ohms, etc. This is how amplifiers are developed so you may use them with different types of speakers.
Connectivity:
Looking for available connectivity choices is the most crucial factor you should consider. Every single small amplifier will undoubtedly include an RCA connection for your speaker.
Further, to have a wireless connection as well, search for other connecting options like Bluetooth. Additionally, some cutting-edge small amplifiers even have a specialized mic jack and 3.5mm connector, which is helpful if you want to sing along at parties.
Power output: 
An amplifier improves the audio output of speakers. While some amplifiers are made to improve and deliver an output power of up to 50 Watts per channel, some amplifiers in the marketplace can improve the power output on your stereo speakers by as much as 100 Watts. Though choosing a robust amplifier will also cost you more, be careful to get one that is within your budget.
PEOPLE ALSO ASK (FAQS)
Why is it necessary to use amplifiers for outdoor speakers? 
Let me tell you, it is not entirely necessary to use amplifiers for outdoor speakers. But, for true music enthusiasts, it is a significant need. An amplifier reduces the distortion of outdoor speakers providing clear, realistic, and resonant sound effects. So it is a must-have to enjoy an excellent music experience. 
Which is one of the best amplifiers to use for outdoor speakers? 
How much extra does an amplifier cost? 
The cost of an amplifier depends on for what purpose you need it. It will cost you more if you intend to buy the best of all. Otherwise, there are other options as well.  
Which amplifier is suitable for passive speakers being low on budget? 
Final Verdict: Summing up, an amplifier is a must-have addition to the music system of audiophiles. It enhances the sound performance of passive outdoor speakers and reduces distortion. 

After reviewing every option, you can select one of the best amplifiers for outdoor speakers. The buyer's guide will further help you to make a good choice. 

Lastly, if you have any questions, you can ask them in the comment section below.