The best speakers with an amplifier should have a top RMS rating of at least 50 watts RMS. You should upgrade to a 75-watt RMS per channel setup if you have a large vehicle or want more volume. When you go amplifier shopping, you will find many varieties in the market. This can be overwhelming for anyone without knowledge about their car's needs or is not a pro in understanding sound systems.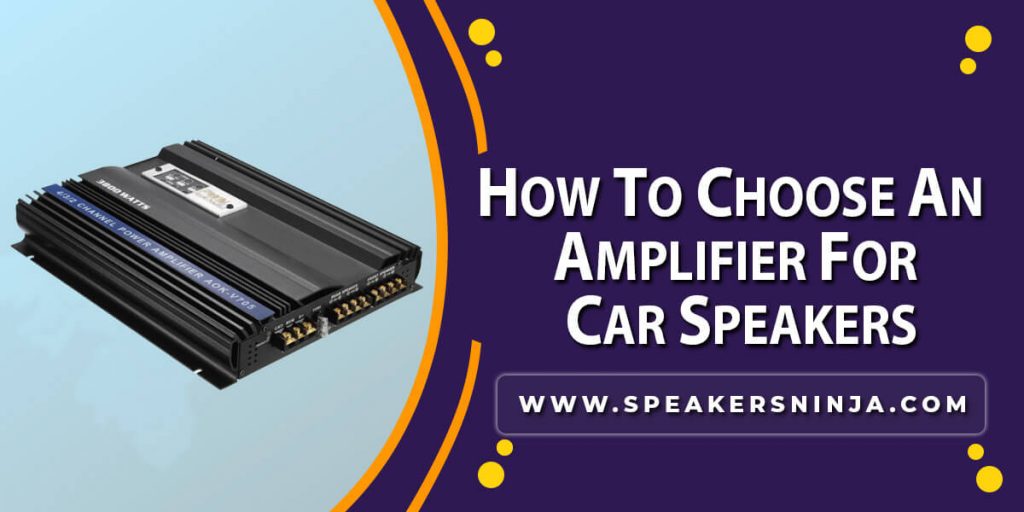 What Is An Amplifier?
An amplifier I used to amplify the signal, as the name very clearly suggests. Its job is to take a line-level audio signal and boost it. It enables the speakers to produce quality sound even when the volume settings are too high.
An amplifier catches the current and helps the speakers in producing sound by routing that current through circuits and transistors.
Also Read: Best Amplifier For Outdoor Speakers
Pre-Amplifier:
As we previously discussed, an amplifier takes a line-level signal and then boosts it. A low-level signal, with a preamplifier's help, produces this line-level signal.
This means that the preamplifier also works as an amplifier and boosts sound. But it is not functional without an amplifier and requires it to produce your desired sound quality.
So your stereo will send a signal to the pre-amplifier, which sends a signal to the amplifier, which then produces sound with the help of your speakers.
Amplifier Basics:
The power demand is the most important thing to learn before investing in a good amplifier. One needs to make sure they choose the matching RMS power for their speakers and amplifier.
This means that if you are trying to connect 4 speakers of 100W to your amplifier, you need to have a 400W-powered amplifier. If you fail to match these power details, you are going to face some consequences, which we will discuss now.
Other than the power specification, the number of channels is another important thing to consider beforehand. You need multiple channels for your speakers and subwoofers. Make sure that you buy an amplifier of at least 4 channels so that you can connect it to all the speakers.
If you have a subwoofer, you might need to increase the channel numbers of your amplifier. This is why it is important that you make the direct decision the very first time before buying an amplifier.
Matching the correct speakers with the correct amplifier:
As we have already discussed, one should always match their amplifier to their speakers. Your amplifier's compatibility with your speakers depends on a variety of factors. If their power and frequency responses aren't in line, then you are only going to waste money getting an amplifier.
Having stated the importance of matching the power of both your amplifier and speakers, it is time to explain how you can do so. It is important that you go ahead and match your RMW watts before purchasing an amplifier.
Now that we have already covered the basic specifications of choosing an amplifier for your speakers, we need to learn why it is important that you buy an amplifier for your car's speakers.
Importance of an amplifier:
If you're reading this article and already choosing an amplifier, you probably know why an amplifier is essential for you. You can get several things when you install an amplifier in your car.
Several cars have an amplifier built into them, and some luxury cars also provide you with an external amplifier. You must get one from the market if you are unlucky and do not own a factory-installed amplifier.
1. Sound quality:
It is quite obvious that you care about your car's sound system if you are into listening to music while driving. Mostly, your factory-built speakers get overwhelmed when you turn up the music too high. Then they produce a distorted sound with poor quality.
An amplifier will help your speakers to produce a high-quality sound, even with higher levels of volume, by giving it more room and fewer limitations.
2. Power for speakers:
If you tend to stick with your built-in speakers, your car's built-in amplifier might be good enough. But if you happen to change your speakers for some reason, your existing amplifier will not be able to handle their power demand.
So, if you happen to get an aftermarket speaker, ensure you get an amplifier of the matching power as well. Only then will you be able to enjoy your new speakers properly.
3. Room for a subwoofer:
If you are a music fan, you might want to go all-in with the gadgets. If you have a subwoofer in your car or you plan to install one soon, an amplifier is your need of the hour.
Connecting your subwoofer to the stereo without an amplifier is not recommended since it distorts the sound to a higher extent and ruins whatever is left of the music.
Installation:
Why is installation an issue when choosing an amplifier? It is because many of the external amplifiers are large enough to be stored in the same place where factory amps were installed.
You might need to choose a location in your car before you go and get an amplifier. Once you have chosen a dedicated location, get some measurements to ensure what you are getting yourself into.
For further tips on installing an amplifier with a subwoofer in your car, read our article…
Frequently asked questions:
Q – What if my amplifier has too much power?
As most people think, it is not good to have an amplifier with too much power than your speakers. The amplifier will overwhelm your speakers when you want to play music really loud. There is a possibility of your speakers getting blown due to this power overload.
Q – What if my amplifier has too little power?
If your amplifier has little power compared to your speakers, then it can gradually affect the health of your speakers. The long-term effects of the DC current produced will take away the life of your tweeters gradually.
Your voice coil will be vulnerable to damage. Other than that, your speakers will produce a clipping sound every time your amplifier misses a frequency.
Choosing a suitable amplifier for your car can seem like a tremendous job, but it is not. All you need to ensure before buying an amplifier is the number of channels you are looking for and the RMS watt of your speakers. If you happen to match these two things, you are good to go.