Are your Chromebook speakers not working? This can be quite troubling for you. You can miss out on a lot because of the malfunctioning speakers of your laptop.
This article will discuss the issues regarding Chromebook speakers and their solutions. However, we also have that article if you want a general guideline about laptop speakers not working.
What To Do If Chromebook Speakers Not Working?
When fixing the sound of your laptop, we will recommend testing and retesting it when trying different things. In case you will have to reset the Chromebook, backup all your data somewhere else before resetting as it may erase it completely.
Chromebook Software Updates:
The laptop offers updates every now and then. These updates make sure your laptop's function is up to date. Sometimes ignoring these updates can cause issues in your laptop. For this, you need to check regularly for updates.
Make sure the latest version of Chromebook is installed on your laptop. If not, update its operating system. This might be the root cause of all your sound troubles.
Chromebook Sound Settings: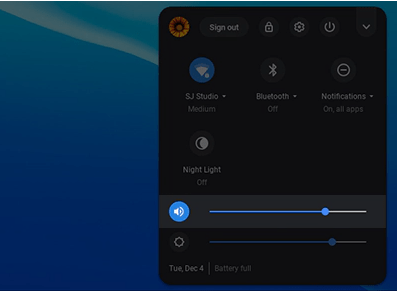 Sometimes, all you have to do is to go to the settings and unmute your speakers. I know how basic this sounds, but many people start panicking way too early and do not check whether the speakers are on mute.
Every time you face any issue with your speakers, the first thing you should do is check the settings of the laptop and make sure the speakers are not on mute.
In the bottom right corner of your screen, click the

Taskbar

icon.

A volume slider will be shown here, adjust it accordingly, making sure it is not all the way to the left.
Chromebook Configuration:
The speaker configuration is another common issue that many people fail to address when their laptop speakers malfunction.
It can be a little more complicated than just going to the settings and unmuting the laptop speakers, but it is not the most difficult task one can do.
Sometimes, the laptop is configured to an audio output that is other than the speakers. The laptop speakers are usually the default audio output configuration.
In short, double-check what your laptop audio is being set to. If it is not the speakers of the laptop, change this little setting and soon you'll be able to enjoy the sound as always.
You can check the audio output source by a simple method. In the bottom right corner of your screen, click the

Taskbar

icon.

A volume slider will be shown here, next to it is a

Right arrow

. Selecting it will enable a list of preferences for you, such as headphones, or speakers.
Unplug other devices: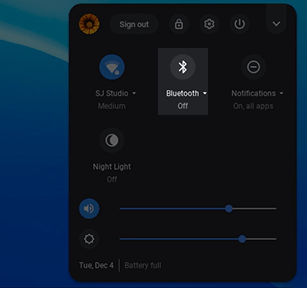 Not just the audio output port, remove all the USB and HDMI devices from Chromebook. This can rarely cause an issue but sometimes these can also hinder the audio output of the laptop.
Also, after removing everything, restart your Chromebook. If you have just recently started facing this issue, then restarting the Chromebook might also help.
Sometimes, it is the Bluetooth speaker or headphones causing the issue. Simply turn off the Bluetooth to make sure it is not hindering the internal speakers from playing.
In the bottom right corner of your screen, click the

Taskbar

icon.

Click on

Bluetooth

and turn it off.
Chromebook Factory Reset:
This might sound like an extreme option, and it is. However, sometimes it is the only one that can help you. Firstly, back up your data to a safe place because the factory reset will wipe it out.
If the factory reset still hasn't fixed the problem, you might need a complete recovery. We recommend you contact a professional at this point.
Frequently Asked Questions
Q- What type of headphones work with Chromebook?
Chromebook allows headsets with a 3.5mm jack. Thus, all the headsets of this specification are compatible with your Chromebook.
Q- Do iPhone headphones work on Chromebook?
Yes. It is very easy to make a Bluetooth connection between your Chromebook and iPhone headphones. Once they are connected, they can very easily function together.
Chromebook speakers can stop functioning for a variety of reasons. It is always recommended to keep your Chromebook up to date. In this article, we have described step-by-step settings to revive the sound from your speakers. You can always reset the laptop to factory settings, however, this can get rid of all the data on your laptop. At any time, feel free to contact a professional.