No sound from our Alienware can ruin the entire experience of your gaming laptop. As troubling as it is, it can also be quite heavy on the pocket to go and get it repaired by a professional.
There are a number of problems that one can face with the sound of their Alienware system. In this article, we will discuss Alienware speakers not working. For a much more general guideline about laptop speakers not working, click here.
What To Do If Alienware Speakers Not Working?
In case your speakers are producing no sound at all a number of things can be done to fix the issue. We recommend you keep testing the speakers every time you try a new method to ensure they still haven't started to function.
Alienware Speakers Settings: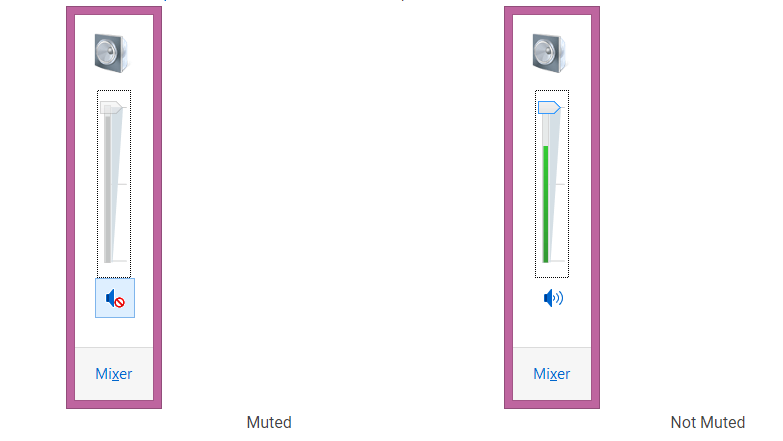 Sometimes, the audio settings are messed up, and thus the speakers malfunction because of them. For this, all you need to do is to change a few settings and your laptop is good to go.
At the bottom right corner of the screen, there is a volume icon that you have to click.

Select the

Open Volume Mixer

You will be able to see the muted speaker with an icon. If this is it, just unmute it and you'll be good to go.

A bar is present at the sound settings. If this bar is gray, it means the speakers are muted. Make sure the bar is sliding upwards and is green.
Alienware Configuration:
Sometimes, the laptop is configured to an audio output that is other than the speakers. The laptop speakers are usually the default audio output configuration.
In short, double-check what your laptop audio is being set to. If it is not the speakers of the laptop, change this little setting and soon you'll be able to enjoy the sound as always.
On the lower right side of your screen, there is a sound icon, within the taskbar. Right-click this sound icon and choose

Playback device.

Go to

Speaker

and then

Configure speakers.

Follow the setup wizard.
Another trouble is with the playback devices which have to be enabled to the correct setting. For this, follow the below-mentioned steps:
On the lower right side of your screen, there is a sound icon, within the taskbar. Right-click this sound icon and choose

Playback device.

Right-click on the Speakers to enable them to play audio

Choose

set as default device
If the above-mentioned steps did not work, try this:
Go back to the playback device and right-click anywhere on the screen

Now choose

Show disabled devices

or

show disconnected devices

Now again right-click on the speakers if they are in the list (if not do not worry)

Choose

enable
Alienware Audio Driver:
An audio driver is the one responsible for communicating the sound from the operating system to the speaker. In case your audio driver is out of date, you can experience issues with your speakers.
All you have to do is uninstall the audio driver. After you have uninstalled it, upon restarting the computer, the laptop will try and install it again. This way you'll end up with a perfectly working sound driver.
Go to Windows

Control Panel

Click on

Programs and features

Find the audio driver. Most likely it will be named Realtek Audio, Sound Blaster Recon 3Di, or Alienware Audio
Update BIOS:
In case your BIOS is not up to date, there is a chance that you might start having issues with the speaker. Basic Input/Output System (BIOS) helps in analyzing the speakers as well as configuring and managing them.
In order to download the latest version of BIOS, go to https://www.dell.com/support/home?app=drivers
In order to check if you have the latest version of BIOS installed, follow the following steps:
Click the

Windows

icon present on the lower right side of your screen.

Select

Run.

This will open a Run dialog box.

In the box, type

msinfo32

and press

Enter.

Find

BIOS Version/Date,

it typically starts with A followed by a 2-digit number.
Frequently Asked Questions
Q- Why is my Alienware audio not working?
A number of reasons can cause the audio of your Alienware to stop working. This can be due to a simple issue with your settings or configuration. Or it can be a much different issue, such as out-of-date audio drivers and BIOS.
Q- How do I fix my Alienware speakers?
This depends on the issue. First, you will have to rule out if you have a simple or much more complex hardware issue. For this, try changing the settings and the configuration. Update the laptop, its BIOS, and its audio drivers, and if nothing helps, consult a professional.
Alienware laptops can have issues with the sound that can be quite tricky to fix. Sometimes, it can be corrected in under a minute by changing several settings. This article has a step-by-step guide about the settings, configuration, audio drivers, and BIOS of Alienware systems.