You are dreaming of having an excellent home theater experience. But you are unable to do this! Because, like me, you are investing a lot of time in finding one of the best sound systems for it. Here is the difference between you and me.
You are still wandering to find a sound system, and I have found one and have created a dream home theater with a perfect sound design.
The sound system that I am talking about is none other than Bose Lifestyle 650. Not to brag about it, but I am delighted with my purchase. And that is one of the reasons why I am here for a Bose 650 review.
Please read the full article to learn about my experience with Bose 650. I am sure it will greatly help you decide on your choices. So, let's get started. 
Delivery and packaging of the product:
First things first, let me tell you how the product was delivered to me and its packaging. All the items in the package were packed exceptionally well. And there was no damage at all.
I am always concerned about shipping costly electrical products because any minor damage can cause a completely loose function. But, when I received my package of Bose speakers, I was happy with the delivery.
Unboxing Bose 650 :
So the first thing to do after receiving the package is to unbox it carefully. Although it seems to be an easy process, it needs a lot of attention. It is because you must keep all the accessories at a point without creating a mess. Also, make sure to keep all the things to find them during the system's setup easily.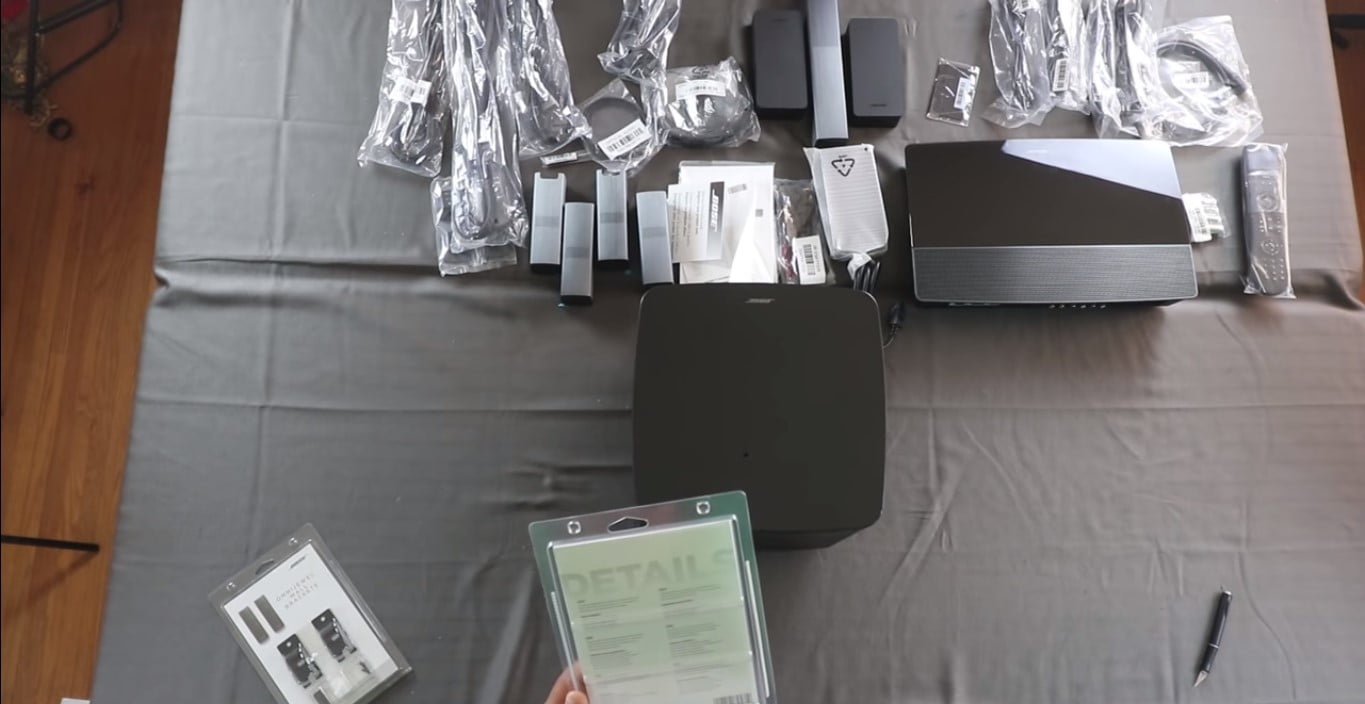 Bose Lifestyle 650 Review: Is This System Worth It Or Not?
Bose Lifestyle 650
The system includes 6 HDMI ports
Comes with 4 OmniJewel speakers providing 360-degree high-quality surround sound
Voice compatibility with Amazon Alexa
ADAPTiQ functionality provides automated calibration.
Supports multiple streaming services such as Spotify, Pandora, Amazon, and others
Acoustimass 300 bass support
Mobile sync through NFC
The Bose Lifestyle 650 Package Includes:
Console – 1

OnmiJewel side speakers – 4

OmniJewel center speaker – 1

Acoustimass wireless bass module – 1

universal remote control – 1

wireless receivers – 2

ADAPTiQ headset – 1

Guidebook – 1
Bose Lifestyle 650 Speakers Setup:
The overall time required for the setup of the Bose 650 system is about one hour.
The package includes custom-designed floor stands, so the first step will be to mount the speakers on these stands. The primary purpose of these stands is to place the speakers correctly. These stands also increase the elegance of the Bose Lifestyle 650 speakers.

To ensure an easy setup, you must follow all the instructions mentioned in the guidebook.

The second step is to connect the column to the glass base. You can easily do this by using the hex tool. Accurately connect all the columns to the base.

The next step is to feed the speaker wire inside of the column. Enter the wire through the base out of the top of the column. 

Now, you need to connect the wire ends with the speaker mount. Here, take caution and carefully notice the colors of the cables and the matching screws. 

It is time to mount the base of each speaker to the top of the column.

Now, place the Omnijewel speaker at the base.

The last thing to do is to secure all the speakers to the base using screws.
You can efficiently and accurately set up your speaker's system by following the above-listed instructions. I am focusing on the setup because a correct setup is a key to the maximum function and a quality sound system. 
If you have issues regarding the setup of the system, you can ask the seller.
Features of Bose Lifestyle 650:
Bose never disappoints its users. To me, Bose is the name of quality. The Bose Lifestyle 650 speakers are a great revolution in the world of speakers after the previous Bose 600 model. Some of the most prominent features of Bose 650 Speakers are as follows:
An exclusive 360-degree audio experience:
Bose 650 speakers feature a most exclusive 360-degree audio system. Now, you can immerse yourself in a 360-degree audio experience with the Bose 650 speakers. Bose's Lifestyle 650 home entertainment system is the best for sound, videos, and TV.
Sound system:
The sound quality is incredible, as you'd expect from speakers several times the size of the 650 speakers. Although the technology of the Bose 650 system is cutting-edge, the result is simple and clear, with deep and realistic acoustics.
All in all, Bose 650 is a complete package. You can get yourself engaged in every storyline moment of your favorite thriller movie, cheer every gameplay experience, and listen to music.
Additionally, the wireless bass module almost removes interference and offers unexpectedly deep and crisp bass owing to silent port technology and a mighty DSP.
Moreover, the sleek Satellite speakers, tiny jewel cubes deliver a dramatic performance along with the center channel.
For more striking sound effects, the Acoustics wireless bass module offers deep, booming bass. Wireless rear surround speakers are simple to install and operate with the front speakers to deliver a real home cinema experience.
Streaming music wirelessly:
It is very easy to connect the speakers to your TV, smartphone, tablet, or any other device through wireless connections like Bluetooth and WIFI.
Appropriate audio calibration fine-tunes the sound to your room's particular characteristics, ensuring that you always hear it at its best. Wireless connectivity is also available for the rear surround speakers and bass module.
Rather than creating an Optimal single area where you hear a precise sound, the 650 system utilizes the acoustic properties of your room to send sound to you and around you, ensuring that you are surrounded by complete, distinct sound no matter where you sit.
Components of the Bose 650 system:
The Bose 650 speakers feature the 4K pass-through, 6 HDMI ports, good touch, and Bluetooth with NFC pairing, the sleek, and the curved-glass console. All these components fit your needs, and it's all that you need to turn your room into a home theater.
OmniJewel speakers:
Most importantly, Bose 650 lifestyle system is designed with a slim center channel speaker and four OmniJewel speakers that are less than 6 inches tall so that you can feel the strength of full 360-degree sounds everywhere around you rather than just from one location.
SoundTouch system:
Moreover, the Bose 650 system is also equipped with a SoundTouch system, which makes use of your current home Wi-Fi network to wirelessly stream music services such as Pandora, Spotify, Online streaming as well as your music.
SoundTouch allows you to play almost anything over your existing Wi-Fi network. You can play music from your smartphone or tablets via Bluetooth as well as NFC owing to SoundTouch.
But, firstly, you need to install the SoundTouch application on your smartphone or tablet from Apple Store or Google Play Store. In this way, it provides you with complete control over how you listen to music.
Remote control:
Your everyday operation is made simple with the unique Unify technology's intuitive onscreen menus and universal remote control so that you can link and enjoy your entertainment devices in minutes.
Design:
When it comes to the design of Bose 650, the system looks as good as it sounds, owing to premium tempered glass and a brushed anodized aluminum finish.
Bose Lifestyle 650 Home Entertainment System Specification
| | |
| --- | --- |
| Brand: | Bose |
| Model: | LifeStyle 650 |
| Technology of the system: | HDMI |
| Weight: | 66 pounds |
| Connection type: | WIFI &Bluetooth |
Length of the wires:
| | |
| --- | --- |
| Wire | Length |
| IR emitter: | 6 feet |
| Optical cable: | 5 feet |
| HDMI Cable: | 6 feet. |
| Power cord: | 5 feet. |
| Center speaker cable: | 20 feet. |
| Surround speaker cable: | 20 feet. |
| Front speaker cable: | 20 feet. |
Dimensions of the components:
| | |
| --- | --- |
| Components | Dimensions |
| Console: | 15.98 W x 2.56 H x 10.16 D |
| OmniJewel side speakers: | 1.84 W x 5.77 H x 1.84 D |
| OmniJewel center speakers: | 21.34 W x 1.9 H x 1.84 D |
| Bass module: | 11.61 W x 12.8 H x 11.61 D |
| Wireless receivers: | 6.54 W x 1.6 H x 3 D |
Pros
High-quality sound system
This system is easy to set up
The Bose 650 features a 360-degree audio system 
It supports wireless connections i.e., Wi-Fi & Bluetooth 
An elegant design 
Cons
A bit pricey, but worth the price
Many users find this system difficult to set up. 
What Is The Best Alternative For Bose Lifestyle 650?
The Bose Lifestyle is an expensive sound system that most people cannot afford. Here are some legit Bose 650 alternatives you might want to consider:
Frequently Asked Questions
Is the Bose 650 Sound System Worth it?
You should definitely get this if you enjoy watching movies or listening to music with great sound quality at home but don't want to go to the theater.
Does Bose Lifestyle 650 support 4K &  Apple Airplay 2?
Bose sound system caters to all your modern technology needs like compatibility with Bluetooth, Wi-Fi, and Apple AirPlay 2 for wireless music streaming, 4K HDR, etc…
Does Bose Lifestyle 650 support Dolby Atmos?
Sadly, the Bose Lifestyle 650 isn't compatible with Dolby Atmos.
What is the difference between the Bose Lifestyle 600 and 650?
I'd say there are very few differences but the only noticeable difference between the Lifestyle 600 and 650 is satellite speakers; The  Bose Lifestyle 650 has OmniJewel speakers and an extended center channel, while the Bose Lifestyle 600 has Jewel cube speakers.
Summing up, the Bose Lifestyle 650 system is one of the latest and high-quality speakers from the Bose. Most users using speakers for a long time can easily set up this system. However, setting them up may be a little challenging for new users. In this case, you can ask the seller for help. 

In my experience, the Bose 650 system is the only speaker in my list with the highest and very immersive sound quality. You can also use these speakers for a better gameplay experience. 
So this was all about the Bose 650 review. Further, you can ask me in the comment section if you have any questions.