I recently experienced an issue with my Vizio soundbar, where it began flashing white lights. At first, I didn't know what was causing the problem or how to fix it. But after some troubleshooting, I resolved the issue and got my soundbar working properly again.
In this article, I will share some common causes of Vizio soundbar issues and provide tips for troubleshooting them. Whether you're dealing with flashing white lights or other problems with your soundbar, these tips can help you identify the issue and find a solution. So if you're experiencing any issues with your Vizio soundbar, keep reading to learn more.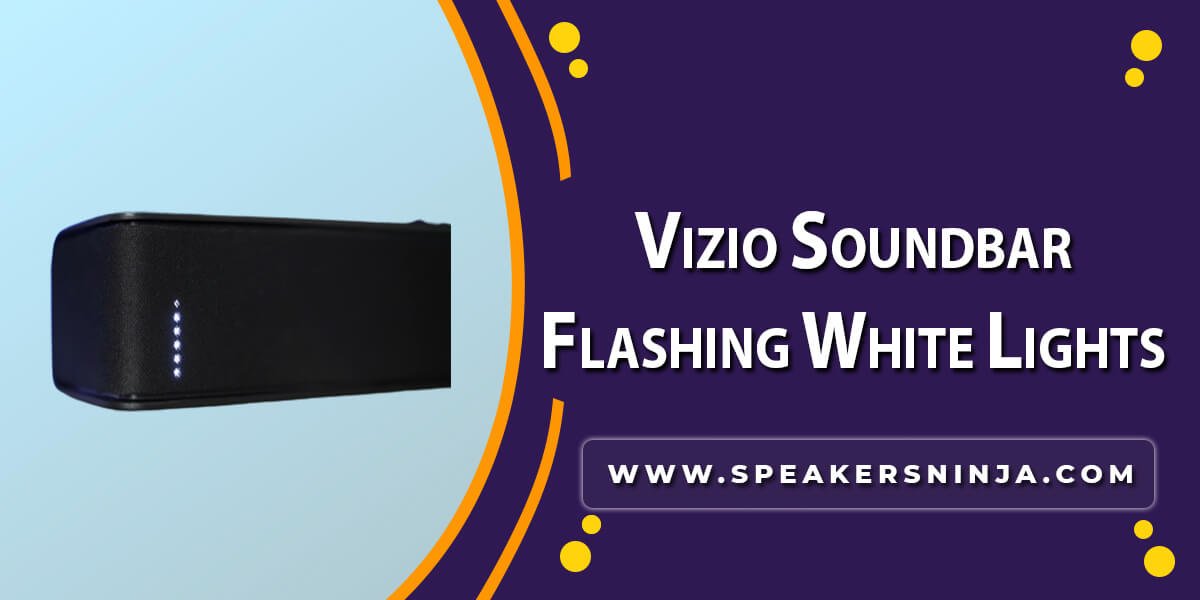 Best Methods To Fix Vizio Sound Bar Flashing White Light Issue!
If your Vizio soundbar is flashing white lights, there are several things you can do to fix it. Here are some solutions that might help:
Bluetooth Connection Fix:
This method is for you if your Vizio soundbar is a Bluetooth model. Press and hold the Control and Bluetooth buttons on the Vizio soundbar for at least five seconds. Once you release the button on the Vizio soundbar, the screen should stop flashing a white light.
Reset Audio Input:
Are you dealing with an audio input problem? If so, resetting the audio input might help. To do this, press and hold the Volume down and Bluetooth buttons simultaneously to reset your Vizio soundbar. Release them after about five seconds.
Turning Off The Demo Mode:
New users of the Vizio soundbar face this issue most of the time. You can try turning off the demo mode if you are one of them. To do this, press and hold the Input button on your Vizio soundbar for about five seconds.
Reset Vizio Soundbar:
If none of these solutions work, resetting your Vizio soundbar might help. To do this, press and hold the Power and Volume down buttons on your Vizio soundbar for about 10 seconds.
What Causes a Vizio Soundbar To Stop Working?
You're probably wondering what could be causing these issues with your Vizio soundbar, and there are a few common culprits to consider. The first thing you should check is the power source. Is the soundbar plugged in properly? Are all the cables connected securely? Sometimes, loose connections can cause intermittent issues like flashing lights.
Another potential issue is interference from other electronic devices. If your soundbar is located near other electronics like routers or modems, it may be experiencing interference, causing the flashing lights. Try moving the soundbar away from these devices and see if that resolves the issue.
Lastly, software updates can sometimes cause issues with Vizio soundbars. If you've recently updated your device and started noticing flashing white lights, it's possible that there was an issue with the update. In this case, try resetting your soundbar to its factory settings and see if that helps fix the problem.
Tips To Troubleshoot Vizio Soundbar Problems
When experiencing issues with your home theater audio, exploring potential solutions is important before resorting to costly repairs or replacements. Troubleshooting tips for Vizio soundbar problems can help you resolve issues like flashing white lights without spending much money. Here are some simple steps that you can take:
Check the connections:
One of the most common reasons why your Vizio soundbar may be flashing white lights is because of loose or faulty connections. Ensure all cables are correctly connected and check for any signs of damage.
Reset the soundbar:
Another troubleshooting step that you can take is to reset your Vizio soundbar. To do so, unplug it from the power source, wait for a few minutes, and then plug it back in again. This should clear any temporary glitches that may be causing problems.
Update the firmware:
Finally, if none of these steps work, update the firmware on your Vizio soundbar. You can do this by going into the settings menu and selecting "System"> "Check for Updates." If an update is available, follow the instructions provided by Vizio to install it.
By following these simple troubleshooting tips, you may be able to resolve issues with your Vizio soundbar without seeking professional help. However, if none of these steps work or if you suspect that there might be a more serious problem with your device, don't hesitate to contact customer support or consult a technician who specializes in home theater systems. They will be able to diagnose and repair any underlying issues preventing your device from functioning properly.
Checking the Power Supply
As I reach for the power cord behind my home theater system, I can't help but think about the importance of ensuring that my Vizio soundbar is receiving adequate power. Without it, I will surely encounter issues like flashing white lights or no sound. That's why checking the power supply is crucial in troubleshooting any problems with this device.
To begin, I ensure the power cord is properly plugged into the soundbar and an electrical outlet. It might seem like a simple step, but sometimes cords can become loose over time or get unplugged. If everything looks good there, I also check to see if any other devices are drawing too much power from the same outlet that could be causing an issue.
If neither of those steps resolves the problem, there may be an issue with either the power cord itself or the internal components of the soundbar. Replacing one or both of these parts may be necessary to get everything working correctly again. However, starting with something as simple as checking your power supply can often save you time and money in diagnosing and fixing any issues with your Vizio soundbar.
Updating Soundbar Firmware
To update your device's firmware, connect it to your computer using a USB cable and follow the on-screen instructions as the progress bar fills up with flashing colors. The process is simple and straightforward, and it can help you resolve any issues that may be causing your Vizio soundbar to flash white lights.
Before you begin the firmware update, ensure that your soundbar is fully charged and that no other devices are connected to it. It is also recommended that you backup all of your important files before proceeding with the update. This way, you can avoid losing any data in case something goes wrong during the process.
Once you have backed up your files and connected your soundbar to your computer, download the latest firmware version from Vizio's website and save it on your desktop or another easily accessible location. Then, follow the on-screen instructions to start the firmware update process. It should take 10-20 minutes for the progress bar to fill up completely, depending on how fast your internet connection is. Once completed successfully, disconnect the soundbar from your computer and test whether the issue has been resolved or not.
Resetting the Soundbar
If you're experiencing any issues with your Vizio soundbar, one simple solution is to reset it by following these easy steps. Resetting the soundbar can help fix various problems, including flashing white lights. Here's how to do it:
First, unplug the power cord from the soundbar and the wall outlet.
Wait for at least 30 seconds before plugging the power cord back in.
Press and hold down the Bluetooth and volume-down buttons on the soundbar for about 5 seconds until all of its LEDs flash rapidly.
Once you've completed these steps, your Vizio soundbar should be reset. This can often resolve issues like firmware update failures or other software problems that are causing your device to malfunction. However, if resetting doesn't solve the issue with your device's flashing white lights, other underlying causes may require further troubleshooting.
It's also worth noting that resetting your Vizio soundbar will erase any custom settings or preferences you may have set up previously. So if you've adjusted things like EQ settings or input sources, be prepared to set those up again after resetting your device. But overall, a reset is a quick and simple way to potentially fix issues with your Vizio soundbar without having to call in professional support.
Checking Audio Input Settings
Hey, have you checked your audio input settings lately? It's a good idea to make sure they're properly configured to avoid any potential sound issues. Sometimes the problem with your Vizio soundbar flashing white lights can be due to incorrect audio input settings. You might have accidentally changed the settings or connected the wrong cable into the wrong port.
To check your audio input settings, first ensure all cables are correctly plugged in and there is no loose connection. Then, access your TV's audio menu and ensure that the correct audio output source is selected. Check its audio output settings if you're using an external device such as a gaming console or DVD player.
If everything seems fine but you're still experiencing issues with your Vizio soundbar flashing white lights, try resetting both the soundbar and your TV again before checking other possible causes. A proper configuration of your audio input settings should help fix most problems related to distorted or missing sounds from your soundbar. Don't hesitate to seek further assistance if needed!
Ensuring Proper Connections
Now that I have checked the audio input settings and made sure they are correct, I need to ensure that all my connections are proper. Sometimes, a flashing white light on a Vizio soundbar can indicate a problem with the connection between the soundbar and other devices.
First, I will check if there are any loose cables or connectors. I will unplug everything from the soundbar and then plug it back in again, ensuring all cables are securely connected. Next, I will check if the cable itself is damaged or frayed. If it is, then I will replace it with a new one.
If my Vizio soundbar still has white flashing lights after checking for loose connections and replacing damaged cords, then I may need to try connecting to another device such as my phone or tablet to see if there is an issue with the original device's output. If this does not work either, it may be time to contact customer support for further assistance.
Cleaning the Soundbar
Cleaning your Vizio soundbar regularly is essential to keep your audio experience at its peak. Dust and debris accumulation can affect your device's performance, and cleaning it is easy to prevent any issues. Here are some tips on how to properly clean your soundbar:
| Materials | Steps | Frequency |
| --- | --- | --- |
| Microfiber cloth or soft-bristled brush | Gently wipe or brush off any visible dirt or dust from the surface of the soundbar. Avoid using water or harsh chemicals. | Once a week |
| Compressed air canister | Use compressed air to blow out any dust that may have accumulated in the crevices of the soundbar. | Every few months |
| Vacuum cleaner with a brush attachment | For a deeper clean, use a vacuum cleaner with a brush attachment to remove any stubborn dirt or debris. | Once every six months |
Regularly cleaning your Vizio soundbar maintains its appearance and ensures that it continues producing high-quality audio output. By following these simple steps and incorporating them into your routine maintenance schedule, you can extend your device's lifespan and enjoy optimal audio performance for years to come.
Remember that proper care and maintenance are crucial for keeping all electronic devices in good working condition. Take pride in caring for your Vizio soundbar by keeping it clean and well-maintained, which will ensure that you continue to get an enjoyable listening experience every time you turn it on!
Contacting Vizio Support
If you're experiencing any issues with your Vizio audio device, don't hesitate to contact their customer support team for assistance. They have a great team of experts who are always ready to help you troubleshoot and fix any problem you might face with your soundbar.
To contact Vizio Support, visit their website and navigate to the 'Contact Us' page. Here, you will find different options for contacting their customer service representatives. You can call or chat with them online using their live chat feature.
When contacting Vizio Support, ensure you have all the necessary information about your soundbar. This includes the model number, serial number, and any other relevant details about your device. By providing these details upfront, you can help speed up the troubleshooting process and ensure your issue is resolved quickly and efficiently.
Repairing or Replacing the Soundbar
You may be feeling frustrated and disappointed if your Vizio soundbar is flashing white lights. Before you decide to repair or replace the device, make sure to try some basic troubleshooting steps such as checking the power source, resetting the soundbar, and updating its firmware. If none of these solutions work, then it's time to consider repairing or replacing your soundbar.
If your Vizio soundbar is still covered by warranty, you can contact their customer support team for assistance in repairing or replacing the device. They will provide instructions on returning the faulty unit and receiving a replacement. However, if your warranty has expired or you prefer a quicker solution, it might be better to take it to a professional repair service.
When looking for a repair service company, ensure they are experienced in fixing audio devices and have positive reviews from past clients. Ask for an estimate of the cost of repairs before committing to any services. In some cases, repairing might not be worth it compared to buying a new unit altogether. It all depends on how much damage there is and whether it's cheaper to fix than replace.
Preventing Future Soundbar Issues
As I enjoy my favorite movies and music, I want to make sure that the soundbar issues I faced in the past don't happen again. Here are some tips that might help prevent future soundbar issues:
Keep your soundbar clean: Dust and debris can accumulate on the speakers and cause distortion or muffled sound quality. Use a soft cloth to wipe down your soundbar regularly.
Avoid overheating: Electronics tend to overheat when they work for extended periods without proper ventilation. Ensure you leave enough space around your soundbar so it can dissipate heat effectively.
Protect from power surges: Power surges caused by lightning strikes or faulty wiring can damage electronic devices like a soundbar. Invest in a surge protector with sufficient wattage rating to protect your device from sudden voltage spikes.
By following these simple steps, you may be able to avoid common issues such as distorted audio or flashing lights on your Vizio Soundbar. Taking preventive measures will ensure that you have uninterrupted listening pleasure, allowing you to fully immerse yourself in your favorite entertainment content without any interruptions or hiccups along the way!
Frequently Asked Questions
How do I connect my Vizio soundbar to my TV?
You can connect the Vizio soundbar to the TV using an HDMI or optical cable. Simply plug one end of the cable into the soundbar and the other into the TV, then adjust the audio settings on your TV to use the soundbar as the primary audio source.
Can I use my Vizio soundbar as a Bluetooth speaker?
Yes, you can use the Vizio soundbar as a Bluetooth speaker. I recently connected it to my phone and played music at a party. It was easy to pair, and the sound quality was impressive.
What is the difference between a soundbar and a surround sound system?
A soundbar is a compact speaker system designed to enhance TV audio. It typically offers better sound than built-in TV speakers, but lacks the full surround sound experience of a traditional home theater system.
How can I improve the bass on my Vizio soundbar?
You can improve the bass on the Vizio soundbar by adjusting the equalizer settings or adding a subwoofer. You may also try positioning the soundbar in a corner or against a wall for better acoustics.
Can I use my Vizio soundbar with a universal remote?
Yes, you can use a universal remote with a Vizio soundbar. You just need to ensure that the remote is compatible with Vizio products and follow the instructions for programming it to work with the soundbar.
Conclusion
Well folks, after trying all the troubleshooting tips for my Vizio soundbar flashing white lights issue, I found that pressing the Bluetooth and Input button a few times solved the issue.
The first thing you should do if your Vizio sound bar is flashing white light is to restart it. Furthermore, as a second step, you must press and hold the Bluetooth and input buttons simultaneously for at least 10 to 20 seconds to complete this process.