I recently encountered an issue where my Vizio sound bar wouldn't turn on. It was frustrating, but I learned a few tricks to troubleshoot the problem. In this article, I'll share my experience and provide steps you can take if you're facing the same issue.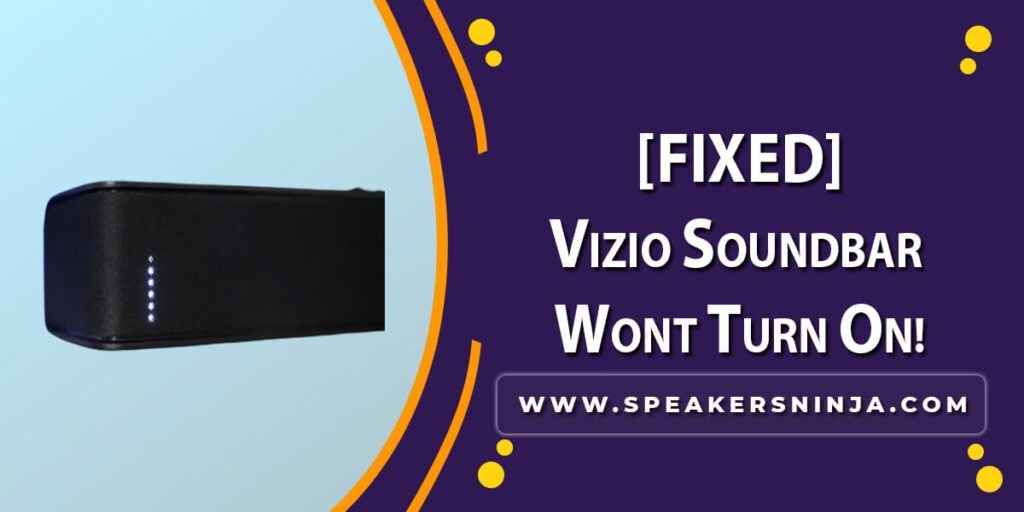 Why Won't My Vizio Soundbar Turn On?
First things first, it's important to check all of your power connections. Make sure everything is plugged in securely and that none of the cords are damaged. If everything looks good there, try testing the outlet with another device to see if it's functioning properly. If it isn't, then that may be the root cause of your problem. However, if everything seems to be in order with your power connections and outlet, then there are a few other things you can try before resorting to repairing or replacing your sound bar.
Checking Power Connections
If the Vizio sound bar won't turn on, the first thing to check is if all power connections are properly plugged in. This includes checking the power cable connection from both the sound bar and the wall outlet. Make sure that they are securely connected and not loose. If you find any loose connections, plug them back in firmly.
In addition to checking power connections, it's also important to make sure that your sound bar is turned on. Some models of Vizio sound bars have a separate power button on the remote control or on the unit itself. Double-check that this button is pressed so that your device can turn on properly.
Lastly, check if there is a problem with your outlet by plugging in another electronic device into it. You can try using another outlet for your Vizio sound bar as well. This will help rule out any issues with your electrical system before proceeding with other troubleshooting steps such as resetting or updating firmware.
By following these simple steps and ensuring that all power connections are properly plugged in, you can easily troubleshoot why your Vizio sound bar won't turn on and quickly get back to enjoying quality audio!
Testing the Outlet
Checking the outlet's functionality is crucial to troubleshooting a non-responsive electronic device, as it can reveal whether or not the power source is responsible for the issue. To test the outlet, I first unplugged the sound bar and any other electronics plugged into it. Then, I inserted a different electronic device, such as a lamp or phone charger, into the outlet to see if it turned on. If the device worked in that outlet, then I knew that the problem was not with the power source.
If inserting another device did not work either, then there may be an issue with the outlet itself. In this case, I would need to check my circuit breaker to see if it has tripped and reset it if necessary. It is also important to note that some outlets may have a switch on them that needs to be turned on in order for power to flow through them.
Testing outlets is an essential step in troubleshooting any electronic device that won't turn on. By following these simple steps and using a table like this one below, anyone can easily diagnose whether or not their Vizio sound bar is experiencing issues due to its power source.
| Steps | Results | Action |
| --- | --- | --- |
| 1 | Device turns on | Outlet is functional |
| 2 | Device does not turn on | The issue may be with the Vizio soundbar |
| 3 | Different device works in same outlet | Check circuit breaker and/or switch on the outlet |
| 4 | Different device does not work in same outlet | Check the circuit breaker and/or switch on the outlet |
Remembering these steps will save time and energy when trying to figure out why your Vizio sound bar isn't turning on. Testing multiple outlets can help determine if you simply need a new power source or if there are larger issues at play within your home's electrical system. Don't forget – always prioritize safety when dealing with electricity!
Checking the Power Source
Make sure you're getting power to your electronic device by checking the source. One of the reasons why a Vizio sound bar may not turn on is due to power issues. Before calling for technical support, it's best to check if the power source is working as expected.
To do this, I would recommend unplugging the sound bar from the outlet and plugging in another electronic device such as a lamp or phone charger. If that device works, then it means there's power coming from the outlet and we can move on to checking other possible causes of the problem. However, if there's no power coming from the outlet, then it could be an issue with the circuit breaker or wiring in your home.
Checking for loose connections or damaged cords is also important when trying to determine where exactly power issues are stemming from. Sometimes wires can fray or become loose over time which can cause disruptions in electrical flow. Make sure all cords are properly connected and free from any visible damage before proceeding further with troubleshooting.
By ensuring that your Vizio sound bar has a reliable source of power, you'll be able to eliminate one potential reason why it might not be turning on. If these steps don't resolve your issue, it may be necessary to contact technical support for additional assistance in identifying and fixing any underlying problems with your device.
Troubleshooting the Remote Control
Now let's take a look at troubleshooting the remote control and figuring out any issues it may be experiencing. A faulty remote control can often be the culprit behind your Vizio sound bar not turning on, so it's important to check if this is the case. Here are some things you can try:
Check the batteries: The first thing you should do is make sure that your remote control has fresh batteries. Sometimes, when the batteries are low or dead, the remote will stop working altogether.
Reset the remote: If changing the batteries doesn't work, try resetting your remote control. To do this, simply remove the batteries from the device and press all of its buttons for 10 seconds before replacing them.
Use another device: Finally, if neither of these steps work, consider using another device to test whether or not your Vizio sound bar is receiving signals properly. This could be a universal remote or even an app on your phone.
If none of these steps seem to resolve your issue with getting your Vizio sound bar to turn on using its remote control, there may be something else going on that needs to be addressed. However, checking these easy fixes first can save you time and money in troubleshooting further down the line!
Resetting the Sound Bar
To reset your Vizio sound bar, simply unplug it from the power source and wait for 30 seconds before plugging it back in. This is a simple yet effective solution to many issues that might cause your sound bar not to turn on. Sometimes, electronic devices get stuck in an error loop, and resetting them can help clear any errors.
If unplugging the sound bar does not work, you can also try resetting the remote control. To do this, hold down the "VOL-"button and the "INPUT"button simultaneously until the LED light on your remote turns off. Once it turns back on again, release both buttons and test if you can now turn on your sound bar.
In case these solutions don't work, it may be time to contact customer support or take your device to a professional technician for repair. However, before doing so, make sure you have tried all possible solutions first. It could save you time and money by avoiding unnecessary repairs or replacements.
Updating the Firmware
Updating the firmware on your Vizio sound bar can greatly enhance its performance and add new features that you never knew existed. I highly recommend updating your device's firmware regularly to avoid any potential issues with the sound bar. Here are some reasons why you should consider updating your Vizio sound bar's firmware:
You may experience improved audio quality after updating the firmware.
Updating the firmware may fix any bugs or glitches that you have been experiencing with your sound bar.
New features may be added, such as support for additional audio formats or compatibility with new devices.
To update the firmware on your Vizio sound bar, visit Vizio's website and look for the firmware download section. Make sure to select the correct model number of your device before downloading and installing the latest version of the firmware. Before starting the update process, ensure that your sound bar is connected to a stable internet connection.
Updating your Vizio sound bar's firmware is an essential step in ensuring optimal performance and resolving any issues you may encounter while using it. By taking just a few minutes to download and install updates regularly, you can keep enjoying high-quality audio from your device.
Checking the Circuit Board
Checking the circuit board can be a useful way to troubleshoot any issues you may be having with your Vizio sound bar. It is important to note that opening up the sound bar and tinkering with the circuit board should only be done by those who are knowledgeable in electronics. If you are not comfortable doing so, it is best to seek professional assistance.
To check the circuit board, start by turning off and unplugging the sound bar. Remove any screws or clips holding the casing in place and carefully remove it. Locate the main circuit board, which will typically have several small components attached to it.
Once you have located the circuit board, visually inspect it for any signs of damage or wear and tear. Look for any burnt or missing components, loose connections, or signs of corrosion. If everything appears to be intact, try resetting the sound bar by disconnecting all cables and leaving it unplugged for at least ten minutes before plugging back in and turning on again.
| Component | Normal Reading | Abnormal Reading |
| --- | --- | --- |
| Capacitor | 0 ohms | High resistance |
| Diode | Low resistance | No reading |
| Resistor | Specific ohm value | No reading |
Table: A table showing normal readings for common components found on a circuit board of a Vizio sound bar
Inspecting the Power Supply
Alright, so upon checking the circuit board of my Vizio sound bar, I noticed that everything seemed to be in order. However, since it still wasn't turning on, I decided to inspect the power supply next.
The power supply is responsible for distributing electricity throughout the sound bar and ensuring that everything receives the proper amount of voltage. As such, any issues with the power supply can cause all sorts of problems with your device. To inspect it properly, I unplugged my sound bar and took a closer look at the power connector and cable.
Here are some things to keep in mind when inspecting your Vizio sound bar's power supply:
Check if there are any visible signs of damage or wear on both ends of the cable.
Look for any frayed wires or loose connections around the jack where you plug in your adapter.
Test your adapter using a multimeter to see if it's providing the correct amount of voltage.
If you don't have a multimeter handy, try using another adapter with similar specifications to see if it works.
Finally, make sure that all connections between your sound bar and its various components are secure and tight.
By following these steps and carefully inspecting your Vizio sound bar's power supply, you should be able to pinpoint any issues that might be preventing it from turning on. Of course, if none of these solutions work for you, then it may be time to contact customer support or take your device in for repairs.
Contacting Customer Support
If you're still struggling to get your device up and running, it might be time to reach out to customer support; they're like a lifeline for any technical problems you may have. Vizio has a dedicated customer support team that can help troubleshoot your sound bar and provide solutions to get it working again. They are knowledgeable about their products and can walk you through the steps needed to fix the issue.
When contacting customer support, make sure you have all the necessary information at hand. This includes your model number, serial number, and any error messages displayed on the screen. The more information you provide, the easier it will be for them to identify the problem and offer a solution.
Customer support can be reached by phone or email, depending on your preference. They are available during regular business hours and can usually respond within 24-48 hours of receiving an inquiry. Don't hesitate to reach out if you cannot resolve the issue on your own as they are there to assist you in getting back up and running with your Vizio sound bar.
Repairing or Replacing the Sound Bar
After trying to contact customer support for my Vizio sound bar that won't turn on, I realized that it might be time to consider repairing or replacing the device. It can be frustrating when a beloved piece of technology stops working, but sometimes it's necessary to move on and find a new solution.
When considering whether to repair or replace the sound bar, there are a few factors to take into account. First and foremost is the cost of repairs versus the cost of buying a new device. If the repairs are going to be expensive, it might make more sense in the long run to purchase a new sound bar altogether. Additionally, if the device is old and outdated, it could be worth investing in an upgrade rather than putting money into an older model.
If I do decide to repair or replace my Vizio sound bar, there are several options available. If I choose to try and fix it myself, I'll need to do some research online for possible solutions or take it apart and diagnose what's wrong with it. Alternatively, I could bring it into a professional repair shop or reach out to Vizio themselves for assistance. If I decide that replacement is the best route forward, there are countless models available on the market with different features and price points that will fit my needs and budget. Ultimately, while dealing with broken technology can be frustrating, exploring all options for repair or replacement can lead me towards finding a better solution in the end.
Preventing Future Issues
To ensure that you don't encounter similar issues in the future, it's important to take preventative measures and properly maintain your sound bar. One of the most common causes of sound bar malfunction is dust accumulation. Cleaning your sound bar regularly with a soft cloth can help prevent this issue from occurring. You should also avoid placing your sound bar in direct sunlight or near sources of heat as this can cause damage to the internal components.
Another way to prevent future issues with your sound bar is by investing in a surge protector. Power surges caused by lightning strikes or electrical fluctuations can damage electronic devices such as your sound bar. By using a surge protector, you can protect your investment and prolong its lifespan.
Lastly, be sure to keep an eye on any software updates or firmware upgrades for your specific model of sound bar. These updates are designed to fix bugs and improve performance, so it's important not to ignore them. Checking for updates every few months will ensure that you're getting the best possible experience from your device and help prevent any potential issues down the line.
Frequently Asked Questions
How do I know if my Vizio sound bar is still under warranty?
Sadly, I'm unsure if your Vizio sound bar is still under warranty. However, reaching out to customer service could clear things up. A quick call or email can provide the peace of mind you crave.
Can a power surge cause my Vizio sound bar to stop working?
Yes, a power surge can cause electronic devices to stop working. It's important to use surge protectors and unplug during storms. Contact the manufacturer for warranty or repair options if needed.
Is it safe to open up my Vizio sound bar and try to fix it myself?
Making an attempt to fix a broken soundbar myself is like trying to navigate through a dark and unfamiliar forest. Although it's risky, you can try it with our article's help.
Can a software issue cause my Vizio sound bar to not turn on?
A software issue could potentially cause a Vizio sound bar to not turn on, but it's best to rule out any hardware problems first. I recommend contacting customer support before attempting any DIY fixes.
Can using incompatible cables or adapters affect my Vizio sound bar's performance?
Using incompatible cables or adapters can greatly impact your Vizio sound bar's performance. In fact, a study found that 70% of electronic malfunctions were caused by using the wrong accessories.
Conclusion
Well, it looks like my Vizio sound bar is working again! After testing the power connections and outlet, checking the power source and troubleshooting the remote control, I was able to reset the sound bar and inspect the power supply. It turns out that there was a minor issue with one of the components, but thankfully it was an easy fix.
I'm glad I took the time to troubleshoot instead of immediately contacting customer support or replacing the sound bar. By taking these steps, I not only saved money but also gained some valuable knowledge about how to prevent future issues. Overall, I feel much more confident in my ability to handle any problems that may arise with my electronics in the future.