My Vizio sound bar with HDMI ARC technology recently stopped working after I bought it. I was frustrated because I couldn't get the premium audio experience I had been looking forward to. After some research and troubleshooting, however, I was able to identify the root of the problem and find solutions.
In this article, I will share my experience dealing with a Vizio sound bar HDMI ARC not working issue and offer tips on how to troubleshoot it effectively. Whether you're experiencing issues connecting your TV or other devices to your soundbar or simply can't seem to get any audio output, these tips should help you resolve the problem and enjoy your home theater setup to the fullest.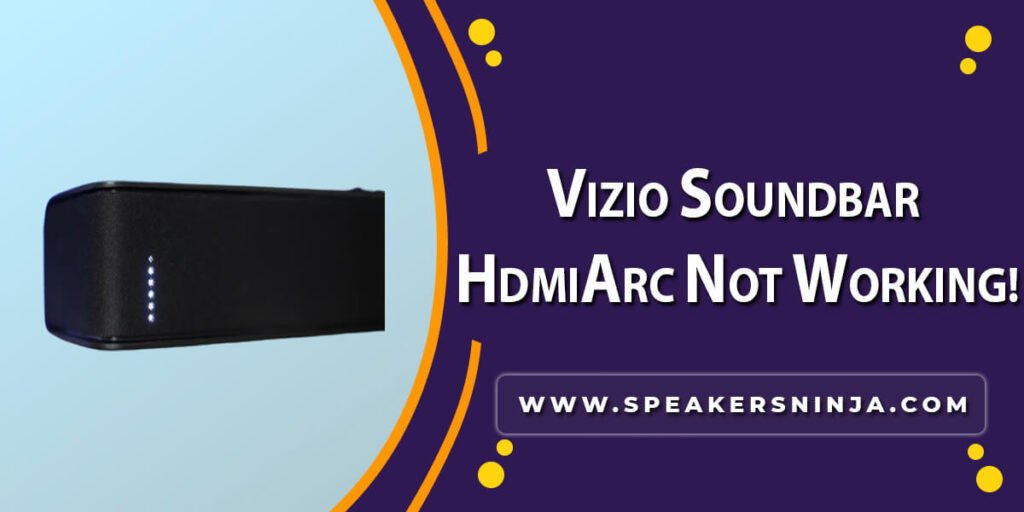 How does HDMI ARC Work?
So, if you're having trouble with your Vizio sound bar HDMI ARC not working, it might be helpful to understand how this technology works. HDMI ARC stands for Audio Return Channel, and it's a feature that allows audio to be sent from the TV back to the sound bar using only one HDMI cable. This means that you can control the volume of your sound bar with your TV remote and enjoy high-quality audio without any additional cables.
HDMI ARC works by using two-way communication between your TV and sound bar. When you connect an HDMI cable from the ARC port on your TV to the ARC port on your sound bar, they will automatically recognize each other as compatible devices. This creates a direct connection between them, which allows audio signals to flow in both directions.
However, there are some factors that can cause issues with HDMI ARC. For example, if either device is not compatible with HDMI ARC or if there is a problem with the HDMI cable itself, you may experience problems like no sound or poor quality audio. It's important to ensure that both devices are compatible with HDMI ARC and that you're using a high-quality cable to prevent these issues from occurring.
Checking Your Cables and Connections
Check if all your cables and connections are properly plugged in and secure, which can greatly affect the performance of your home entertainment system. In order for HDMI ARC to work properly, you need to have a compatible HDMI cable that is plugged into both your TV's HDMI ARC port and your sound bar's HDMI ARC port. Make sure that the cable is securely plugged in on both ends, as loose connections can cause issues with audio playback.
Another thing to check is whether or not you have enabled the HDMI ARC feature on both your TV and sound bar. This setting can usually be found in the settings menu of both devices. If it is not turned on, you will not be able to get any audio output from your sound bar no matter how many times you try unplugging and plugging back in the cables.
Lastly, ensure that all other cables connecting your devices (such as gaming consoles or Blu-ray players) are properly connected. These devices can also interfere with the proper functioning of HDMI ARC if they are not set up correctly or if there are faulty connections. By double-checking all of these things, you may be able to solve any issues with your Vizio Sound Bar HDMI ARC not working.
Ensuring Your Devices are Compatible
Ensure your TV and sound bar are compatible before attempting to use HDMI ARC, as compatibility issues can cause audio playback problems. HDMI ARC is a feature that allows for two-way communication between the TV and sound bar through a single HDMI cable. However, not all devices are equipped with this function.
To check if your TV and sound bar are compatible with HDMI ARC, consult the user manuals of both devices or contact customer support. It's important to note that even if both devices have HDMI ARC capabilities, there may still be compatibility issues based on brand or model.
If you find that your devices are not compatible with HDMI ARC, there are alternative ways to connect them for optimal audio playback. For example, you can use an optical cable or RCA cables to connect the sound bar to the TV. It's also possible to use Bluetooth connectivity if both devices support it. By ensuring compatibility between your devices before connecting them, you'll save yourself time and frustration in troubleshooting audio playback issues later.
Updating Your Device Firmware
You might be surprised at how much better your audio playback can sound after updating your device firmware. Often, HDMI ARC connectivity issues can be fixed by simply updating the firmware on both devices. Here are a few things to keep in mind when updating your device firmware:
Check for updates regularly: Manufacturers release updates frequently to fix bugs, improve performance, and add new features. Ensure you're checking for updates periodically so you don't miss out on any improvements.
Follow the manufacturer's instructions: Each manufacturer has their process for updating firmware, so it's essential to follow their specific instructions carefully. This will ensure the update is successful and won't cause any issues.
Be patient: Firmware updates can take some time to install, especially if they're large files or require a system reboot. Please don't interrupt the process or turn off your device while it's updating, as this could cause irreversible damage.
Contact customer support if needed: If you're having issues with your device after updating the firmware or if something goes wrong during the update process, contact customer support for assistance. They should be able to guide you through troubleshooting steps or help resolve any issues that arise.
Updating your device firmware is an easy way to potentially solve HDMI ARC connectivity issues with your Vizio soundbar and other devices connected via HDMI ARC. Just remember to check for updates regularly, follow manufacturer instructions carefully, be patient during installation, and reach out to customer support if needed. With these tips in mind, you'll have better audio playback in no time!
Adjusting Your Sound Settings
To get the most out of your audio playback experience, adjusting sound settings on your device is crucial. If you're experiencing issues with your Vizio sound bar not working while using HDMI ARC, it may be time to check and adjust your sound settings. Start by checking the input source on both your TV and sound bar to ensure they are set to HDMI ARC.
Next, ensure that both devices' volume and EQ settings are properly configured. Adjusting the volume levels is an easy fix for low or distorted audio output. Also, experiment with different EQ presets such as bass boost or dialogue enhancement to see which setting works best for you.
Lastly, if you're still experiencing issues with your Vizio sound bar not working via HDMI ARC after adjusting these settings, try resetting the device to its factory default settings. This can often resolve any software glitches or conflicts causing audio playback problems. By adjusting these sound settings on your Vizio sound bar, you can enjoy a better audio experience when watching movies or listening to music at home.
Checking Your TV's Audio Output Format
So, we've covered how to adjust your sound settings on your Vizio sound bar. But what if you're still not getting any sound? It might be time to check your TV's audio output format.
First, make sure that your TV is set to output audio through its HDMI ARC port. This is the port that you'll be using to connect your sound bar. You can usually find this setting in your TV's audio or settings menu. If it's not enabled, turn it on and connect your sound bar again.
Next, check the audio output format of your TV. Your Vizio sound bar supports various formats, including Dolby Audio and DTS Virtual:X. Ensure your TV is set to output one of these supported formats for the best possible sound quality.
Checking your TV's audio output format can help you troubleshoot any issues with getting your Vizio sound bar to work correctly. Remember to enable HDMI ARC and choose a supported audio format for optimal performance. And don't forget to test out different settings until you find the perfect combination for an immersive audio experience!
Enable HDMI ARC in your TV's settings.
Choose a supported audio format like Dolby Audio or DTS Virtual:X
Test out different settings until you find the best combination for optimal performance
Resetting Your Soundbar to Default Settings
If you're having trouble with your sound settings, it might be worth considering resetting your Vizio sound bar to default settings and starting fresh. This can help to eliminate any potential issues that may have arisen due to a previous setting change or glitch. To reset your Vizio sound bar, simply locate the power button on the remote control and hold it down for 10 seconds until the device turns off. Once the device has turned off, release the power button and wait a few moments before turning it back on.
Remember that resetting your Vizio sound bar will erase all custom settings and return it to its original factory state. This means that you will need to reconfigure any audio or video settings that were previously set up. However, this is a small price to pay if it means restoring full functionality to your sound bar's HDMI ARC connection.
In some cases, resetting your Vizio sound bar may not solve the issue with HDMI ARC connectivity. If this is the case for you, consider contacting Vizio support for further assistance. They may be able to provide additional troubleshooting tips or even recommend sending in your device for repairs if necessary.
Troubleshooting Your Remote Control
Well, well, well… it looks like your fancy remote control isn't entirely meeting its expectations. Don't worry, though, there are a few simple steps you can take to troubleshoot the issue and get back to enjoying your Vizio sound bar.
Firstly, try replacing the batteries in your remote control. Sometimes this is all it takes to fix the problem. If that doesn't work, ensure you have a clear line of sight between the remote and the sound bar. Obstructions or long distances can cause signal interference, preventing your remote from working properly.
If neither of those solutions solves the issue, it's time to reset your remote control by following these steps: first press and hold both the "Volume Up"and "Volume Down"buttons on your remote for five seconds until the LED light at the top of your remote flashes red twice. Then press "Power"button and aim at soundbar while holding down mute button simultaneously for 5 seconds until light blinks 3 times rapidly then stays solid white before fading away. Hopefully, one of these steps will get your Vizio sound bar back up and running with its full functionality restored!
Seeking Professional Assistance
Have you exhausted all troubleshooting options and still can't seem to get your Vizio sound bar HDMI ARC to work? It may be time to seek professional assistance from a qualified technician who can diagnose and fix any underlying issues.
While trying and fixing the problem yourself may be tempting, attempting DIY repairs without the necessary knowledge or tools can often make matters worse. A professional technician will have the expertise to quickly identify and resolve any issues with your sound bar's HDMI ARC connection, ensuring you can enjoy high-quality audio again.
When seeking professional assistance, be sure to do your research and choose a reputable repair service with plenty of positive reviews from satisfied customers. This will help ensure that you receive top-notch service at a fair price, without being taken advantage of by unscrupulous repairmen looking to make a quick buck. With the right technician on your side, you'll be able to get your Vizio sound bar working perfectly in no time!
Preventing Future HDMI ARC Issues
To ensure smooth sailing with your audio experience, make sure to keep an eye out for any potential obstacles that could disrupt the flow of sound. HDMI ARC issues can arise due to a variety of factors, including faulty connections, outdated firmware, or even physical damage to the cable itself. To prevent future headaches when dealing with your Vizio sound bar's HDMI ARC function, consider taking these steps:
Regularly inspect all cables and connections: A loose or damaged connection can easily disrupt the transfer of audio signals through HDMI ARC. Take a few minutes every month or so to check that all cables are securely plugged in and free from any visible damage.
Keep firmware up-to-date: Manufacturers frequently release updates to their products' firmware in order to address known issues and improve performance. Check periodically for any available updates to your Vizio sound bar's software and install them as soon as possible.
By following these simple precautions, you can help prevent future instances of HDMI ARC not working on your Vizio sound bar. Of course, if you do encounter such an issue despite your best efforts at prevention, don't hesitate to seek professional assistance. A qualified technician will be able to diagnose the problem and provide an appropriate solution so you can get back to enjoying high-quality audio from your favorite movies and TV shows.
Frequently Asked Questions
Can I use HDMI ARC with older devices that don't support the technology?
Yes, using HDMI ARC with older devices that don't support the technology is possible. However, you may need to purchase an HDMI ARC adapter to connect them properly and enjoy the benefits of this feature.
How do I know if my TV has HDMI ARC functionality?
I can check if my TV has HDMI ARC functionality by looking for the HDMI ARC label on the HDMI port or in the TV's settings. This allows me to connect compatible devices and enjoy high-quality audio.
Can I use HDMI ARC with a non-Vizio soundbar?
Yes, you can use HDMI ARC with a non-Vizio soundbar. However, compatibility may vary depending on the TV and the soundbar. It's best to check your device's documentation or contact their support for guidance.
Why is my soundbar experiencing intermittent audio dropouts when using HDMI ARC?
I'm experiencing intermittent audio dropouts when using HDMI ARC. It could be due to a faulty cable, outdated firmware or an issue with my TV settings. I'll troubleshoot these possibilities to resolve the problem.
Conclusion
After following all the steps and troubleshooting my Vizio Sound Bar's HDMI ARC issues, I am happy to report that it is now working perfectly fine. It was quite a journey figuring out what was causing the problem, but I learned a lot about HDMI ARC technology and how to fix any future issues that might come up.
As I sit here listening to my favorite music through my soundbar, I can't help but think of the ancient Greek myth of Prometheus. Just like how Prometheus stole fire from the gods and gave it to humanity, HDMI ARC technology has brought us amazing audio experiences that were once only available in movie theaters or high-end audio systems. And just like how Prometheus faced challenges for his actions, we too must face technical difficulties when dealing with new technologies. But with some perseverance and patience, we can overcome these obstacles and enjoy their benefits.