I recently purchased a Vizio sound bar to enhance my TV viewing experience, but I quickly ran into an issue where the sound would intermittently cut out. It was frustrating to say the least, especially since I had just invested in this new piece of technology. After doing some research and troubleshooting, I discovered several possible causes for this issue.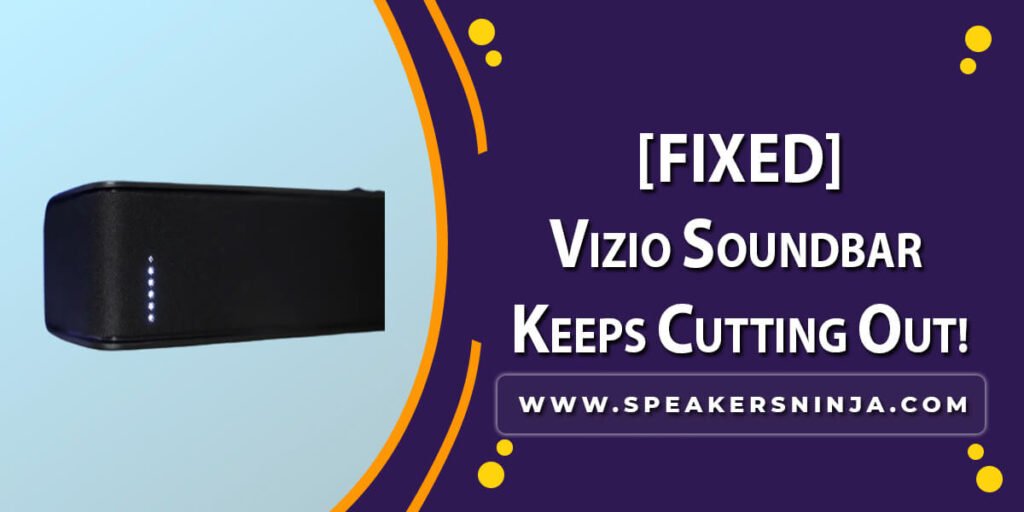 Why Does My Vizio Sound Bar Keep Cutting Out?
In this article, I'll share with you some of the steps that helped me solve the problem of my Vizio sound bar cutting out. Whether you're experiencing similar issues or simply want to be prepared in case they arise, these tips will help you troubleshoot your sound bar and get it working properly again. Let's dive in!
Check the Power Connection Of Vizio Soundbar
Before freaking out, make sure your Vizio sound bar is plugged in properly and hasn't wiggled its way loose. This might sound like an obvious solution, but sometimes the simplest things can be overlooked. Check both ends of the power cable to ensure that they are firmly connected to both the sound bar and the electrical outlet. If you have a power strip or surge protector in use, check it as well.
If you find that the power connection is fine and your Vizio sound bar still keeps cutting out, try unplugging it from the wall for at least 30 seconds before plugging it back in. Sometimes this can reset any internal software issues that may be causing problems. You could also try using a different outlet or power source altogether if you suspect there might be an issue with your current setup.
If none of these solutions work, your Vizio sound bar may have hardware issues that need professional attention. In this case, contact Vizio customer support or take it to a repair shop for further diagnosis and possible repair options. Remember to always handle electronics with care and follow safety precautions when troubleshooting them on your own.
Troubleshoot the Remote
Hey, have you tried changing the batteries in your remote? A dying battery can sometimes cause connection issues that make it seem like your remote isn't working. Before we start troubleshooting the sound bar itself, it's important to rule out any problems with the remote.
To troubleshoot the remote, start by removing the old batteries and replacing them with fresh ones. Make sure they are inserted correctly and securely before trying to use the remote again. If this doesn't work, try resetting the remote by holding down both the power button and volume up button at the same time for 5 seconds. After releasing both buttons, wait a few moments before trying to use it again.
If neither of these methods work, there may be an issue with the infrared sensor on either the sound bar or on the remote itself. Check for any physical obstructions blocking either one and make sure they are clean and free from dust or debris. Additionally, try using another device (like a smartphone camera) to check if there is an output signal coming from your remote when you press a button – if not, then it's likely that your remote needs to be replaced altogether.
| Issue | Solution |
| --- | --- |
| Remote not working | Replace batteries / Reset / Check for obstruction |
| No output signal from remote | Replace entire remote |
Remember that while troubleshooting your Vizio sound bar can be frustrating at times, many problems can be resolved quickly and easily with some simple adjustments or replacements. By following these tips above about troubleshooting your remote first before moving on to other fixes can save you time and money in repairing or replacing parts unnecessarily!
Test the Vizio Sound Bar on Different Devices
To test if it's a problem with your device, try using the sound bar on different devices like your phone or laptop and see if the issue persists. If the sound bar works perfectly fine on other devices, then it's likely that there is an issue with the device you were originally using. In this case, you may need to troubleshoot that specific device to figure out what is causing the problem.
If the sound bar still cuts out when connected to other devices, then it's possible that there is an issue with either the sound bar itself or its connections. Check all of the cables and connections between your devices and make sure they are securely plugged in. You may also want to try resetting your sound bar back to its factory settings as this can sometimes resolve issues.
If none of these steps work, it may be time to consider taking your sound bar in for professional repair or replacement. While troubleshooting can often solve many common issues, sometimes more complex problems require a trained technician to resolve. Don't hesitate to reach out for help if you're unable to get your Vizio sound bar working properly again!
If you're having trouble with your sound bar, one solution you can try is resetting it to its factory settings, which may address any software or firmware-related issues that could be causing the problem. Here are some steps you can follow to reset your Vizio sound bar:
First, locate the power button on your sound bar and press and hold it for 10 seconds. This will turn off your sound bar completely.
Next, unplug the power cord from both the wall outlet and the back of the sound bar.
Wait for a few minutes before plugging in the power cord again. Then turn on your sound bar by pressing the power button.
This should reset your Vizio sound bar to its original factory settings. Keep in mind that this process will erase all customizations and settings that you've made on your device since you first set it up. If resetting doesn't resolve the issue, there may be a hardware problem with your device and it's best to contact Vizio support for further assistance.
Resetting your Vizio sound bar is a simple step that may help fix any issues related to software or firmware conflicts causing audio cutouts. It's always best practice to troubleshoot problems yourself before seeking professional help as this can save time and money in many cases. Remember, if resetting doesn't work out for you, do not hesitate to reach out to technical support for more advanced solutions!
Check the Audio Settings on Your TV
Ensure optimal audio performance by verifying your TV's audio settings. Often times, the sound bar cutting out can be caused by incorrect or incompatible audio settings on your TV. By checking your TV's audio settings and ensuring they are compatible with your Vizio sound bar, you can avoid any further interruptions in your listening experience.
To check your TV's audio settings, navigate to the audio menu in the settings. Here, you can adjust the volume levels and select the appropriate audio output format that is compatible with your Vizio sound bar. Make sure to select an output format that matches the capabilities of your sound bar to ensure optimal performance.
If you have already checked and adjusted your TV's audio settings but are still experiencing issues with the sound cutting out on your Vizio sound bar, it may be time to contact customer support for further assistance. They may be able to provide additional troubleshooting steps or determine if there is a hardware issue causing the problem. Don't hesitate to reach out for help so that you can continue enjoying all of your favorite music and movies without any interruptions.
Ensure Proper Placement of the Sound Bar
Just like how a plant needs to be placed in the right spot for optimal growth, it's important to ensure your Vizio sound bar is placed correctly for the best audio experience. The placement of your sound bar can greatly affect its performance, so make sure it's positioned in a way that allows sound waves to travel freely throughout your room. This means avoiding placing it in an enclosed area or behind any obstacles.
Ideally, you want to place your Vizio sound bar at ear level and centered with your TV screen. If you have a wall-mounted TV, consider mounting the sound bar directly underneath it for the most seamless look. Alternatively, if you have a stand-mounted TV, placing the sound bar on top of your entertainment center or shelf should work just fine.
Lastly, make sure there aren't any other electronic devices near your Vizio sound bar that could interfere with its signal. This includes routers, cordless phones, and other wireless devices. By following these simple placement guidelines, you'll be able to enjoy clear and uninterrupted audio from your Vizio sound bar without any cutting out issues.
Update the Firmware Of Vizio Soundbar
Updating the firmware can significantly improve the performance of your Vizio sound bar, allowing for a smoother and more enjoyable audio experience. Firmware is essentially the software that controls hardware devices like your sound bar. Without regular updates, these devices may not function at their best. Fortunately, updating the firmware on your Vizio sound bar is a relatively simple process.
Firstly, you need to check if there are any available firmware updates for your model. This can typically be done by visiting the Vizio website and navigating to the support section. From there, you should be able to find information about available updates for your specific model of sound bar. Once you have confirmed that an update is available and downloaded it onto a USB drive, you can then connect this drive to your sound bar and follow the on-screen instructions to install it.
By updating your Vizio sound bar's firmware regularly, you'll ensure that it remains in top working condition and provides optimal audio quality. Not only will this help to prevent audio cutouts or other issues with playback but it will also give you access to additional features and settings that may not have been present in earlier versions of the firmware. Overall, taking just a few minutes every few months to update your device's firmware can make all the difference when it comes to enjoying high-quality audio from your Vizio sound bar.
Address Interference from Other Devices
If you're experiencing audio disruptions, it could be due to interference from other electronic devices in your home, so it's crucial to identify and address these issues. Other devices such as Wi-Fi routers, microwaves, or cordless phones can disrupt the signal between your Vizio soundbar and TV. To fix this issue, try moving the interfering device further away from your soundbar or switch the channel of your Wi-Fi router.
Another way to address interference is by using shielded cables for your audio connections. This type of cable has a protective coating that blocks out electromagnetic interference. You can also try placing an aluminum foil behind your soundbar or wrapping its cables with ferrite cores to reduce any interference.
Lastly, ensure that there are no physical obstructions between your soundbar and TV. Sometimes objects like furniture or walls can weaken the signal strength and cause audio disruption. Try repositioning both devices to see if it improves the quality of sound coming from your Vizio soundbar. By addressing these possible sources of interference, you should be able to enjoy uninterrupted audio from your Vizio soundbar once again.
Contact Vizio Support
So, I tried addressing the interference from other devices that may be causing my Vizio sound bar to cut out. Unfortunately, it didn't work. The problem persists and it's becoming frustrating.
I decided to reach out to Vizio support for help. After all, they are the experts when it comes to their products. I went on their website and found a section dedicated to customer support. They have various options for contacting them, such as phone, email, or live chat.
I opted for the live chat option as it was convenient for me at the time. The representative was friendly and helpful. We went through some troubleshooting steps together but unfortunately, none of them worked. He suggested that I send in my sound bar for repair or replacement since it's still under warranty. I'm glad that Vizio has good customer support and is willing to help resolve any issues with their products.
| Pros | Cons |
| --- | --- |
| Good customer support service | None so far |
| Multiple ways of contacting support (phone, email, live chat) | Repair or replacement may take some time |
| Willingness to help resolve issues | N/A |
As seen in the table above, there are more pros than cons when it comes to contacting Vizio support regarding my sound bar issue. Although repairing or replacing may take some time, I appreciate their willingness to help resolve any problems with their products.
Overall, I am satisfied with my experience with Vizio support so far and hope that sending in my sound bar will fix the issue once and for all.
Consider a Replacement Sound Bar
Maybe it's time for a new sound bar to enjoy uninterrupted audio. If your Vizio sound bar keeps cutting out, it could be due to a hardware issue that is beyond repair. In such cases, you might want to consider investing in a replacement sound bar that can offer you the best audio experience.
When shopping for a new sound bar, make sure to do your research and find one that fits your specific needs. Consider factors like size, features, and compatibility with your TV or other devices. There are many excellent options available on the market today that can provide high-quality audio without breaking the bank.
Ultimately, replacing your faulty Vizio sound bar with a new one could be the best solution to your audio woes. Not only will you be able to enjoy uninterrupted playback of all your favorite media, but you'll also have access to advanced features and improved performance overall. So why wait? Start browsing today and find the perfect sound bar for you!
Final Thoughts and Tips for Preventing Vizio Sound Bar Issues
To ensure uninterrupted audio enjoyment, implementing some preventative measures can go a long way in avoiding sound bar issues. Here are some final thoughts and tips that can help you prevent your Vizio sound bar from cutting out:
Firstly, make sure that the sound bar is properly connected to your TV or other devices. Check if all cables are securely plugged into the correct ports and if they are not damaged. Loose or faulty connections can cause interruptions in the audio signal.
Secondly, keep your Vizio sound bar updated with the latest firmware. Manufacturers release updates to address bugs and improve performance, so it's important to check for updates regularly. You can usually do this through the sound bar's settings menu or by visiting the manufacturer's website.
Place your Vizio sound bar in an open area with no obstructions around it. Avoid placing it inside enclosed shelves or cabinets as these spaces can trap heat and affect its ventilation system, which may lead to overheating issues causing intermittent cutouts.
By following these simple steps and ensuring proper maintenance of your Vizio Sound Bar; you'll be able to enjoy uninterrupted audio for an extended period of time.
| Preventative Measures | How-to | Benefits |
| --- | --- | --- |
| Proper Connection | Ensure all cables are correctly plugged in & not damaged | Avoid interruptions in audio quality |
| Firmware Update | Regularly check for firmware updates on manufacturers' website / settings menu | Improve performance & fix any bugs |
| Proper Placement | Place in open areas with good ventilation & avoid enclosed spaces | Reduce chances of Overheating Issues |
Remembering these basic guidelines could save you from experiencing annoying cutouts while using your Vizio Sound Bar.
Frequently Asked Questions
Can I use my Vizio sound bar with other brand TVs?
Yes, I've used my Vizio sound bar with other brand TVs without any issues. As long as the TV has an audio output that is compatible with the sound bar, it should work just fine.
How do I connect my sound bar to my Wi-Fi network?
Connecting my Vizio sound bar to the Wi-Fi network is easy. It's like connecting a phone to Wi-Fi. Just go to Settings, select Network, and choose your Wi-Fi network. Enter your password and you're done!
What are the common causes of sound bar interference and how can I fix them?
Common causes of sound bar interference include wireless signals, physical obstructions, and power issues. To fix them, adjust the placement of the sound bar, ensure proper power supply, and check for any nearby electronic devices causing interference.
Is it possible to add additional speakers to my Vizio sound bar?
Yes, it is possible to add additional speakers to my Vizio sound bar. I can connect them using Bluetooth or an audio cable. This will enhance the overall audio experience and create a surround sound effect.
How do I adjust the bass and treble levels on my sound bar?
To adjust the bass and treble levels on my sound bar, I simply press the EQ button on my remote control and use the arrow keys to increase or decrease each level until it sounds just right.
Conclusion
In conclusion, dealing with a cutting out Vizio sound bar can be frustrating but there are solutions to try before considering a replacement. Start by checking the power connection and troubleshooting the remote. It's also important to test the sound bar on different devices and reset it if necessary.
If these steps don't solve the issue, check the audio settings on your TV and address any interference from other devices. If all else fails, contact Vizio support for assistance. And if you do decide to replace your sound bar, consider investing in one with better quality and longevity.
Remember that proper maintenance and prevention can go a long way in avoiding soundbar issues in the future. Keep cables organized and avoid exposing your electronics to extreme temperatures or moisture. With some patience and effort, you can enjoy uninterrupted audio from your Vizio sound bar once again.