When upgrading their audio experience, many people find themselves confused about modern technology. We have different speakers, sound bars, and other complicated things that can distract us from our main goal, maximizing our audio experience.
One of the most basic differences that one should know is between a center channel speaker and a soundbar. This article focuses on center channel speakers vs soundbars, what you need and what you don't.
A home theater system uses center channel speakers and soundbars to improve the audio experience. This is where the confusion arises. Can one use either of them for the same purpose?
Actually, the answer is no. One cannot use a soundbar and a center channel speaker interchangeably. There are a number of key differences among them that their user should know.
Before we dive into the great detail about the differences and similarities of both the products, we must first learn what they actually are.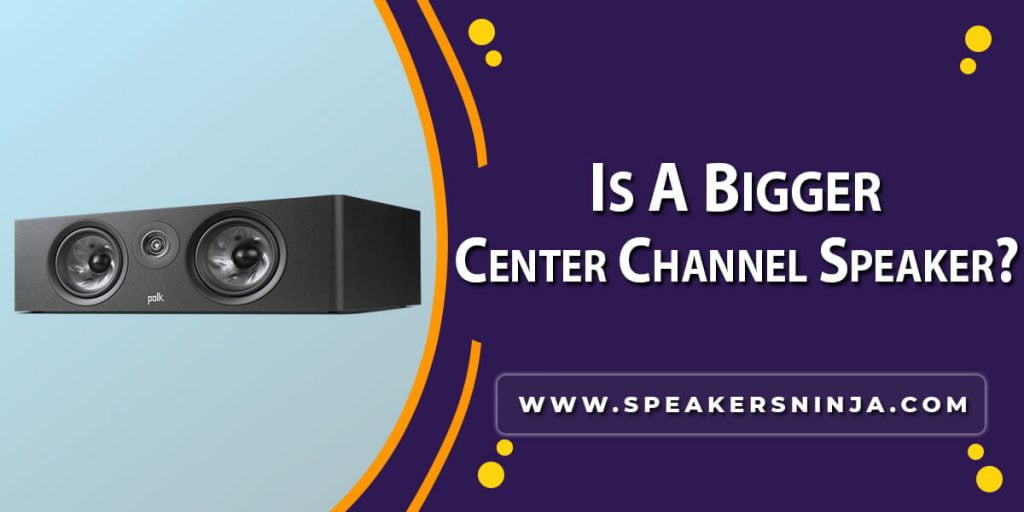 What is a Center Channel Speaker?
Center channel speakers are the speakers that are placed in the center of a sound surround system. They form the backbone of the entire audio experience and deliver most of the mid frequencies. They are also responsible for flowing the sound to the left and right speakers.
A top rated center channel speakers is one of the most important components of a home theater system. It focuses mainly on the dialog delivery and the intensity of the sound. However, it also manages to carry the rest of the components and create the audio delivery as best as it could.
What Is a Soundbar?
A soundbar is also audio equipment that is considered to be a type of loudspeaker. The unique thing about a soundbar is that it projects audio from a wide enclosure.
It is called a "bar" because of its large width compared to its length. The width of the soundbar provides it more room to be acoustically perfect.
Another advantage of the shape of the soundbar is that it is easier to be placed with a screen. Most of the people who buy a soundbar plan to place it either directly below or above their screens. And the compact size of the soundbar allows for it.
Don't forget To read : Best soundbars under $1000
Center Channel Speaker Vs Soundbar:
The main difference between a center channel speaker and a sound bar is about the delivery of sound. The center channel speaker focuses on the central audio of a sound. This is why the center channel speaker is great with movies as it emphasizes the dialogue.
This kind of sound delivery is also known as mono sound. The audio being delivered is centered around the middle of the center channel speaker.
In contrast to that, the soundbar functions like a stereo. A soundbar itself has multiple channels such as a center channel and a left and right channel. The placement of woofers on a soundbar allows it to act like a surround sound system.
If you summarize the differences between a center channel speaker and a soundbar, one can say that a soundbar is a mini surround sound system.
A center channel speaker is a part of a surround sound system. However, using a soundbar as a home theater is only an affordable hack and will not deliver exactly like a 5.1 or 7.1 configured home theater system.
Power:
A center channel speaker is mostly passive in power. This means that the center channel speakers need to be connected to an amplifier to be able to receive sound.
This is not the case with a soundbar. A soundbar has an active sound which means it has a built-in amplifier. So in short, you can plug a soundbar directly into the TV, but you need to plug a center channel speaker into an amplifier first.
Can we turn a soundbar into a center channel speaker?
Many people wonder if they can use their soundbar as a center channel speaker. Even though it is possible, I don't recommend it.
This is because a soundbar is not designed to act as a center channel speaker so there always will be some issues with the audio quality.
In this article, we will share 2 ways of connecting a soundbar as a center channel speaker.
As mentioned above, a soundbar has multiple channels. Mostly, a soundbar comprises either 2 or 3 channels. The trick of using it as a center channel speaker is to connect all of its channels to the center receiver channel.
The disadvantage would be that it can cause the sound to be distributed in the entire room, disregarding the left and right speakers. This way the sound produced will not be optimal.
Another method of connecting a soundbar in a home theater system is connecting all its channels to different receivers. Just like mentioned above, it can distort the sound and can provide uneven sound in different areas of the room.
Don't forget To read: Best Soundbar For Sony Bravia TV
Disadvantages of using a soundbar as a center channel:
Connecting a soundbar as a center channel speaker has many disadvantages. Some of them are even stated above.
Probably the most dangerous disadvantage of using a soundbar as a center channel speaker is that you can damage the equipment if you fail to connect a soundbar to the receiver properly.
It can damage the speaker because the connection will amplify and boost the sound from a soundbar that already has an in-built amplifier. Thus this high power supply can be catastrophic for the soundbar.
Frequently Asked Questions
Is a center channel speaker the same as a soundbar?
No. Neither they are the same, nor they can be used interchangeably. Both a center channel speaker and a soundbar function to deliver sound. However, they were designed in different ways.
Do I really need a center channel speaker?
If you want to experience home theater and a surround sound system, then yes. A center channel speaker is the most crucial part of this arrangement. If you are satisfied enough with a soundbar, then you probably don't need a center channel speaker.
In conclusion, do not use a soundbar as a center channel speaker. If you have a center channel speaker, then try configuring the entire setup. If not, you can always only stick to the soundbar for the audio experience. These two should not be mixed together, neither should be used interchangeably. The sound quality will be compromised and you can seriously risk the life of your equipment.