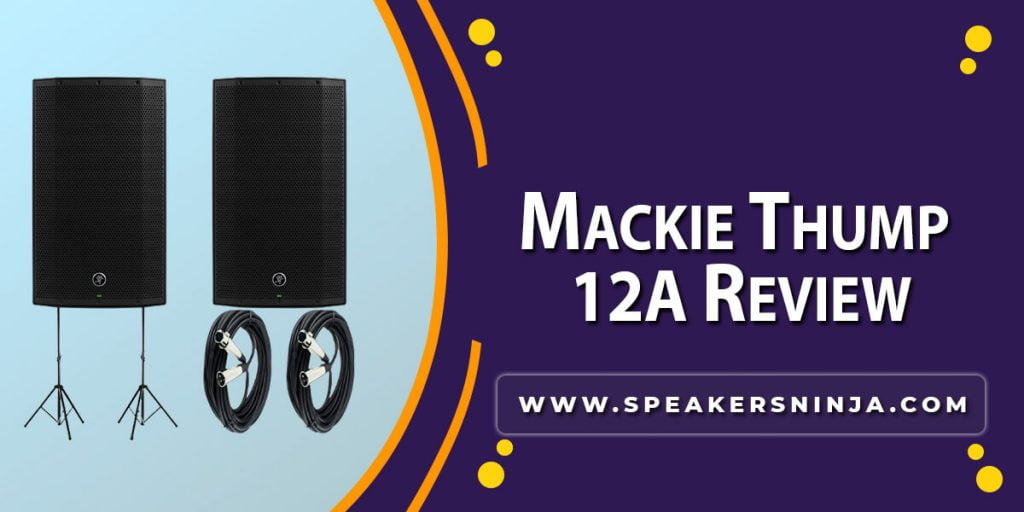 A high-quality powered speaker can be one of the most life-changing equipment one can go for. It is straight away a massive upgrade from whichever thing you used before.
Mackie Thump 12A is among those high-quality powered speakers that are not as heavy on the pocket as others. In this article, we will have a detailed Mackie thump 12A review.
As far as my experience is concerned, I was quite dubious about making a huge investment. This led me to hours of research regarding a powered speaker which can deliver high quality while being as budget-friendly as possible.
One of my first preferences was the portability of the speakers. With various shows, I always found myself overwhelmed with the thought of moving the speakers.
Secondly, what I wanted was a powerful speaker. I could not afford just any other low-performing speaker as it could severely affect my events.
To my surprise, the speaker was quite lightweight, to the point that it scared me a little initially. It is also quite powerful and can outperform low-quality speakers any day.
These things made the speaker one of the best purchases for me. Below we have much more insight about Mackie Thump 12A to help you in making an informed decision about your needs.
Let's Dive Into The Mackie Thump 12A Review:
Mackie Thump TH-12A
Thump12A 1300W Powered Loudspeaker
Best Volume Output
Lightweight And Portable
Power output: LF-1000W, HF-300W
It is a pocket-friendly product.
It Comes with a 1-year warranty
It can be used as a traditional PA speaker or stage monitor
The thing that first comes to mind with the Mackie Thump 12A is the affordability of the speaker. If you cannot afford any of the high-end powered speakers because of budget restraints, Mackie is there for you with its Thump 12A.
The affordability does not mean that the availability of options is restrained. The speakers offer a number of accessible features that are there to make your experience much more user-friendly and exciting.
Exterior:
The Mackie Thump 12A is a 12-inch powered speaker. It is quite lightweight for a powered speaker, weighing around 29 lbs. This makes the portability of the speaker quite easier.
Other than that, the exterior of the speaker is also quite classy. The look of the Thump 12A is much more professional as compared to any of the previous models.
The plastic exterior sometimes can give away a slightly cheap feel to the speakers. Once again, the exterior is kept this way to keep the speaker affordable and lightweight, so it really is about your preferences at the end of the day.
The angular front grille of the speaker is what makes them look edgy. It also has a power light to the front.
The best thing about their exterior is that there are hand grips on either side of the speaker, and one handgrip on the top of the speaker which makes their transportation easier. The dimensions of the speaker are 14.1''x14''x24.2''.
Features:
The Mackie Thump 12A is quite loud, two of them can easily entertain a huge hall filled with 100 people. What makes the Mackie Thump 12A this exclusive? There are a number of features that sets it apart from its competitors.
Sound Quality:
The speaker is quite loud, but it does not mean it is perfect in its sound quality. The lows produced are overloaded with bass without much clarity. This can mean different things for different people.
If your audience is a bass lover, then you will not regret the overpowering of the bass in the lows. However, if the opposite of this is true, you might need to look for other options. This really depends upon what kind of audience you are playing for.
The mids and highs are also quite shaky but it is barely noticeable. The speaker might not be able to produce a sharp, crisp sound, yet it does the job for many people.
The speaker throws the sound at a 90-degree angle, which means setting your crowd appropriately is very important. In a setting where it is placed at 90 degrees from the crows, it will be most suitable.
Tuning Options:
A number of tuning settings are available in the speaker, which will help you maximize their output depending on your audience and setting. There is an individual gain knob for every channel along with a separate master gain knob.
Along with these tuning options, there are 4 pre-set options that you can select easily based on what you are looking for. In case you are a DJ, you might want to pre-set the settings to "Music".
To have a much flatter response than this setting, you can pre-set the speaker to "Live". The "Monitor" setting on the speaker is used for Vocals as a powered studio monitor. Lastly, "Sub" is a pre-set that you want when you introduce subwoofers with your speakers.
Many people will consider these 4 presets to be quite restricting. However, given the price range of the speakers, I was quite happy with them.
Connectivity:
There are two combi jacks that are given as an input for the speaker. These inputs are compatible with a number of connections such as XLR, TRS, and Hi-Z for guitars.
Several speakers can be chained together using the daisy-out option of the speaker. If you cannot connect the controller through either XLR or TRS, you might have to use a converter cable to make a connection.
Specifications:
The Mackie Thump 12A has a power of 1300 Watt, out of which 1000 watts are for the lows, while 300 watts are for the highs. The speaker also comes with a 1300-watt Class D amplifier.
There is a built-in woofer of 12 inches in the speaker which comprises a 1.4-inch titanium dome compression driver. The frequency response of the Mackie Thump 12A ranges from 50Hz to 23 kHz at -10 dB.
The 126 dB max SPL makes Mackie Thump 12A a pretty loud speaker, especially for its size and its weight. However, we do not recommend pushing it to the max, as it might take away from the sound quality which is already a little flawed, to begin with.
The Power Factor Correction in the speaker is an added advantage, specifically if you are trying to avoid unstable AC connections from ruining the speaker.
Pros
Budget friendly
Portable because of lightweight and hand grips
Loud bass
Power Factor Corrector
4 pre-set options
Cons
 Unclear mids and highs
Cheaper-looking exterior because of plastic
Frequently Asked Questions
Q- Are Mackie-powered speakers good?
Yes. Mackie-powered speakers have good value for money, especially considering that they are quite budget-friendly. If you want a light-weight, portable powered speaker and you want them to be super loud, then Mackie-powered speakers will surely impress you.
Q- How many watts is the Mackie Thump 15A?
The Mackie Thump 15A is 1300 watts, which is the same as the Mackie Thump 12A.
Mackie Thump 12A-powered speakers are quite loud and high quality when compared with other speakers in the same price range. The design is also superior to the previous models of Mackie. There are a number of features in the Mackie Thump 12A which gives them their unique advantage. You can choose any of the 4 pre-set options for the speaker or you can use the tuning options for more variety. Overall, Mackie Thump12A is a decent speaker.