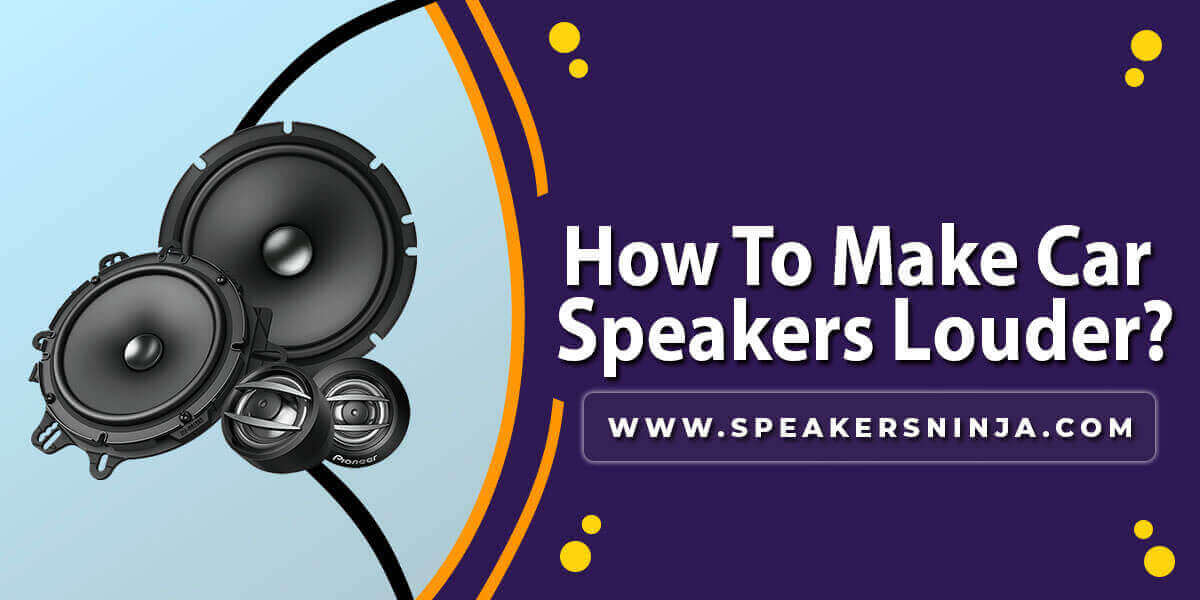 The simple question here is why would you want to make your car speaker louder in the first place? Well, the equally simple answer to that is that not all car speakers and sound systems are created equally. This is especially true if you do not wish to invest in a system that you will replace or even opt for customization.
This then means that you will be relying on a car speaker that might be placed in the worst position for you to get the best results. The other angle is that there is no guarantee that the car speaker you have been hooked up with is offering excellent sound quality either.
There are a variety of tweaks to be done until you get the best sound quality. In this article, we answer the question of how to get the best sound from your car speakers. So what's the first thing that comes into your mind? Of course, the easiest way to increase both the sound level and quality of a speaker is to hook up an amplifier with it. What is an amplifier you may ask?
Well, it is a component that makes use of capacitors or resistors to amplify and boosts a low-level frequency line-level signal from your head unit. This then makes it strong enough to enable a speaker's cone to be moved faster back and forth and this creates way more sound.
The basic bottom line here is that conventionally speaking, if your goal is to increase the sound of your speakers then an amplifier is the best way to go. However, what if we told you that there are other possible ways that you can increase the sound quality and levels of your speaker system without having to purchase an amplifier?
This might sound too good to be true but luckily for you, it isn't as like your music can be as loud as you want, however, you have to make a few simple changes to the way you use your speakers.
How To Make Car Speakers Louder Without Amp:
1. Download Larger Size Music Files
If you are in the habit of downloading all your music, then you will be familiar with the concept of compression. This makes the file smaller so that you can fit as many as you want on your mobile phone or laptop.
While this is a great feature for your smartphones where you have less space and therefore cannot download really big file sizes, this will undoubtedly lead to issues arising when you hook that same file up to your car speakers. This is because as the file size compresses, you lose some of the high and low frequency-based information as well.
The main issue arises when users will invest loads into the best kind of speakers and woofers but because of bad quality audio files, this investment goes to waste. If in case you are using a music playing app, then go to the settings and make sure they are fixed on the highest bit rate settings so you can get the best sound experience.
2. Change Your Speakers
When they are planning, designing, and executing the plan of a car, the manufacturer might be more preoccupied with the specs of the car itself as opposed to any real thought as to whether the speakers are the best ones. This is not always the case, however, as more and more premium car manufacturers are taking sound quality into consideration as well.
However because you are not simply buying a sound system rather you are purchasing a car that has a speaker system as well, you cannot expect them to be the best quality. This means that you might have to replace or change up the original speakers in your car with ones that are really good quality.
You can have a major effect on the performance of your sound system's sound quality by introducing a decent arrangement of speakers that you will invest in based on their high-quality range and levels.
Once you have accomplished this you can be sure that you will get the best audio clarity that you were looking for and the best bass ever. This approach assures the user that they will be introduced to a world they were previously ignoring as they will hear the tiniest of details that they couldn't before.
Also Read: Best 6×9 Speakers For Your Car
3. Don't Adjust The Inbuilt Controls To Max Power
Whenever we are having trouble listening to a song on our car speakers, the first response is to always mess around with the sound settings and controls in a way that we eventually are left maxing them out to the fullest settings. This is a huge mistake as setting everything from the bass to the volume at the highest settings will force the audio frequency to become pitchy and distorted.
Your vehicle sound system will undoubtedly perform much better when it has been tuned to the right kind of levels and settings. This is why simply boosting your car system's inbuilt tone controls to the highest setting will not be the best step.
The best way to figure out if your sound system needs some adjusting; you need to check the difference it makes when you turn up the music in your garage versus what happens when you need it at a much higher level out on the road. If the result is an extreme distortion, then you will definitely need to check out the tone controls.
The worst affected feature will undoubtedly be the boost feature as it will get really to a really high-pitched frequency, and this will not be pleasant to hear for anyone. So, on the off chance that you need to fill out your sound, start with the tiniest amount of bass lift, bring down the highs and mids and finally, make sure to turn up your general audio levels.
A similar standard remains constant regardless of whether your vehicle sound framework is running off a secondary selling collector that includes a multi-band equalizer. Along these lines, consistently maintain a strategic distance from extreme tone lifts or cuts if conceivable.
4. Convert AC to DC
Basically, the primary role of a digital to analog converter which is more commonly known as a DAC is to efficiently convert all digital information which is in the form of a series of Zeros and Ones into straightforward and seamless analog music signals. It is important to note that because a lot of people will use their phones to stream music live, there is a good chance that your phone is more than capable of allowing for excellent sound quality especially if the built-in DAC is an updated one.
However, on the other hand, this is not something that can be said about your car speaker's ability to provide a similar audio experience. So to ensure that you get the absolute best sound quality, you might have to do a bit of tweaking to the built-in DAC that your car speakers may have.
When you have achieved the kind of digital to analog conversion that you need onto the DAC built into your receiver or even by adding in more high-end outboard DAC, you get much clearer and better sound.
5. Add-In A Subwoofer Instead
Our final tip for the day is to invest in a subwoofer instead. A subwoofer is basically an added loudspeaker that has been intended to duplicate low-pitched sound frequencies known as bass and sub-bass. These two are sound frequencies that come in far lower recurrence than those which can be produced by a woofer and that is precisely what a sub-woofer corrects.
While they still do cost a good amount of money, sub-woofers are not as expensive as an amplifier and that's one reason why they make excellent choices over the former. Another great feature is that these devices allow the user to take a huge load off their speakers, especially since they will be playing their tunes with the bass control settings set at a 0 range instead of a more common +5 range.
In conclusion, we see that while in many cases, an amplifier is the best choice especially if you can justify the purchase, it is in no way the only option that you have!
Also Read : best car speakers for bass
Frequently Asked Question
Q. Why do my car speakers sound so low?
The built-in speakers may be of low quality that can take away the crispiness of the sound quality of the car's speakers. If your car is producing low sound, check the amplifier for the cause.
It's a common problem that irritates a lot of people during the rides. The root cause of the low-output of the car's speakers is loose cabling.
Another reason is, it is said that the car's audio amplifiers should never touch any metal or come close to metal ornaments. If they come in contact with metal, they start working intermittently or produce low-noise output.
Q. Will adding an amplifier make speakers louder?
After checking for all the evens and odds, if the voice quality isn't improved, you can shift to adding an amplifier to enhance the speakers' voice quality.
Adding an extra amplifier also suffices when you feel clipping or some kind of distortion in the voice output.
A compatible and better-adjusting amplifier will make a great difference. It will enhance the sound output and make them louder so you can have a better sound.
There you need to consider that the amplifiers only amplify the good sound and they won't work with bad speakers to make them sound good. If there's distortion in the speaker, you need to change the speaker itself.
On the other hand, if only the voice output is low, adding an amplifier will mark the positive difference.
Q. Are bigger speakers better?
It isn't the case always but most of the time, bigger speakers work better and offer better output.
Occasionally, if the room is larger and you love high bass and louder music, you might need bigger speakers. Generally, bigger speakers sound better and over the room better.
But when it comes to only the speakers or sound without much bass, even smaller but compatible speakers can also work great.
The bigger speakers usually clobber in two domains where you need to play really louder and where you want a higher whopping base. 
Q. How can I make my PC speakers louder?
There are many settings within your PC that can provide you with the maximum and crispier sound output. One solution is, go to the "Hardware and Sound" setting in the Control Panel and click "Sound".
Next, choose on the "Playback" tab and go for the "Properties" of the "Speakers". There you'll find the "Enhancements" settings. There, you can check the Loudness Equalization Settings to see if that resolves the issue.
After Loudness Equalization, if still, the voice output is not satisfactory, you can go for the secondary accessories to enhance the sound output and to make the speakers louder.