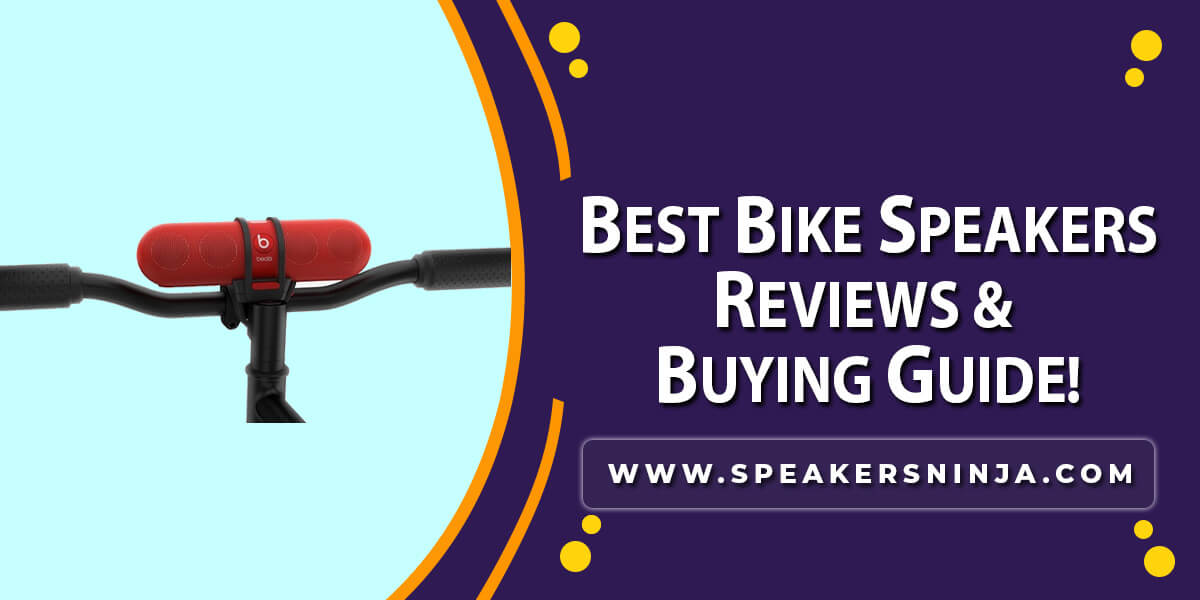 Cycling is not only a sport, but it's probably a great way to be in shape, explore the outdoors and stay healthy. Rides on bicycles have evolved with time. Today, to have a fun time during your ride, you have to carry a portable bicycle speaker with you. As a passionate bike user, it is not only the bicycle that should be comfortable but the ride should feel cozier. The singer that hides in all of us should be activated when playing the music high.
The portable speakers have taken over the traditional ones. Its outperforming voice and the best possible sound can be really entertaining for your soul. It brings out the hidden singer inside you. However, due to a number of choices, it has become really difficult to judge which one is the best fit for bikes. The time invested in traveling must be a time of enjoyment and that is why bike speakers matter a lot. 
The speakers have become better in shape, style, size, and reliability. Designs that are better in a terrain might not fit while chilling out with a bunch of friends. Well, moving on we have shortlisted best bike speakers for a passionate rider, maybe a hangout, or a family gathering. 
With the help of famous bikers who have tried and tested multiple speakers at different times, the bang & olufsen speakers were found the best in handling, shape, size, and reliability. We have worked on making this list a fair comparison. Also, we added a buyer guide at the end to make your selection process easier. 
It simply boils down to your priorities when figuring out what you need, and what you do not want. However, there can be factors that you definitely want to consider. Shortlisting any speaker before you go through the feature list might be daunting. But with the buying guide attached in the following lines, it will be a piece of cake.
What Are The Best Bicycle Speakers In 2022? 
In this section, I've compiled a list of the 10 best bike speakers. It will help you compare the various features of each speaker, and choose one that best suits your needs.
Best Bike Speakers
Name
DETAILS

Best Overall

Best Overall

Bang & Olufsen Beosound Explore

IP Rating:

IP67

Play Time:

27 hours

Check On Amazon

Best Speakers For Cycling

Best Speakers for Cycling

Bose SoundLink Micro Bluetooth Speaker

Range:

30 feet (ca. 9 m)

IP Rating:

IPx7

6 hours

Check On Amazon

Best Powerful Bike Speaker

Best Powerful Bike Speaker


Avantree Cyclone

Range:

100 feet (ca. 30 m)

IP Rating:

IPx4

Play Time:

15 hours

Check On Amazon

Best  for Compatibility

Best  for Compatibility

CLEARON Speaker

Range:

100 feet (ca. 30 m)

IP Rating:

IPx4

Play Time:

15 hours

Check On Amazon

Best Bike-Mounted Bluetooth Speaker

Best Bike-Mounted Bluetooth Speaker

Tribit StormBox Micro Bluetooth Speaker

Range:

66 feet (ca. 20m)

IP Rating:

IP67

Play Time:

20 hours

Check On Amazon

Best Compact Speaker

Best Compact Bike Speaker

Onforu Portable Speaker

Range:

30 feet (ca. 9m)

IP Rating:

IP65

Battery Time:

1200 mAh

Check On Amazon

Best Small Size Bike Speaker

Best Small Size Bike Speaker

JBL Clip 3

Range:

30 feet (ca. 9 m)

IP Rating:

IPx7

Play Time:

10 hours

Check On Amazon

Best Hands-Free Bike Speaker

Best Hands-Free Bike Speaker

JBL Clip 4

Range:

30 feet (ca. 9m)

IP Rating:

IP67

Play Time:

10 hours

Check On Amazon

Best For Budget

Best For Budget

JBL Go 3

Range:

30 feet (ca.9m)

IP Rating:

IPx4

Play Time:

5 hours

Check On Amazon

Best Bluetooth Bike Speaker

Best Bluetooth Bike Speaker

Bose SoundLink Color II

Range:

30 feet(ca.9m)

IP Rating:

IPx4

Play Time:

8 hours

Check On Amazon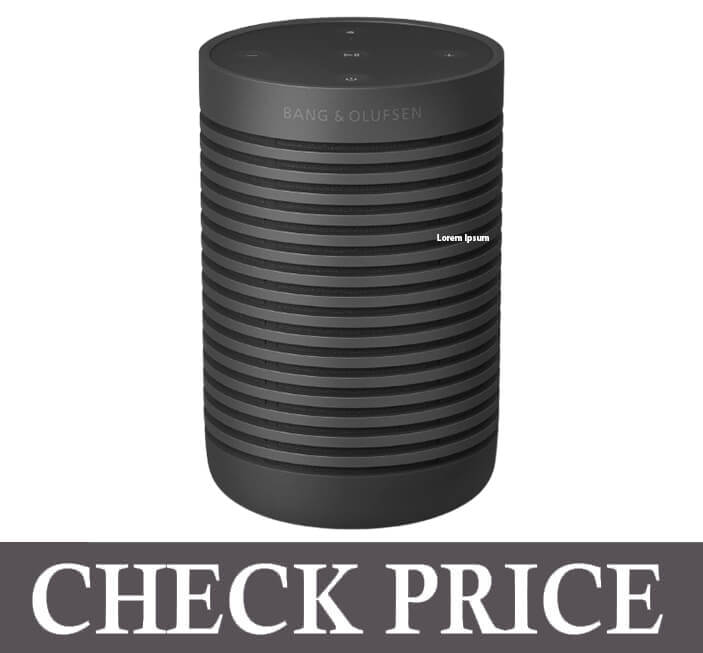 Easy to carry, compact, and comes with a strap attached to the speaker. The first speaker we have pen down is the Bang & Olufsen Beosound Explore. This was shortlisted due to its ultra-superior sound quality, eye-catchy shape, and the best possible portable standing. One of the qualities which excite its buyer is its weight. It only weighs about 650g in total. Isn't it amazing?
Bass of Bang & Olufsen Beosound Explore is the most complimented feature. It is known for its powerful bass and the True360 sound because of its round shape. The speakers are made to enhance your experience indoors and outdoors. Just take them wherever you go, and make the beat work.
Next, this speaker comes with a real fine battery. It ensures that your tour does not mess up. Most speakers which perform well on sound can be low on battery life. This truly differentiates the Beosound Explore from others.
Can you imagine playing sound for 27 hours straight with average sound? It provides that much battery timing. Also, it will hold onto you during the outdoors without a doubt.
Then comes the controlling feature of Bang & Olufsen Beosound Explore. It is of great importance when using any speaker. The control buttons must be smooth to work. The Beosound Explore has a sophisticated look that attracts more and more people to it.
Most of all, the speakers create customizable sound. You can customize your audio with the Beosonic tuning feature. This amazing feature allows you to explore the real soundcheck. For having that feature install the Bang & Olufsen application.
Lastly, you can have a Bluetooth connection on the go. It is compatible with Android, iPhone, and Ipad.
Although there are various reasons to buy B&O Beosound Explore. And that you will love to have it in your collection, but what if an expert tells you that it is costly.
Yes, there are a few expert users who confirm that it has a quality sound, but still, the price for the good is high.
Well, it also depends upon the choice. There are multiple other options in the market. So we will move on to the next speaker we have shortlisted.
Pros
An eye-catching and robust design
Effortless connectivity
Exceptional sound quality
Cons
It does not support voice assistants
Little bit expensive
If you are a bike lover, the ideal speaker to attach with your bike is Bose SoundLink Micro. What's the reason? You stay aware of what is happening around you while commuting.
It doesn't matter whether you ride through a park or stop for a picnic, this Bluetooth speaker is a great option for you.
It will ensure that you get this speaker's crisp and balanced sound. With its brilliant bass quality, you'll enjoy the rich and deep sound. Additionally, it's loud enough that you can listen to it while biking. Its audio is quite clear as well.
Another impressive feature of this speaker is its built-in microphone that lets you answer calls aloud with a wireless range of about 30 feet (ca. 9 m). That's interesting!
Moreover, it has a Wireless Bluetooth pairing with voice prompts that allow you to easily take calls and access your phone's virtual assistant without moving your hands.
If there is some water spilled on it, no worries as it has an IPX7 waterproof rating. This means this product can be placed in water of depth 1 meter for 30 minutes.
Furthermore, the speaker is decorated with a soft, rugged exterior, making it appealing. If I talk about its durability, it can resist small dents, cracks, and minor scratches.
As it is a portable speaker, it can easily be attached to the handlebar of a bike with a tear-resistant strap at any time. According to your need, it can also be attached to your backpack or cooler.
Now come to its battery, it can give you almost 6 hours of playtime from a rechargeable battery wireless Bluetooth pairing. It is a product that you will enjoy using for a long time. 
Last but not least, you can pair two Soundlink speakers together for party or stereo mode. You can also use Bose SimpleSync technology to pair with a member of the Bose smart home family to enjoy music in sync. You will enjoy using this product for a long time. 
Pros
Rechargeable battery

Loud and clear sound

IPX7 waterproof

30 feet (ca. 9 m) wireless range

Wireless Bluetooth connectivity

Voice prompts for easy access to your phone
Cons
Sometimes, the mic doesn't work well.
Avantree Cyclone is probably the best wireless speaker for sports enthusiasts. It has a powerful and bold sound. The speaker will make your biking experience even better. 
You will be glad to know that it gives a 10 W powerful sound. You will find rich bass quality even if you are in a noisy area. Its 5W dual speakers and bass radiator will make you enjoy the music further.
If we talk about its durability, you can ride your bike anywhere with this bike speaker as it has an IPX4 rating, which means that it can resist heavy rain easily. Having a shockproof rubber exterior with a snap hook design makes it a great choice.
You will find three playing modes in this versatile speaker. It's your choice to select one according to your frame of mind. If you carry your SD card or AUX line, then you can utilize them.
If not, then you can connect it to your phone wirelessly and enjoy your day.
Do you know? You can connect your phone with your speaker simply with just one tap. Yes, Near Field Communication makes it possible for you.
In the end, let's talk about the warranty, since it comes with a 24-month warranty, there is no doubt that you will be satisfied with this device.
Pros
Speakers of high quality 

Charge time is short

Battery life is long
Cons
It doesn't work well with multiple devices.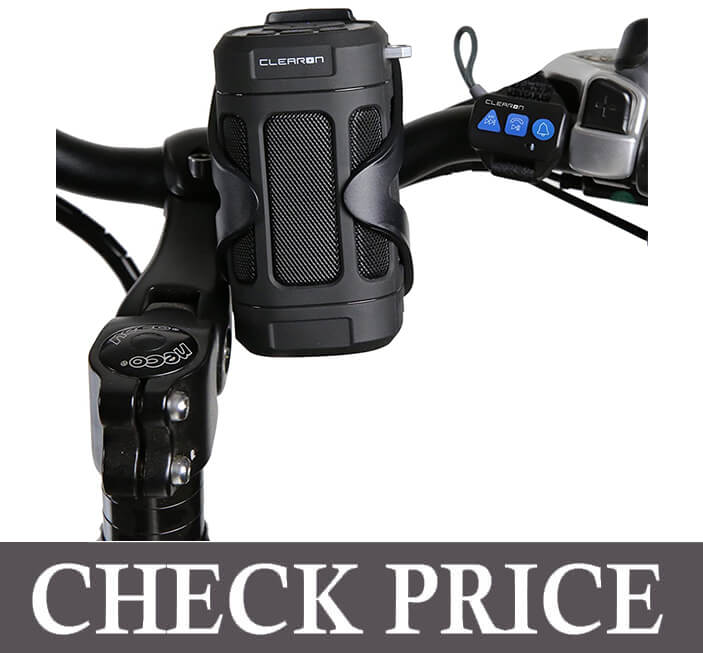 Enjoy your ride by installing CLEARON Portable Bluetooth Speaker. It is an 8W powered speaker that offers 360-degree surround sound with a massive amount of bass. The speaker provides extremely loud and clear sound. 
This versatile speaker can be adapted for multiple functions like it can be mounted to a bike, backpack, and folding chair. Isn't it amazing?
This incredible product comes with all accessories and tools needed, including a backpack hook and a bicycle mounting kit. This makes the speaker very reliable.
The speaker is super durable as it is water-resistant with an IPX4 rating, which means it is unaffected by water splashing on it from any direction.
Also, it is a shock-resistant speaker, so you can take it anywhere on your bike without any fear. You will be surprised to know that its design is made of dust and stain proof.
This bike speaker is able to survive extreme conditions as its build quality is excellent. The speaker is perfect for hiking, cycling, and also fishing. The experience would be awesome if you are relaxing by the pool and listening to your favorite track on this wonderful speaker.
This portable speaker is sized in a way that it fits perfectly in your palm. Furthermore, this speaker provides 15 hours of long-lasting playtime, which is more than enough. 
It is equipped with a strong and stable Bluetooth 4.0 connection for a long-range of up to 100 feet (ca. 30 m).
Moreover, this multi-functional speaker connects easily with wireless Bluetooth, a micro SD card slot, and AUX audio port. It depends on your own choice. You can also play FM Radio on this speaker. 
If you connect your mobile device, you can even make and receive phone calls with the built-in microphone. 
Last but not the least, this diverse speaker works perfectly as a very audible bike horn with the use of an iFree controller.
Pros
IPX4 waterproof

High-quality sound

Multifunction 

Long battery life
Next on our list is the Tribit StormBox speaker, which has many features that make it the life of every ride. This loud, powerful speaker may be small, but you won't refuse its unmatchable sound quality. 
It doesn't matter which type of tune you play, its full-sounding mids and trebles can bring music to life. The best part of this speaker is that it has a playtime of 15 hours.
If we talk about its bass quality, the speaker comes with a surprisingly weighty bass with its built-in X Bass tuning DSP technology. 
This speaker will also reward you with more extended bass. You'll be surprised by its ability to handle different genres with its repetitively deep bass.
Additionally, this speaker is 100% waterproof and furnished with a fabric-covered exterior. It will keep it safe and in fine working order even if it falls in the water. Also, it has an IP67 rating which tells that it is resistant to water as well as solid objects like dust and sand.
With this Adventure-Ready speaker, you can go rock climbing, cycling, or hiking based on your excitement. So you are always ready to take your experience up a notch.
You can attach the tear-resistant silicone strap to the handlebars and backpack too. This will hold it tight every time you do it.
Do you want to double the fun? Enjoy Its wireless stereo technology that allows you to pair your speaker to a second speaker, this will pump up the experience with bigger sound and stereo effects.
Pros
Waterproof build

Strong audio performance

voice assistant functionality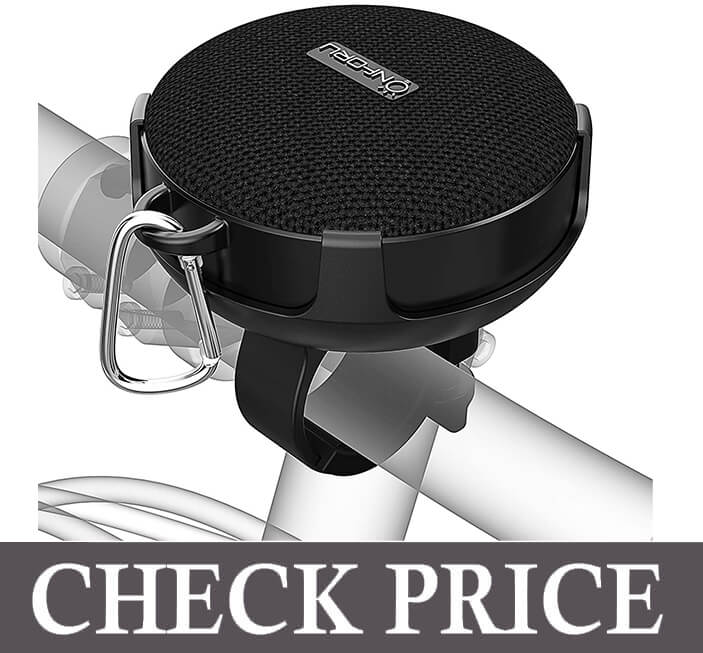 If you are a Cycling Enthusiast and are looking for a bike speaker then this product is for you.
Onforu features an adjustable bike holder and thick gasket that make you relaxed. No matter how bumpy the road is, your speaker is always safe with you.
Are you thinking about its resistance against water, this masterpiece is rated IP65 for waterproofing. So it will not be affected even by extreme weather conditions.
This versatile speaker is perfect for riding a bike, enjoying on a beach or a pool, and even in the bathroom too. Hence, it is a brilliant choice for outdoor as well as indoor use.
Are you tired of unstable connections in a Bluetooth speaker? Don't worry, it is an adequate quality speaker with a continuous and stable connection. This quality makes it superior in front of other wireless speakers.
The essential component of any wireless product is its battery. The speaker contains a high-capacity lithium battery which can play up to 10 hours at 60% volume. So you can groove on the high-quality stereo sound.
Last but not the least, this portable speaker is convenient to be carried anywhere. You will love its compact design along with a metal hook that makes it moveable while traveling.
Pros
A waterproof rating of IP65

Batteries that last a long time

Easily portable
Cons
The holder doesn't hold the handle
7.

JBL Clip 3

Best Waterproof Bluetooth Speaker For Bike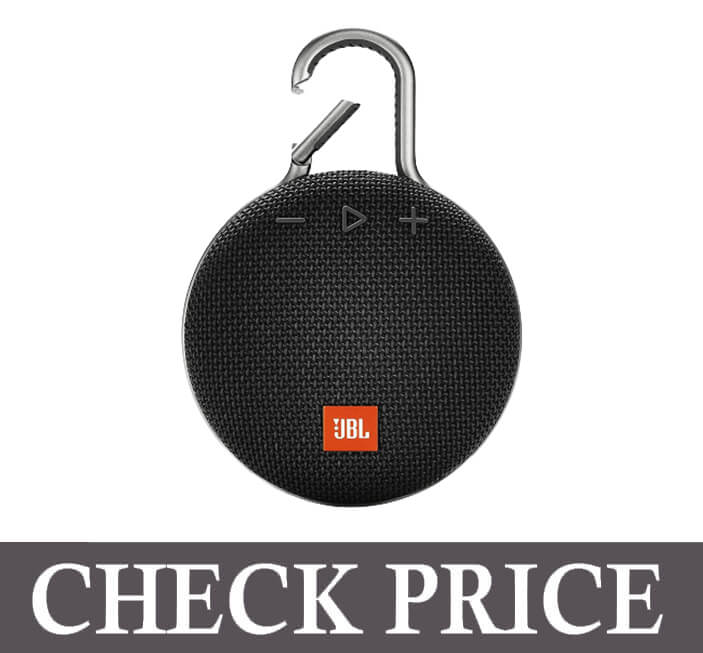 With over 70 years of experience, JBL has brought music to life in a way that people can feel. Never forget to take your JBL Clip 3 along while riding your bike.
Also, this speaker is small, but its sound is big. It is a portable speaker with fantastic sound quality that will make the moment pop as It has a wireless range of 30 feet (ca. 9 m).
This speaker unleashes the power of music, so you can live life to the fullest, wherever and whenever. Let's talk about its battery; JBL Clip 3 features a built-in rechargeable Li-ion battery that provides up to 10 hours of playtime. 
The speaker comes with a metal carabiner that helps you hook it to your clothes and backpack quickly. Do you know? This incredible product can wirelessly stream high-quality sound from your smartphone or tablet. 
In addition, With its noise-canceling and echo-canceling speakerphone, it is perfect for taking crystal-clear calls while traveling. One-touch does it all.
Now you don't have to worry about rain or spills since this bike speaker is entirely waterproof. You can even immerse it inside the water because it is IPX7 rated. Also, the improved, sturdy fabric material and rugged rubber housing keep it protected on all your outdoor adventures.
Pros
Rechargeable battery

Noise cancellation

Li-ion battery

 Wireless Bluetooth connectivity
Cons
Sometimes does not connect to MacBook
8.

JBL Clip 4

Best JBL Speaker For Bike
Another remarkable product on our list is the JBL Clip 4. It will never disappoint you with its surprisingly rich audio and punchy bass. 
It takes very little space due to its compact size, so you can carry it wherever you go with reliability.
This speaker uses Bluetooth technology to bring your riding experience to the best. You will love this speaker because of its astonishing sound.
Its ultraportable design fits well with the latest fashion trends. It comes with colorful fabrics and expressive details that make it look as great as it sounds.
Further, it has a redesigned carabiner that's merged into the speaker for extra protection. You can just clip it on and go explore the world. 
This amazing speaker allows you to stream music from your phone. Not only that, but you can also use a tablet or any other Bluetooth-enabled device.
Do you know? The JBL Clip 4 is a waterproof speaker with a favorable battery. It has an IP67 rating which means it is a dustproof speaker that you can take anywhere without any worry.
Also, this speaker includes a Type C USB Cable along with Quick Start Guide. It comes with a warranty card as well.
Pros
Rechargeable Battery

Waterproof design

Integrated carabiner
Cons
Onboard controls are limited
9. JBL Go 3 Best Portable Speaker For Cycling
The next product for you is the JBL Go 3. There is a surprising amount of sound and bass in this model. It's an ultra-compact size speaker made for you.
Its portable design fits in well with the latest styles. Also, You can hear the sound just as well as the style of this speaker.
There is no need to worry about dust and moisture as the JBL Go 3 is waterproof and dustproof. It is therefore not affected by water or dust.
Furthermore, This speaker allows you to stream music wirelessly from your phone, tablet, or any other Bluetooth-enabled device. 
It comes with a battery that provides uninterrupted playtime for up to 5 hours. More importantly, it includes a Type C USB cable, warranty card, safety sheet, and a quick start guide.
Additionally, the speaker is capable of producing 4.2 watts of power. The source of power in this speaker is the battery just like other wireless products.
Pros
 A compact model

Design that is easily portable

This product is fully waterproof
Cons
It is not speakerphone compatible
We end our list with the Bose SoundLink Color II. This speaker uses innovative Bose technology to generate powerful sound in a small, water-resistant design.
Further, It includes a built-in microphone, so you can make clear conference calls. With an approximate wireless range of 30 feet (ca. 9 m), the speakerphone can also be used for personal calls.
Despite its tough exterior, this product has a soft-touch silicone exterior that makes it easy to pick up and use. Moreover, It's easier than ever before to pair Bluetooth devices or even quickly synchronize with NFC devices with voice prompts.
More so, It comes with a lithium-ion battery that lasts up to 8 hours. The battery is rechargeable with USB power sources. 
You can take calls and access your phone's voice assistant by pairing your device with Bluetooth and listening to voice prompts.
Connecting 2 SoundLink speakers with each other allows you to play in stereo mode as well as party mode. You can also use Bose SimpleSync technology to pair with a member of the Bose smart home family to play in sync.
Pros
Solid audio performance with well-defined highs and rich lows

Design that is easily portable and water-resistant.

The device is simple to operate.
Cons
The spotlight is on accessories
What To Look For In The Best Bike Speakers For Cycling?
Prioritize the Sound Quality
Of course, we are talking about speakers. First of all, you should buy speakers for their sound quality. If it's fulfilling the purpose by providing a great quality sound, it will be more than a delight. 
Another reason for listing this at number one is to make sure you do not miss the gist of your inner-self. Do you remember 'the road runner'? You have to feel the same energy while hearing that sound. Buying speakers for their sound would never make you regret the decision. 
Consider Handling and Portability
When we talk about portable speakers, they should be easy to carry and have an eye-catchy shape. Moreover, it is of great importance when purchasing a speaker to have a lightweight one. Portable speakers are meant to take away wherever you go.
While the best bicycle speakers are no different than the portable ones. For shortlisting, you can check whether they are easily adjustable in the ride. Either you can fix these speakers on the bike itself or you can carry it otherwise. Obviously, you would want to party hard with these. 
Eye-Catchy Style
Searching for any speaker should begin with the goal to buy something attractive to the eyes. Speakers are closely linked to fun and entertainment. So you have to have that funky look in your speakers as well. 
The personalities however can vary from person to person. Considering that we have chosen the bang & olufsen speakers for people with a calm nature. In addition to a colorful body, LEDs lights enhance the display of speakers. Moreover, the shape of the speaker can really matter and depict your personality, so you have to go with the flow. 
Check Connectivity Features
There can be multiple purposes for buying a speaker. But the most important ones should be fulfilled if you are looking to purchase any sooner. As a need of time, we must have both wireless and wired connections in the speaker. 
Also, you can explore to know if there are more options like a card slot or Bluetooth. The best part is some companies also provide applications along with their speakers. Using these applications you can operate the speaker easily. 
Review the Price
When searching for the best at a reasonable price, you can become curious. There are brands that sell the best bicycle speakers for hundreds of dollars and there are brands that offer a different model for a few bucks. 
The core difference you will find in the prices is because of the quality of sound. While choosing any speaker for the long-term one must be aware of the purpose of buying. I do not say to empty your pockets on a speaker. However, always go for value for money.
Frequently Asked Questions
What's the best bike speaker?
You will find dozens of options for the best bike speaker, but you still settle on the Bose SoundLink Micro speaker in the long run. It's the most top-notch speaker for bike riding and offers more value. This speaker is very good at bicycling.
What's the best battery life for portable bike speakers?
When its battery capacity is sufficient, a top portable speaker can work round the clock without requiring constant charging. mAh is a key factor here. For example, JBL Clip 3 has a battery of 1000 my, and it works for 10 hours straight.
How can I control volume with Bluetooth Speaker For Bike?
The speaker itself allows you to control the volume. To do this, turn the volume knob on the speaker. Slide the volume wheel while holding the power button for a few seconds to control the speaker's volume.
What is the IPX rating?
IPX stands for International Protection. An estimation of how well a product resists water splashes. By checking its IPX rating, you can determine whether your speaker can withstand splashes of water. A rating of IPX4 and above means the device is water-resistant.
Conclusion
The intent of this article is to help you select the best bike speaker for your next trip. We hope that you enjoyed reading it. Whether you're riding a bicycle or hiking, a waterproof speaker is a great companion for any cyclist who enjoys listening to music while on the trail.
Who wouldn't want stunning audio quality, multiple connectivity options, and impressive battery life? Bose SoundLink Micro is your best choice for your next adventurous bike ride if you want the best bicycle speaker.