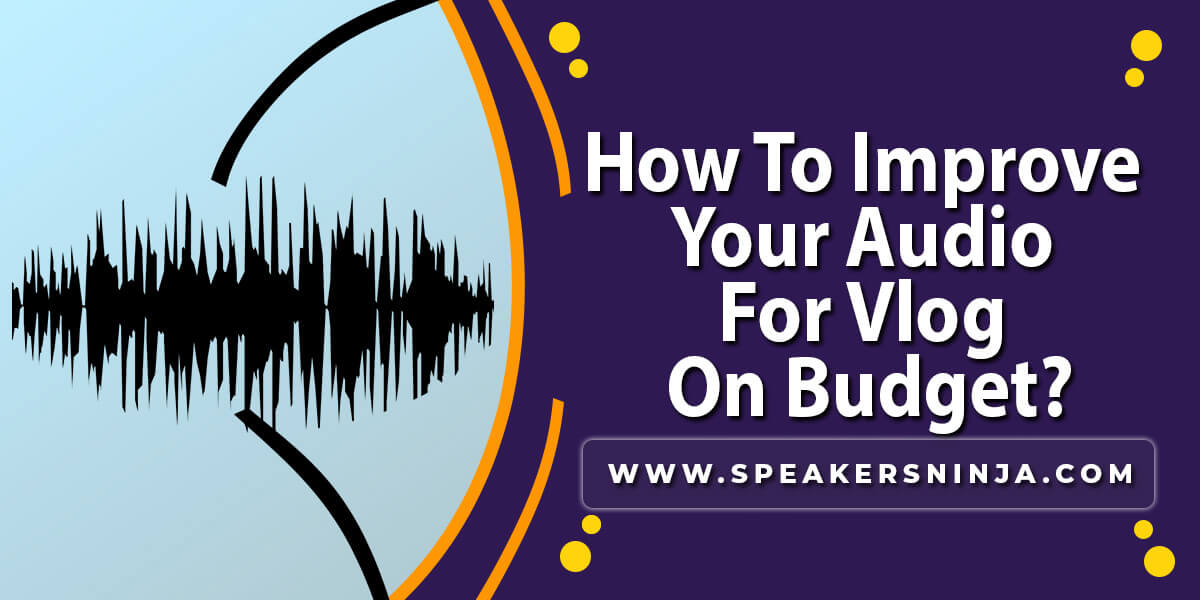 Whether you are vlogging, making a short film, or a travel video, sound is always important. You can have the most awesome shots but if the sound is bad, people will get nothing but noise and close your video.
To increase watch ours on your videos and make them worth watching, you need not just improve video quality, but the sound quality also holds great importance in this regard.
That being said, you need to take measures to improve the sound quality of your vlog. This particular article will focus on some of the easiest tips and tricks to improve the audio, especially if you are doing Budget Vlogging.
So without further ado, let's get started:
Tips and Tricks to Improve your Audio
Well, vlogging is not as simple as it seems to be. Usually, the beginners think that this is simple and they can do it easily but when they step into this immensely demanding project, they feel the pain.
Additionally, as a beginner, we should first learn about various technical hacks about vlogging. Until or unless, you are not fully aware of all the technical facts about vlogging, you would not be able to make a good vlog.
Moreover, when you make a vlog, you are the actor, director, cameraman, sound manager, and editor, so it is quite difficult to control all of them.
All of these are equally important but when it comes to sound, we are very limited. However, there are several things we can do to improve the sound quality. Some of the easiest and common tips are given below, so let's check them out:
Get an External Microphone
The first and easiest tip to improve your audio in vlogging is to get an external microphone. If you want to get serious in vlogging and want to gain popularity, then be ready to spend some money on some good external microphones.
Besides, you don't need to spend too much on them. It is recommended just to have some decent and functional microphones at an affordable price.
A normal, and functional video mic, usually cost you less than 60 bucks, which is quite affordable. It is a more directional microphone that means, it will take the sound in front of the camera a lot better.
In addition to that, these microphones also come with a windshield that helps to reduce extra noises as well. Also, when you are filming something else in your vlog, your microphone is pointed in the other direction.
So, you need to make sure that when you are speaking, you need to flip it back so that it picks up your speech a lot better.
Get a low-budget Lavalier Microphone
Sometimes you make a video in which you take an interview, so you need to have another microphone other than the one that sticks on your camera.
In such a situation we have a couple of good solutions but the best one is to have the best budget wireless lavalier microphone. The idea is to pin a microphone on your shirt so that your speech is recorded, no matter where your camera points.
Moreover, lavalier microphones tend to isolate the background sound a lot better. Additionally, if your budget doesn't allow you to get a separate wireless microphone, then you can use your cellphone as the audio recorder.
Place your microphone in the right position
Thirdly, the most important thing, as mentioned above, is to have some know-how about the technical facts about vlogging. This third tip is about the correct placement of whichever microphone you use.
Other than money and quality, the thing that plays a huge role in the sound quality of your vlog is the placement of the microphone. You need to get your microphone as close as possible to whatever you want to capture.
Record Sound Separately
To record the minor sound details of your video, you need to either have a highly sensitive and expensive microphone or else, you can simply record that sound separately and then sync it with your actions in post-production editing.
As we are concern with the Improvement of your Audio for a vlog on budget, so the second option of recording the sound separately is the best budget option.
Pay Attention to Your Surrounding:
Lastly, you must not ignore the surrounding of the area that you choose for vlogging. If you record your video in a street where some kind of construction is going on, so it would be really difficult to control the extra noise, even if you have a high-budget microphone.
So, to avoid the external sound, you just need to choose a calm and less noisy environment.
[su_youtube_advanced url="https://www.youtube.com/watch?v=mZ3pA6jUJwM&ab_channel=ParkerWalbeck" controls="alt" autohide="yes" mute="yes" rel="no" fs="no" modestbranding="yes" wmode="transparent"]
In a nutshell, to Improve your Audio for a vlog on budget, you need first to get some know-how about the technical facts of vlogging. Moreover, the sound recording equipment should be functional and upgraded. Plus, we have mentioned all the basic tips to improve the sound quality of your vlog. That being said, we hope that you will get the best of benefits with the information given above.