Connecting a microphone to a Bluetooth speaker may seem intimidating, but it's easier than you think. With the right tools and knowledge, you can set up your wireless audio system in no time. Whether hosting a karaoke night or giving a presentation, having a wireless setup allows for greater freedom and flexibility.
I'll guide you through connecting your microphone to a Bluetooth speaker in this article. We'll start by understanding the compatibility between your devices and checking their settings. Then, we'll enable Bluetooth on both devices and pair them together. Finally, we'll test our connection and troubleshoot any issues. By the end of this article, you'll be able to enjoy the benefits of wireless audio and feel confident in setting up your system.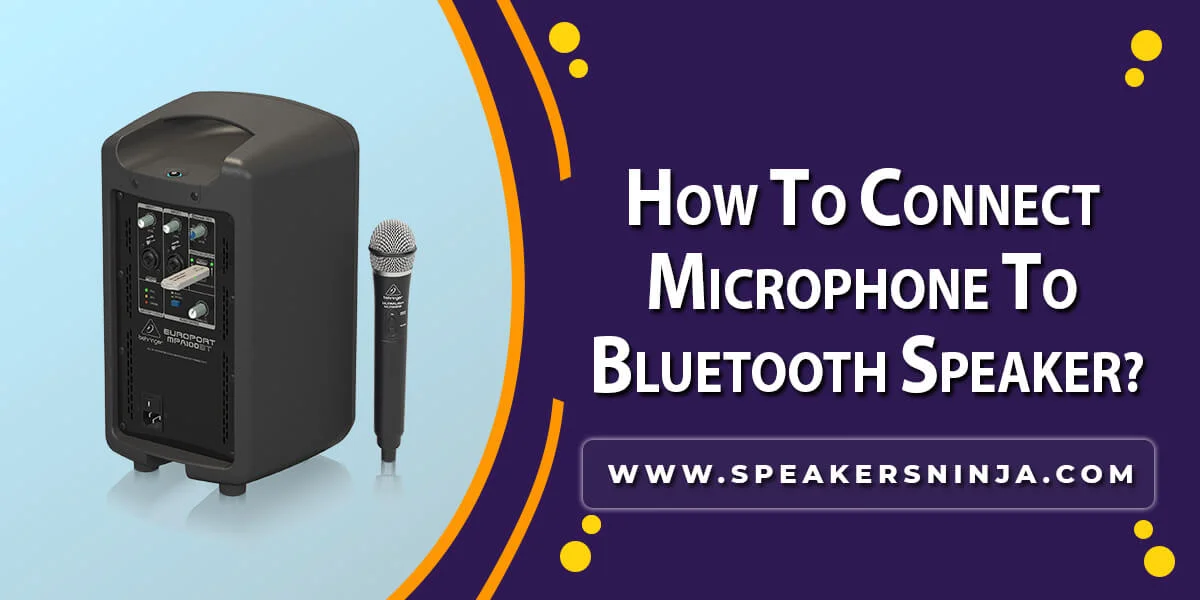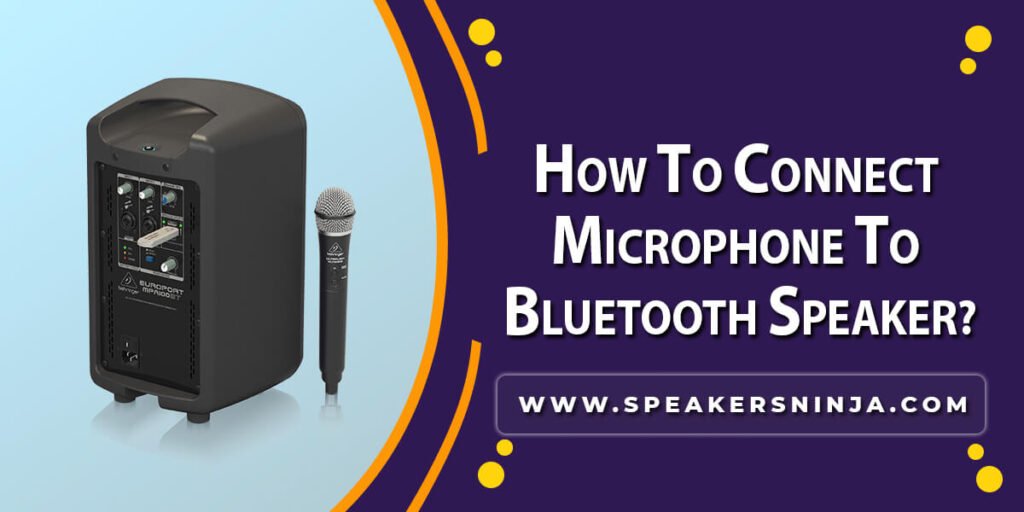 Understanding Your Microphone and Bluetooth Speaker
You need to understand the capabilities of your microphone and Bluetooth speaker so you can properly connect them together. First, check if your Bluetooth speaker has a built-in microphone or not. If it does, then you may not need an external microphone. However, if you want better audio quality or your speaker doesn't have a built-in mic, then an external one is necessary.
Next, make sure that both devices are compatible with each other. Check the microphone and Bluetooth speaker's specifications to ensure they have matching connectivity options such as Bluetooth versions and profiles. This way, you can avoid any issues when connecting them later on.
Lastly, determine which type of connection method is suitable for your setup. There are different ways to connect a microphone to a Bluetooth speaker such as using an adapter cable or pairing them wirelessly via Bluetooth. Choose the method that works best for you based on your needs and preferences. By understanding these important details about your equipment, you will be able to successfully set up and enjoy high-quality audio from your connected devices!
Checking Compatibility and Settings
Before we begin, it's important to ensure that the device you're using is compatible with the other device and that all necessary settings are adjusted accordingly. If you have an older microphone or a speaker, compatibility issues might prevent them from working together. You'll need to check both devices' manuals for their specifications and see if they support Bluetooth connectivity.
Once you've confirmed compatibility, the next step is to ensure that all necessary settings are properly adjusted. Here are three things you should do before attempting to connect your microphone to your Bluetooth speaker:
Turn on Bluetooth: Ensure both devices turn Bluetooth on by navigating to their respective settings menus.
Put them in pairing mode: Most devices must be put into pairing mode to "see" each other and establish a connection. Check your manual for instructions on how to do this.
Adjust volume levels: Before making any recordings or live performances, make sure the volume levels of both the microphone and speaker are at an appropriate level. You don't want either overloading or distorting the sound quality during use.
By following these steps, you should be able to successfully connect your microphone to your Bluetooth speaker without any issues. Remember, compatibility and proper settings adjustment are key factors in achieving high-quality audio output!
Enabling Bluetooth on Your Devices
To easily enable the connection between your devices, simply activate Bluetooth on both of them through their settings menu. This is a simple process that can be done in just a few steps. On your microphone, go to Settings and look for the Bluetooth option. Turn it on and wait for it to search for available devices. On your Bluetooth speaker, do the same thing by going into its settings menu, turning on Bluetooth and waiting for it to search for available devices.
Once both devices have turned on Bluetooth and searched for available devices, they should automatically find each other if they are within range. If they don't pair automatically, you may need to put one or both of them into pairing mode by pressing a button or holding down a combination of buttons until the device enters pairing mode. Once in pairing mode, select the device you want to connect with from the list of available devices that appear on your screen.
After selecting the device you want to connect with, wait for them to establish a secure connection before starting any recording or playback activities. When connected successfully, you'll see an indicator light flashing or hear an audible beep indicating that your microphone is now connected to your Bluetooth speaker. Congratulations! You are now ready to use your microphone wirelessly with your Bluetooth speaker!
Pairing Your Microphone and Speaker
Now that your devices are ready, it's time to pair them together and start enjoying wireless audio. Here are four steps you can follow to connect your microphone to a Bluetooth speaker:
Turn on both the microphone and the speaker. Make sure they have enough battery or power supply for a smooth connection.
Put the speaker in pairing mode by pressing and holding its Bluetooth button until it flashes or announces "pairing."Some speakers may require you to press other buttons simultaneously or sequentially, so check their user manual if needed.
Enable Bluetooth on your microphone by going to its settings menu, usually accessible through a physical button or a mobile app. Look for "Bluetooth" or "Wireless" options and turn them on.
Search for available devices on your microphone's Bluetooth menu and select your speaker's name when it appears on the list. Wait for them to establish a connection, which may take several seconds depending on their distance and signal strength.
Congratulations! Your microphone is now connected to a Bluetooth speaker, allowing you to amplify your voice wirelessly from anywhere within range (usually up to 30 feet). Remember that some speakers may have additional features such as volume control, EQ settings, or built-in microphones to enhance your listening experience even further. Experiment with different setups and enjoy the freedom of hands-free communication!
Testing Your Connection
You're probably excited to try out your new wireless setup, so let's test your connection and ensure everything works correctly. To do this, start by placing the microphone before you and turning it on. Then, turn on your Bluetooth speaker and ensure it's in pairing mode.
Once both devices are turned on and ready to connect, go to the settings menu on your phone or computer and select the Bluetooth option. Look for your speaker's name in the list of available devices and click "connect."You should hear a tone or a notification indicating the established connection.
Speak into the microphone and listen for sound coming from the speakers. Adjust volume levels as needed until you're satisfied with how everything sounds. Congratulations! If everything works properly, you can now enjoy hands-free communication or perform music without being tethered to cords or wires.
Adjusting Settings for Optimal Performance
Once you've successfully paired your wireless devices, ensure optimal performance by adjusting the settings to suit your needs and preferences. Here are a few tips on how to adjust your settings for the best possible experience:
Adjust volume levels:
Ensure the microphone input and speaker output levels are balanced. If either is too high or too low, it can cause distortion or feedback. You can adjust these levels in the sound settings of your computer or mobile device.
Use noise reduction features:
Bluetooth speakers often come with noise reduction features that help eliminate unwanted background noise from audio recordings. These features work by analyzing the audio signal and filtering out sounds that don't match the desired frequency range. Check if your speaker has this feature and enable it if necessary.
Check for firmware updates:
To get the most out of your Bluetooth speaker, update its firmware to the latest version. Manufacturers often release updates that improve performance and fix bugs. You can check for updates in the app or software the manufacturer provides.
Following these tips, you can optimize your microphone-to-speaker connection and enjoy high-quality audio without interruptions or distortions. Experiment with different settings until you find what works best for you!
Troubleshooting Common Issues
If you're experiencing any problems with your wireless audio setup, don't worry – some common issues can be easily resolved. One issue that may arise is poor sound quality or intermittent sound. This could be due to interference from other Bluetooth devices in the area, so try moving your microphone and speaker away from other electronics. Another solution is to ensure that both the microphone and speaker are fully charged, as low battery life can affect the audio quality.
Another common issue is difficulty connecting the microphone and speaker. If this occurs, ensure that both devices are in pairing mode and within range. Additionally, check if any firmware updates are available for either device, as outdated software can cause connectivity issues.
Lastly, if your microphone or speaker isn't functioning at all, there may be a hardware malfunction. Make sure to check all connections and cables for damage or loose connections. If everything seems fine, but you still aren't getting any sound, try resetting both devices by turning them off and on again.
Here's a table summarizing some commonly encountered issues when connecting a microphone to a Bluetooth speaker:
| Issue | Solution |
| --- | --- |
| Poor Sound Quality/Intermittent Sound | Move away from other electronic devices; ensure full battery charge |
| Difficulty Connecting Devices | Ensure pairing mode is activated; update firmware |
| Hardware Malfunction | Check all connections/cables; reset devices by turning off/on again |
By following these troubleshooting tips and utilizing the table above, you should be able to resolve any common issues you encounter when connecting your microphone to a Bluetooth speaker. With persistence and patience, you'll soon enjoy high-quality wireless audio without hiccups!
Using Your Wireless Setup for Presentations
Get ready to impress your audience with the convenience of wireless audio during your presentations! Whether giving a talk in a small room or presenting to a large crowd, using a Bluetooth speaker for your microphone can make all the difference. Not only does it eliminate the need for messy cords and cables, but it also gives you more freedom to move around and interact with your audience.
To use your wireless setup for presentations, start by ensuring that your microphone and Bluetooth speaker are fully charged and paired. Check that the volume levels on both devices are set appropriately so that you can be heard clearly without any feedback or distortion. You may also want to test out different placement options for your speaker, depending on the size and acoustics of the room.
Remember to speak clearly into the microphone during your presentation and adjust its position as needed. If you have any trouble hearing yourself through the speaker, try adjusting its volume or moving closer to it. And don't forget to enjoy the convenience and flexibility of using a wireless setup – it's sure to impress your audience and make your presentation stand out!
Hosting a Karaoke Night with Your Bluetooth Microphone and Speaker
To elevate your party game, impress your guests with the convenience and high-quality sound of hosting a karaoke night using your wireless setup. You can have hours of entertainment without wires and cords with a Bluetooth microphone and speaker.
First, ensure your Bluetooth microphone and speaker are fully charged. Turn on both devices and enable Bluetooth pairing mode. Once connected, test the audio quality by playing music through the speaker while singing into the microphone.
Next, create a song list or use a karaoke app to provide lyrics for your guests to sing along with. Use the table below as a guide for setting up your wireless karaoke system:
| Device | Setting |
| --- | --- |
| Microphone | Enable Bluetooth pairing mode |
| Speaker | Enable Bluetooth pairing mode |
| Phone or Tablet | Connect to both devices via Bluetooth |
Hosting a karaoke night is easy when using a wireless setup. Your guests will appreciate the convenience and high-quality sound that this method provides. Get ready to sing along with friends and family all night long!
Enjoying the Freedom of Wireless Audio
Embracing wireless audio technology provides a level of convenience and freedom that is hard to match with traditional wired setups. Connecting your microphone to a Bluetooth speaker without wires allows you to move around freely and perform without any restrictions. This is especially useful for performers who like to engage the audience and move around on stage.
To connect your microphone to a Bluetooth speaker, ensure both devices are turned on and in pairing mode. Once they are paired, select the Bluetooth speaker as your output device from the audio settings on your microphone. You can adjust the volume levels from either device depending on your preference.
The freedom of wireless audio means you can take your performance anywhere without worrying about tangled wires or limited mobility. Whether you're hosting an outdoor event or performing at a small venue, wireless technology makes it easier to connect your microphone to a Bluetooth speaker and enjoy high-quality sound without any complications.
Frequently Asked Questions
What is the maximum distance between the microphone and the Bluetooth speaker for a stable connection?
As someone who wants a stable connection between their microphone and Bluetooth speaker, it's important to keep the distance within range. The maximum distance is typically around 30 feet, but can vary depending on interference and other factors.
Can I connect multiple microphones to the same Bluetooth speaker?
Yes, connecting multiple microphones to a Bluetooth speaker is possible as long as the speaker supports multi-pairing. Each microphone needs to be paired separately and may require additional settings adjustments for optimal performance.
How do I adjust the volume of my microphone and speaker separately?
To adjust the volume of my microphone and speaker separately, I first need to ensure that both devices are connected properly. Once this is done, I can access the audio settings on each device and adjust their individual volumes as needed.
Is it possible to use my Bluetooth speaker as a microphone as well?
Yes, it is possible to use a Bluetooth speaker as a microphone. However, the quality may not be as good compared to using an actual microphone. To do so, connect the Bluetooth speaker to your device and select it as the input source in your audio settings.
How long does the battery of the Bluetooth microphone last and how can I check its status?
I can check the battery status of my Bluetooth microphone by pressing a button on it. The battery lasts for about 8 hours when fully charged. I always make sure to charge it before use to avoid any issues during recording or speaking engagements.
Conclusion
So, there you have it – a step-by-step guide on how to connect your microphone to a Bluetooth speaker. Remember that in order to ensure success, it is important to understand the compatibility and settings of both devices, enable Bluetooth on them, pair them together successfully, test your connection and troubleshoot any issues that may arise.
Once you have mastered this wireless setup technique, you can use it for various purposes, such as presentations or hosting a karaoke night with friends or family. The freedom of wireless audio allows for greater flexibility and mobility when using your microphone and speaker setup. So go ahead and try out this technique yourself – you never know what exciting possibilities may arise!