Having a high-quality music system in your vehicle is undoubtedly one of the most important aspects of your driving experience. This is because for many people, listening to music on the way to work or university is very cathartic and important.
Of course, most people think that the speakers in their cars are enough, but as we have looked into in previous articles, we see those car manufacturers may not always be putting across audio quality as one of the major specs while creating a car.
Other than this lapse, we also see that many car speakers need to be changed because they are covered by some other part of the car such as the seats and this may lead to a hindrance in the quality of sound you get. To overcome this issue, we have a very good solution and that is in the form of door-based car speakers. As the name suggests these are situated on the doors of the car instead of all the way in the back.
Since it can be extremely hard to figure out, this article will be dedicated to finding solutions for you by answering a series of questions that many people have posed repeatedly. To start off, we'll look at what door speakers are, then at how to make your car doors better with amplifiers, and finally address the pros and cons of amplifiers themselves.
Also Read: Top 7 Amplifier For Outdoor Speakers
Without further ado, let's discuss that do you need an AMP for door speakers. But first…
What Are Door Speakers Anyways?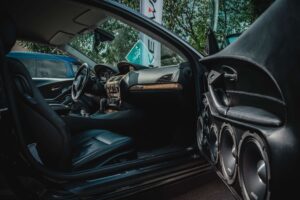 To start off, before you can choose whether or not you want to change your existing car speakers and if you want to attach them to amplifiers to get the best sound quality, the easiest thing to do is to read a little more about the car door speakers themselves.
This clarification will uniquely offer you a more in-depth response on why you need to intensify your car doors' sound power. The main job of your car door speakers is to make a sound stage in your vehicle and to make your choice even easier; there are two distinct kinds for this task.
There are the front stage and backstage. The front stage is the thing that you, the driver commonly will hear along with the front passenger. Behind the stage is then obviously meant for individuals in the back. To clarify things, think about your car as if you were at a concert. The front of the vehicle is the area directly in front of the stage and the backstage sitting arrangements are the end of the hall or area.
The Next Question That May Now Pop Up Is What Are Amplifiers?
So what's the principal thing that comes into your brain? Obviously, the least demanding approach to enhance both the sound level and quality of the sound being produced is to attach an amplifier with it. So what is an amplifier anyway? All things considered, it is a part that utilizes capacitors or resistors to enhance and lift a low-level recurrence line-level sign from your head unit. This at that point makes it sufficiently able to empower a speaker's cone to be moved quickly to and fro and this makes much the sound way more solid.
Picking an amp can become a very tricky task as it is seriously quite technical and that's why you should definitely take a look at a couple of very important things before you can consider buying one. The number of channels and the wattage is the two most important things. You need to ensure that the kind of amp you will get is something that will provide sound quality and intensity slightly more than what you already have otherwise purchased, it will not enhance your music experience.
Additionally, a few amps have various filters set up, so they are smarter to use with specific speakers. It is extremely important therefore to do a lot of research before you pick amplifiers because you need to look at your own speakers and see what works best with them.
One serious confusion across the board is where exactly the amplifiers are placed.
While most people can instantly look and tell where a set of speakers might be on their cars, even if they are not visibly there in the open, the same isn't true of amplifiers which are actually pretty hard to distinguish. These are frequently connected with high-performance car audio systems. In any case, the reality is that every car audio framework completely needs to have a speaker.
The good thing here is that whether you know about it or not all car audio frameworks do include an amplifier. This is an inbuilt device that might be extremely weak or almost non-existent however it is crucial to make the car speakers work.
However, when it comes to upgrades, most manufacturers and warranty providers will leave out the amplifier considering it not as important. Yet, as we mentioned earlier, the truth of the matter is that each and every vehicle audio framework really already has an amplifier. So the next step would be to actually upgrade the existing one.
Why Do You Need AMP For Door Speakers?
Still, thinking why do you need AMP for a door speaker? As we have discussed earlier, most head units contain existing and built-in amplifiers, yet they're typically not exceptionally good at their main task. On the other hand, if your head unit does contain groundbreaking amps, these will undoubtedly tend to be more toward the costly end of the range, so, all in all, it is really just an overall better idea to combine a head unit that comes with preamp yields with a committed amp in any case.
There are various great reasons to opt for the addition of a new amplifier as an important part of your car audio framework, and you certainly need one on the off chance that you need:
Stronger sound without any distortion forming:
One of the key highlights of good amplifiers is that they permit you to build volume without introducing any distortion into the mix. In the event that you experience any static or distortion at your ideal volume level, you will immediately know that you need to upgrade your speaker.
So you can get value back on your new speakers:
it is fairly easy to add new speakers to a brand new car's audio framework to improve the sound quality, however, another head unit and a different amplifier will give you unmistakably more alternatives regarding what speakers you can use.
To control a subwoofer:
When you add a subwoofer to a car audio framework, you quite often need to include an amplifier into the mix as well. In the event that your car radio doesn't have associations that are explicitly intended for a substitute, plan on including a subwoofer amp.
However, on the alternative side of things, if you have absolutely no desire to listen to your music at the highest level and you also don't mind slight distortion now and again, at that point you can presumably avoid the amp instead look to buy a better head unit and speakers. Some head units have enough capacity to give amazing sound quality with absolutely no distortion considering that the sound is kept at a moderate level and nothing is hindering the speakers. If nothing works out, adding a high pass crossover can be a big help.
Would it be a good idea for you to get them?
If you are tired of muted sound levels, distortion of sound, and a bad experience overall, then yes, an amplifier for your car doors is a great way to ensure you get seamless audio power at all times. This will allow your car door speakers to have way more power to run your door speakers and you will get better sound quality.
This is also true if you have altered your door speakers out, but did not do anything to the head unit or any other parts that were with your car originally. You also have to make the choice of whether to simply get them fixed into the front or both the front and back but this is entirely on the user.